Which country is best for rhinoplasty?
One cannot walk down a street in Tehran and not come across the signature of a nose job: bandages fixed on the nasal bridge. The craze for having a small, straight nose has been on the rise since a few decades ago among both women and men in Iran. Now Iran has the highest rate of nose surgery in the world, with more nose surgeries per capita than any other country. With people flocking to the country to get their noses done by Iranian doctors, Iran has become a rhinoplasty hub in the world.
This high demand for rhinoplasty in Iran has created a ground for Iranian plastic surgeons to gain a vast experience in this cosmetic procedure in particular. Tens of thousands of nose surgeries are being performed in Iran annually. Some Iranian rhinoplasty surgeons are so prolific and popular that they do several nose job operations in a single day.
Not only in the capital Tehran, but also in many other cities across the country, cosmetic nose operations are performed by nose surgeons who have academic as well as practical expertise in the field. Hospitals and specialized clinics in cities like Mashhad, Shiraz, Isfahan, Tabriz, Kish Island, and other major cities offer quality nose surgeries to national and international patients.
Before choosing the target country, you should consider a lot of factors ranging from price to quality. Many countries worldwide are doing rhinoplasty in various ways at different prices. Some people are eager to find information about other countries since this procedure is quite expensive in their country. The most critical issue is that the country you seek should be the cheapest in the world and of the best quality. On top of that, nobody can deny the importance of a surgeon in this way. Medical technology in the target country should consider as well. You should search deeply to find the best country and weigh the advantages and disadvantages. Not all countries with reasonable prices are suitable for rhinoplasty. Some just aim to deceive you, and their quality is not acceptable—one of the countries with the best rate is Iran.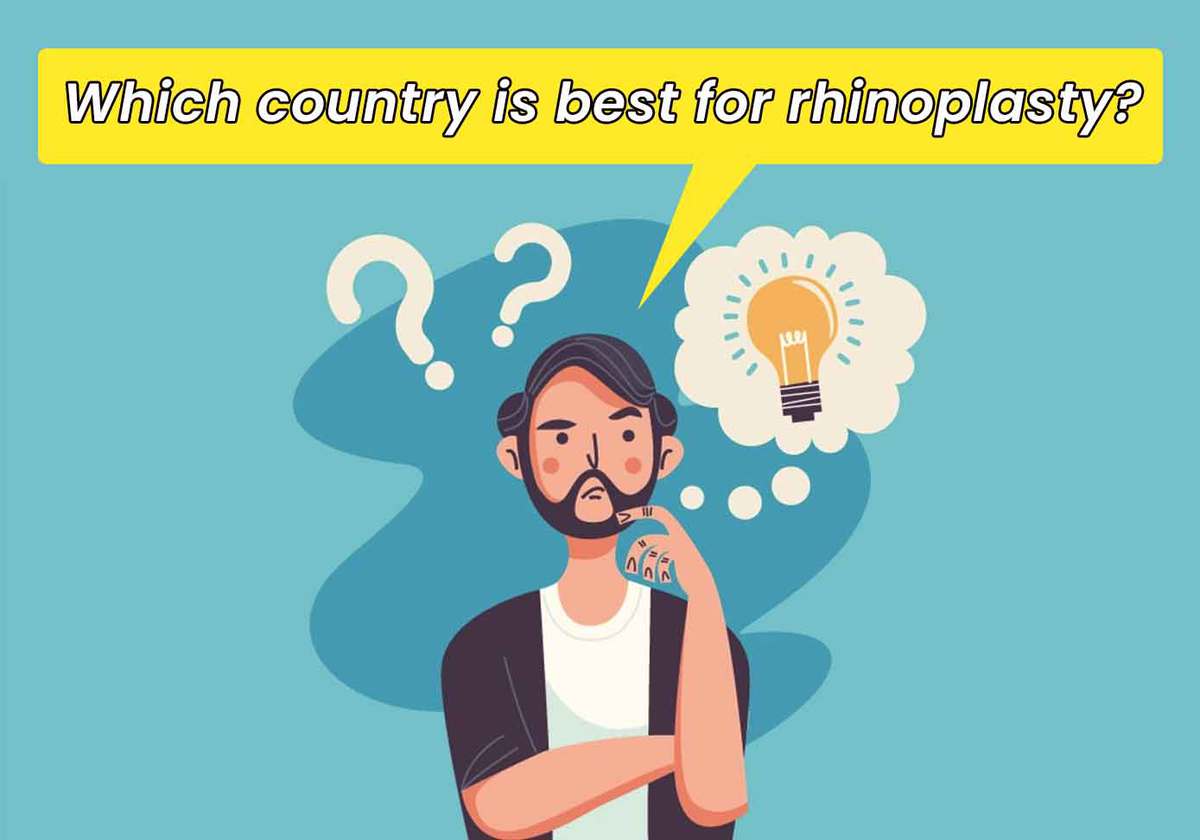 Cost:
The cost of cosmetic surgery plays a vital role in choosing the destination. Some countries, for some reason, are the cheapest rhinoplasty in the world, and Iran is regarded as one of the best ones. The low price of rhinoplasty in Iran does not mean the quality is low. Duo to the fact that the value of Iran's currency in comparison with the USD decreased the cost of surgery, and all the medical treatment is lower than in other countries. On top of that, the cost of labor and accommodation compared to other countries is greatly low. The cost of rhinoplasty in Iran starts from $1700, and the cost might differ based on many factors, such as hospitals and surgeons. However, the price is ten times less than that of expensive countries like the US and the UK.
The other interesting point is that cosmetic surgery, especially rhinoplasty, is considered the most competitive business in Iran. Many clinics and hospitals are passionate about getting new customers. This is why these kinds of surgery are done at the lowest price in Iran.
Quick Information

Cost

From 1890 to 2890 $

Anesthesia

General or local

Duration of operation

1 to 3 hours

Hospital Stay

One day

Minimum Stay in Iran

7 days

Inexpensive doesn't mean poor services
As we mentioned, Iran is the cheapest country in rhinoplasty, but it doesn't mean the quality is low. Iran has the most advanced technology in the medical department in the Middle East, and people from all around the region go there for medical problems. The cost of medical treatments positively correlates with the currency value in Iran. Besides, the cost of living in comparison with other countries is relatively low. As a result, medical treatment costs are not as high as in other countries.
Quality:
Iran is the best country for rhinoplasty and has the best medical universities in the region. Every year many surgeons graduate from these universities. That's why a lot of knowledgeable surgeons exist in this country. On top of that, modern and state-of-the-art hospitals and clinics shouldn't be ignored. All needed facilities are available there, and the staff is well trained and aware of all the processes that can be done in the hospital. Some hospitals in Iran have IPD (international patient department) to meet the needs of foreign patients interested in doing rhinoplasty in Iran. Worth mentioning that Iran has had considerable achievements in research, and the most exciting part is cosmetic surgery, especially rhinoplasty.
Clinic's conditions
There are many clinics, especially for cosmetic surgery, and most have been equipped with the best patient facilities. Some organized the packages for patients to choose between them and satisfy patients. They offer different services, and some even have a translator and transportation. Before choosing the clinic, search deeply for services. The safety of patients is the utmost priority of these clinics. Tebmedtourism is one of the Iranian rhinoplasty company which provide some packages for patients.
Success rate:
One of the critical factors for analyzing the clinic or hospital is the success rate. According to our information, around 200000 rhinoplasties are performed in Iran, and the success rate is More than 90%. It clearly shows that the surgeons are experts and professionals. So, it is not surprising that rhinoplasty is a routine surgery in Iran, and most patients are delighted with the results.
Transportation: 
For most travelers, Iran is the best country for rhinoplasty and a desirable destination. Due to the fact that many Budget airlines are available in this country, it's easy to fly to Iran to do rhinoplasty. In addition, most hospitals and clinics in Iran have special offers for patients, including a hotel, an airport flight, and transportation to or from the hospital. As a result, transportation is not a severe problem, and everything has been planned.
Surgeon: 
Surgeons are being ranked with different criteria. The skills of a surgeon play a vital role in rhinoplasty. Skills and hands-on experience are enhanced by the years they work, the number of surgeries, and the percentage of patient satisfaction. Due to the fact that they have performed a significant number of rhinoplasties, they are able to deal with different noses with different shapes. Most of them have a good command of English and can talk to patients without a translator, so it's not hard to communicate with patients. Another critical issue is that they are a good listener and spend time listening to patients in order to meet their needs.
Moreover, the surgeon's Academic background should be considered. Surgeons in Iran graduated from the best universities in Iran and all around the world, and their information is available at universities or clinics. Most of them are active on social media, and you can find information about them quickly. They try to be updated with the new data by joining workshops and some courses.
Finding the best surgeon is a critical issue if you are trying to do rhinoplasty in the best country for rhinoplasty. An inexperienced surgeon can ruin your appearance; consequently, your face can't be enhanced. Fortunately, all the surgeons have been analyzed in Iran and are legally allowed to perform rhinoplasty. You should choose a surgeon with legal activity and search their history. You can talk to a surgeon and select the shape of your nose that suits your face. They can help you to make a decision. A good surgeon would guide you on what you want and help you to be realistic about the result of surgery.
Safety:
Commonly, people are seeking the safest place for rhinoplasty. Regarding safety, Iran is the best country for rhinoplasty since surgeons analyze all the processes, conditions, and illnesses. They don't allow the patient to undergo surgery if something goes wrong. The medical team will check the patient's medical history, and all the possibilities will be anticipated. Healthcare workers also are experts and always do the guidelines. All the surgery rooms are clean and ready for surgery.
Tourism:
Iran is about to be the center of Medical tourism in the Middle East. This is why many people from around the world are coming here. You can do rhinoplasty while visiting this beautiful country. Iran is the best country for rhinoplasty and an excellent destination for travelers since so many places of interest exist in this country. With thousands of years of civilization, Iran is full of monuments and sites to enjoy your trip. When it comes to hoteling, many 5-star hotels provide the best facilities for patients when resting. The hotel fees are cost-effective, and the quality is perfect.
How to Get my Rhinoplasty ?
After talking about all the advantages of rhinoplasty in Iran, there is time to mention how we can do nose jobs in Iran. It's easy. You should search and find an Iranian agency for rhinoplasty, one of which is Tebmedtourism. You can visit our site. In this way, you can call or leave a message, and our colleague will be in touch with you. We will introduce you to the best surgeons that you can talk to them and say your demands. You also can see all the packages on the site for the best country for rhinoplasty and find out about our services for patients from other countries. Tebmedtourism Co provides services such as applying for a visa, booking a hotel, booking appointments with the best rhinoplasty surgeons in Iran, booking an appointment for a test, etc. contact our colleagues if you are interested in doing rhinoplasty in our agency.
Best City for plastic and rhinoplasty surgery in Iran
Best rhinoplasty surgeons are doing the operations in Tehran. You can find the best quality and hospital services for a nose job in this city.
Through the corresponding with the specialist, you will have the resume, IDs, and certificate of our recommended specialist.
Contact us to get the full information of nose job specialists, by [email protected].

Rhinoplasty Surgery
Nowadays rhinoplasty (also known as: nose job), is one of the surgical procedures that is widely used by many people around the world to reshape their nose. It's worth to know that the nose is one of the most distinctive features of your face and its function is critical to your beauty. Many people use rhinoplasty because they aren't satisfied with their nose's appearance while others do it due to breathing difficulties. This surgical procedure is operated with different methods each having its own traits. Below we explain some of these methods.
Rhinoplasty methods:
As mentioned above, nowadays rhinoplasty is being performed with various methods all around the world, here are these methods:
In this procedure rhinoplasty is applied to reshape the nose. This procedure can be used to change and resize different features of the nose such as span of the nostrils, angle between nose and upper lip, tip and/or bridge of the nose. It also can be applied to correct some breathing problems. People who has problem in Sinus or Polyp area, can be treated through rhinoplasty.
This procedure must be performed by doctors specialized in ear-throat-nose field (ENT) or plastic surgery or Maxillofacial surgery. Because only these specialist has the needed expertise to perform this surgical procedure. In this method, an incision is made across the narrow strip of tissue that separates the nostrils.
Another method for rhinoplasty is the closed procedure. In this method the incisions are hidden inside a patient's nose, with incision made into the nose. having access to the cartridge and bone portions of the nose, surgeon is able to perform changes that need to be made. This method is usually used to remove nose hump. It's important to note that this procedure should only be performed on patients who aren't dealing with polyp, sinus or any other breathing difficulties. Should patient sustained any injuries during this procedure, doctor will have to perform open rhinoplasty.
Open rhinoplasty and closed rhinoplasty surgery are different and each has its own traits, so it can't be said for sure that one is superior to another. One of the advantages of open rhinoplasty is that it enables the surgeon to resolve nose problems easily and make various changes. But in case of closed rhinoplasty, surgeon can only remove nose hump and it might not eliminate the problem completely. Many doctors who perform rhinoplasty prefer the open procedure, unless patient is dealing with various health problems.

Nose types in terms of Rhinoplasty
In this section, we are going to take a brief look at Nose types in terms of rhinoplasty. The shape, curvature, and flow of your nose rely generally upon your hereditary factors or whether you may have suffered a facial physical trauma. In case you're disappointed with the feature of your nose or its usefulness for some reason, at that point, it might be an ideal opportunity to think about rhinoplasty as a great nose revision choice.
Anyway, whether you're looking for a correction or physiological strategy, several kinds of rhinoplasty are explicitly meant to fit your desires and improve your satisfaction while likewise helping you recover certainty and pride in your appearance. Coming up next is a summation of the five most common nose shapes that people may want to change:
1) Humped Nose
As the name recommends, this specific nose shape is distinguished by the structure of a protuberance that is placed on the continuation of the nose. It can either be an inherited attribute or it tends to be the aftereffect of a physical trauma. Size and shape can fluctuate starting with ones, then onto the next, yet this disfigurement is generally evident from a side perspective on the individual's facial profile. You can reform this type of nose by rhinoplasty.
2) Crooked or Asymmetrical Nose
A deviated nose can make your whole face resemble it's lopsided and wobbly. It's normally distinguished by the impurity of the nasal structure and sometimes, this can cause significant breathing problems if it's not repaired. Most of the time, everything necessary is a basic, non-surgery to streamline the knocks on the scaffold of the nose and successfully write the problem. If this operation does not fix it, a rhinoplasty or nose job is the alternative.
3) Long or Narrow Bridged Nose
A nose that is too long, excessively thin, or a blend of both can likewise make your whole face look lopsided. A few people feel that this look is unflattering and can regularly take after a seagull's bill. The straightforward arrangement is to have your nose shaved down or abbreviated at the tip or broadened on the sides to make it fit better with the remainder of your face.
4) Pinched Nose
Dissimilar to huge numbers of the other nose shapes on this rundown, a squeezed nose is most commonly brought about by a formerly messed up nose work. The debilitated ligament at the peak of your nose makes it appear as though you're never-ending squeezing your nose in any event, when you aren't and this can likewise cause conceivably genuine basic and useful issues inside your nasal depression if it's not repaired immediately. The most ideal approach to fix this injury is to extricate the ligament from another aspect of the body, for example, the ears, and cautiously unite it onto the tip of the nose.
5) Europeans change their Bulbous Nose by rhinoplasty
A bulbous nose shape is particularly basic among eastern Europeans. It's normally an innate characteristic wherein the nose takes after a hefty bulb-like outline with a tight scaffold and saggy tip. The vast majority incline toward a more refined look at their nose shape and to accomplish this, your facial plastic specialist will likely eliminate a specific amount of ligament and afterward re-form the end of your nose to make it more balanced and common.