A breast lift — also known as mastopexy — is a surgical procedure performed by a plastic surgeon to change the shape of your breasts. During a breast lift, excess skin is removed and breast tissue is reshaped to raise the breasts.
You might choose to have a breast lift if your breasts sag or your nipples point downward. A breast lift might also boost your self-image and self-confidence.
A breast lift won't significantly change the size of your breasts. However, a breast lift can be done in combination with breast augmentation or breast reduction.

Breast Lift cost in Iran by TebMedTourism company
VIP Package
Treatment
Medical consultation
Post Treatment follow-up
Airport Pick up/Drop off
Visa
Hotel 5 * Top
VIP Transfer
Translator 7/24
Sightseeing Tours
Package A
Treatment
Medical consultation
Post Treatment follow-up
Airport Pick up/Drop off
Visa
Hotel 5 *
Transfer
Translator
Package B
Treatment
Medical consultation
Post Treatment follow-up
Airport Pick up/Drop off
Visa
Hotel 4 *
Package C
Treatment
Medical consultation
Post Treatment follow-up
Airport Pick up/Drop off
Why it's done
As you get older, your breasts change — losing elasticity and firmness. There are many causes for these kinds of breast changes, including:
During pregnancy, the ligaments that support your breasts might stretch as your breasts get fuller and heavier. This stretching might contribute to sagging breasts after pregnancy — whether or not you breast-feed your baby.
Weight fluctuations, Changes in your weight can cause your breast skin to stretch and lose elasticity.
Over time, gravity causes ligaments in the breasts to stretch and sag.
A breast lift can reduce sagging and raise the position of the nipples and the darker area surrounding the nipples (areolae). The size of the areolae can also be reduced during the procedure to keep them in proportion to the newly shaped breasts.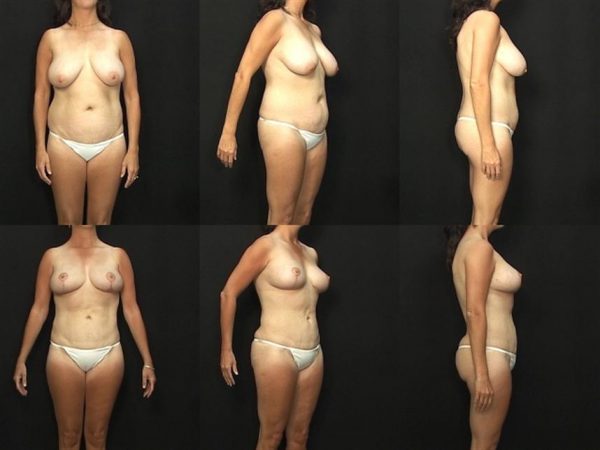 You might consider a breast lift if:
Your breasts sag — they've lost shape and volume, or they've gotten flatter and longer
Your nipples — when your breasts are unsupported — fall below your breast creases
Your nipples and areolae point downward
Your areolae have stretched out of proportion to your breasts
One of your breasts falls lower than the other
A breast lift isn't for everyone. If you're considering pregnancy at any point in the future, you might delay getting a breast lift. During pregnancy, your breasts could stretch and offset the results of the lift.
Breastfeeding is a consideration as well. Although breastfeeding is usually possible after a breast lift — since the nipples aren't separated from the underlying breast tissue — some women might have difficulty producing enough milk.
While a breast lift can be done on breasts of any size, women with smaller sagging breasts will likely have longer lasting results. Larger breasts are heavier, which makes them more likely to sag again.
Risks
A breast lift poses various risks, including:
Scarring.  While scars are permanent, they'll soften and fade within one to two years. Scars from a breast lift can usually be hidden by bras and bathing suits. Rarely, poor healing can cause scars to become thick and wide.
Changes in nipple or breast sensation. While sensation typically returns within several weeks, some loss of feeling might be permanent. Erotic sensation typically isn't affected.
Irregularities or asymmetry in the shape and size of the breasts. This could occur as a result of changes during the healing process. Also, surgery might not successfully correct pre-existing asymmetry.
Partial or total loss of the nipples or areolae. Rarely, the blood supply to the nipple or areola is interrupted during a breast lift. This can damage breast tissue in the area and lead to the partial or total loss of the nipple or areola.
Difficulty breast-feeding. While breast-feeding is usually possible after a breast lift, some women might have difficulty producing enough milk.
Like any major surgery, a breast lift poses a risk of bleeding, infection and an adverse reaction to anesthesia. It's also possible to have an allergic reaction to the surgical tape or other materials used during or after the procedure.
How you prepare
Initially, you'll talk to a consultant physician about a breast lift. During your first visit, your doctor will likely:
Review your medical history. Be prepared to answer questions about current and past medical conditions. Tell the doctor if you have a family history of breast cancer.
Share the results of any mammograms or breast biopsies. Talk about any medications you're taking or have taken recently, as well as any surgeries you've had.
Do a physical exam. To determine your treatment options, the doctor will examine your breasts — including the position of your nipples and areolae.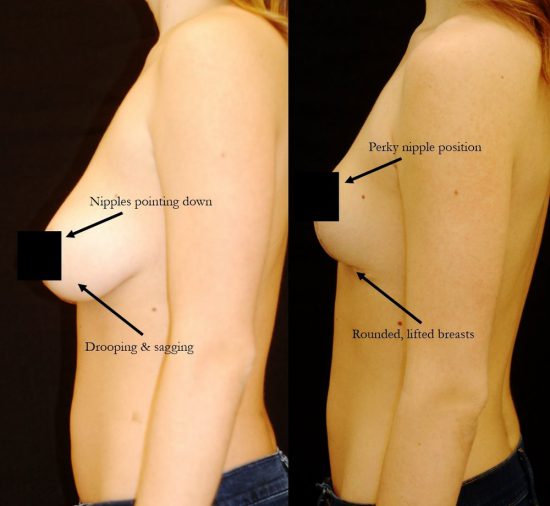 He or she will also consider the quality of your skin tone. Breast skin that has a good tone will hold the breasts in a better position after a breast lift. The doctor might also take pictures of your breasts for your medical record.
Discuss your expectations. Explain why you want a breast lift and what you're hoping for in terms of appearance after the procedure. Make sure you understand the risks and benefits, including scarring and changes in nipple or breast sensation.
Before a breast lift you might also need to:
Schedule a mammogram. Your doctor might recommend a baseline mammogram before the procedure and another mammogram a few months afterward. This will help your medical team see changes in your breast tissue and interpret future mammograms.
Stop smoking. Smoking decreases blood flow in the skin and can slow the healing process. If you smoke, your doctor will recommend that you stop smoking before surgery.
Avoid certain medications. You'll likely need to avoid taking aspirin, anti-inflammatory drugs and herbal supplements, which can increase bleeding.
Arrange for help during recovery. Make plans for someone to drive you home after surgery and stay with you as you begin to recover. You might need someone to help you with daily activities, such as washing your hair, during your initial recovery.
Be in a healthy weight. Consider making dietary changes or participating in an exercise program to assist with weight loss if you've gained weight in the past year.

What you can expect
A breast lift can be done in a hospital or an outpatient surgical facility. Sometimes the procedure is done with sedation and local anesthesia, which numbs only part of your body. In other cases, general anesthesia — which renders you unconscious — is recommended.
During the procedure
Techniques used to remove breast skin and reshape breast tissue vary. The specific technique your plastic surgeon chooses will determine the location of the incisions and the resulting scars.
Your doctor might make incisions:
Around the areolae — the darker area surrounding the nipples
Extending downward from the areolae to the breast creases
Horizontally along the breast creases
Your doctor might place stitches deep within your breasts to reshape your breast tissue and, if necessary, reduce the size of your areolae. He or she will remove excess breast skin and shift the nipples to higher positions. Then your doctor will bring together the breast skin and close the incisions with stitches, surgical tape or skin adhesives.
The procedure typically takes two to three hours, and you can go home on the same day.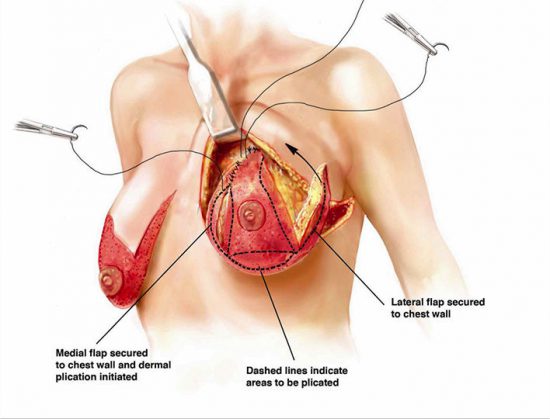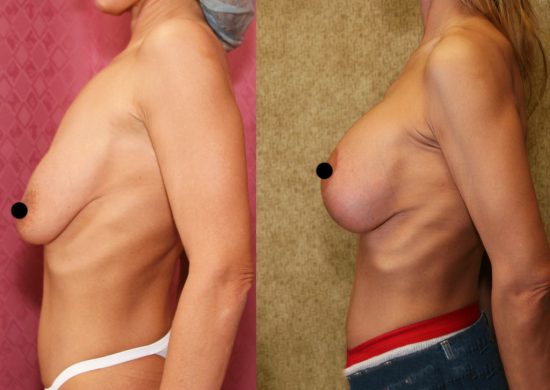 After the procedure
After a breast lift, your breasts will likely be covered with gauze and a surgical support bra. Small tubes might be placed at the incision sites in your breasts to drain any excess blood or fluid.
Your breasts will be swollen and bruised for about two weeks. You'll likely feel pain and soreness around the incisions, which will be red or pink for a few months. Numbness in your nipples, areolae and breast skin might last for about six weeks.
In the first few days after a breast lift, take pain medication as recommended by your doctor. Avoid straining, bending and lifting. Sleep on your back or your side to keep pressure off your breasts.
Avoid sexual activity for at least one to two weeks after the breast lift. Ask your doctor when it's OK to resume daily activities, such as washing your hair, showering or bathing.
Drainage tubes may be placed near your incisions and are typically removed within a few days. When your doctor removes the tubes, he or she will also probably change or remove your bandages.
Talk to your doctor about when — or if — your stitches will be removed. Some stitches dissolve on their own. Others must be removed in the doctor's office, often one to two weeks after the procedure.
Continue to wear the surgical support bra round-the-clock for three or four days. Then you'll wear a soft support bra for three or four weeks. Your doctor might suggest using silicone tape or gel on your incisions to promote healing.
While you're healing, keep your breasts out of the sun. Afterward, protect your incisions during sun exposure.
Results
You'll notice an immediate change in the appearance of your breasts — although their shape will continue to change and settle over the next few months.
Initially, scars will appear red and lumpy. While scars are permanent, they'll soften and become thin and white within one to two years. Scars from a breast lift can usually be hidden by bras and bathing suits.
You might notice that your bra size is a little smaller after a breast lift — even if you haven't had a breast reduction in combination with the procedure. This is simply a result of your breasts becoming firmer and rounder.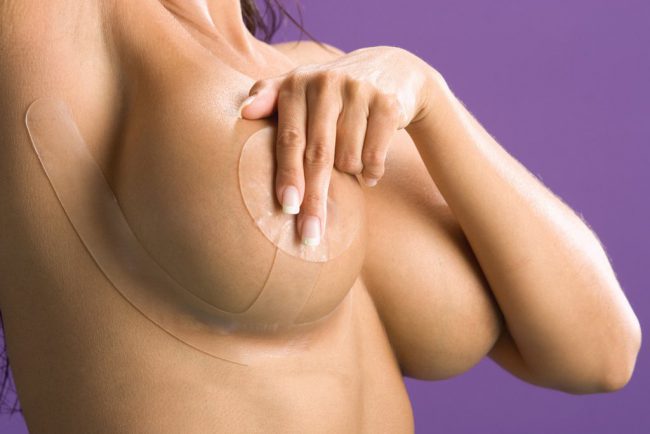 Breast lift results might not be permanent. As you age, your skin will naturally become less elastic, and some sagging might occur — especially if you have larger, heavier breasts. Maintaining a stable, healthy weight can help you retain your results.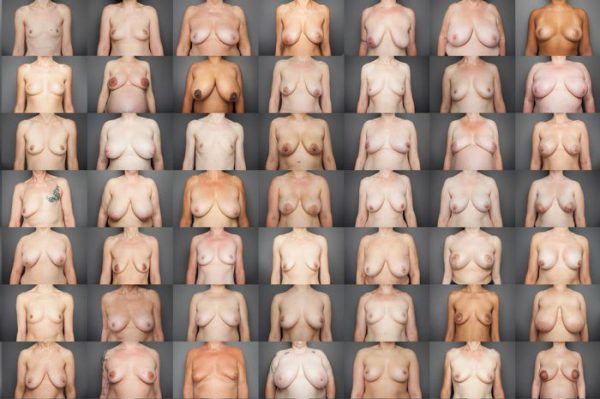 How does breast lift cost in Iran compare with other countries?
Breast lift cost depends on various factors. In breast lift, also known as Mastopexy in medical terminology, hanging and saggy breasts are lifted to give them a firm and shapely look. During breast lift the excess skin is removed and surrounding tissue is lifted and formed after appliance of sutures.
To estimate how much a breast lift costs, it might be helpful to know the procedure. This procedure takes about two to three hours and you are required to be hospitalized for one or two days. After checking out of the hospital, you are going to need to stay in the city that you've had the surgery for about one week. Overall it takes about 10 days to undergo breast lift surgery and recover before going back to your home town.
What factors are contributing to the breast lift cost?
To understand your options and choosing the best and most cost-effective answer, you can consult with a cosmetic plastic surgeon.
The factors that determine the breast lift cost include;
The location (country/city) in which the surgery is being performed.
The surgeon's fee for checkup and examining.
The clinic or hospital in which the surgery in being performed.
Anesthesiologist's fee
Cosmetic surgeon's fee
Usual lab tests charges
The surgery's technique
Prosthesis cost
Hospitalization before and after the operation
You can compare the quality and charges for these factors to choose the best option for your breast lift surgery.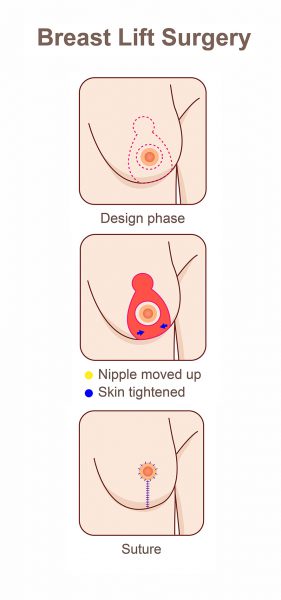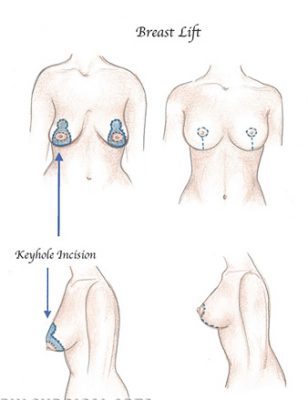 How much does breast lift cost in Iran?
Breast lift in Iran is performed by the bet cosmetic surgeons in the best clinics benefiting from the most advanced facilities and equipment, providing high quality medical care before, during and after the operation. Patient's personal and medical information is considered confidential and they can rest assure about their privacy and enjoy excellent results of their surgery. Iran is the most cost-efficient option considering that it offers high quality medical care and its surgical advances are equivocal to that of European countries.
Regardless of the operator, medical tours in Iran are designed to provide patients with excellent results and maintaining their peace of mind. For every case including breast lift, a dedicated manager will be in charge of coordinating all preparations regarding surgery, travel and accommodation needs for the patient and companions. The cost of breast lift (mastopexy) in Iran is about 2300$, and the cost of breast augmentation with prosthesis for silicone implant would be 2200$, and the cost of breast augmentation with fat injection is about 1500$.
How much does breast lift cost in other countries?
According to Indicure medical tourism, breast lift cost in India starts from $3900 and varies depending on the technique, surgeon, facilities and the city in which the surgery is performed.
In Istanbul, Turkey the average cost is about $3,400. The cost for breast lift surgery in Estethica surgical center of Istanbul is between 2700 to 3700 dollars.
The American Academy of cosmetic surgery offers various methods for breast lift and the cost stands around 13,900 dollars. This hospital is located at Dubai healthcare city.
Breast lift cost in Dubai's Zulekha hospital is 14,460 dollars, while in Canadian Specialty hospital of Dubai, it costs $11,810.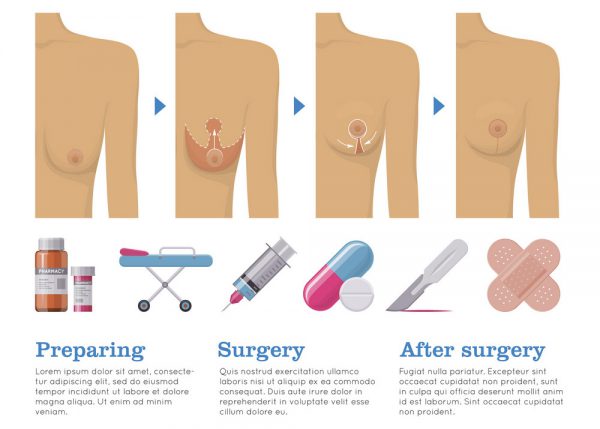 What are the pros and cons of Breast lift?
Breast lift is a viable option for women who are seeking to improve the shape and/or size of their breasts. Various reasons might cause the breasts having an uneven and unappealing appearance such as sudden loss of weight or giving birth. Pregnancy usually decreases the breast volume and cause breast sagging. Also with aging process comes breast tissue hardening in the skin. Sudden fluctuations of weight can cause sagginess and loss of breasts volume as well.
Patients who undergo Mastectomy Surgery, might need to have a breast implant to restore the whole and intact shape of their breasts.
Breast lift offers an effective solutions for all problems mentioned above, but such as any other surgery, it has its own pros and cons.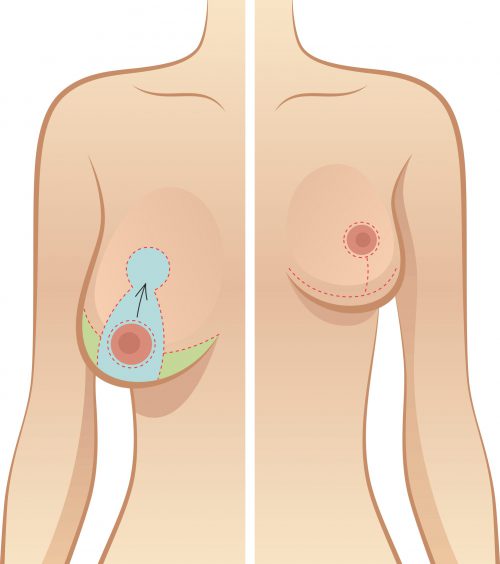 What are the pros of a breast lift and implant?
Breast lift is a perfect solution for women dealing with breast sagging. Breast lift combined with breast implant can resolve any problem with regard to the shape and size of the breast and result in firmer and tighter breasts.
Women who are seeking breast reduction surgery also can use breast lift, since it tightens up the breast in addition to reducing the size.
In some cases of breast reduction, this procedure can help improving body posture and contribute to the health of spine.
Breast implant increase the volume of the breast which makes your outfits fit better and look more flattering.
Highlighting your upper body's natural curves can give you a more desirable appearance and proportional to the rest of your body. Especially for women with a pear body shape whom their body shape can be changed to hourglass shape.
This procedure increases the patient's self-steam and by making their body look more proportional improves their self-confidence and moral.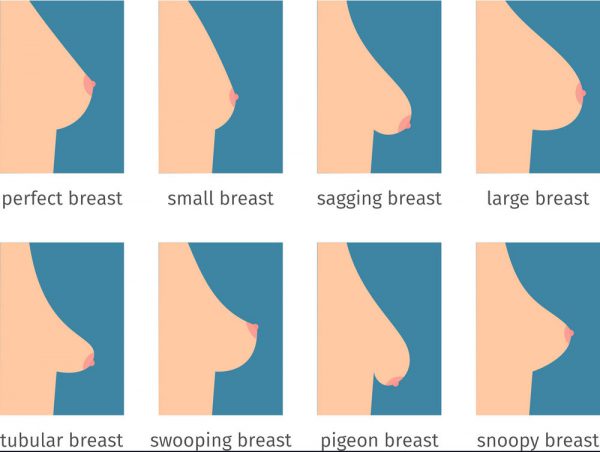 What are the pros of a breast lift and implant?
The size of breast implant must be chosen wisely and properly. A tool large implant will result in a fake look for your breasts.
Before the surgery, it is important to have a comprehensive and thorough consultation with a skilled and experienced cosmetic surgeon to help you making a wise and informed decision.
The tissue and sensation of your breast might change due to the saline prosthesis.
Before the surgery, check whether you are a good candidate for breast lift and implant or not. For instance if you are a skinny person, your skin might look stretched and hardened.
Like any other cosmetic surgery, there is a risk that you might not like the result and it might not meet your expectations.
Breast implant is not a permanent procedure and gradually you need to have them removed and replaced.
Undergoing any kind of surgery, has its own risks and dangers.
Breast lift such as any other surgeries might leave some permanent scars.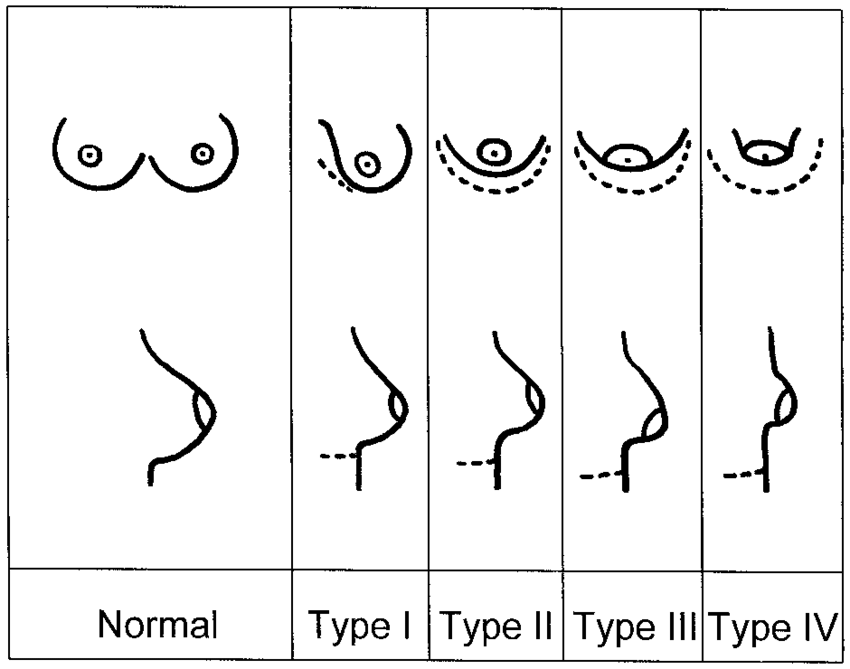 Everything you need to know about breast lift:
Breast lift surgery is a procedure that many women undergo to improve the appearance and form of their breasts. During breast lift, an incision is made around the nipples, the excess skin tissue is removed and the breast is lifted upward. In case the patients would like to increase the breast's volume, and implant will be placed under the breast tissue.
For the implant conventionally a silicon prosthesis is used. A new material that is being used for breast implant is Saline which is a prosthesis filled with salt and water.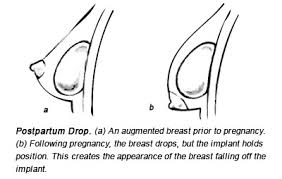 Does breast implant increases the chance of breast cancer?
This is one of the most frequent questions asked by women interested in having a breast implant. According to numerous studies women who have breast implant are not prone to breast cancer more than women without a breast implant. Furthermore breast implant doesn't disturb breast cancer diagnosis.
Countless studies and many emerging evidences by national institute for cancer indicates that having a breast implant does not prevent a doctor in locating and diagnosing a cancer tumor in breasts. Women with breast implant are no more exposed to breast cancer as women without the breast implant.
What age is appropriate for breast lift surgery?
Many women undergo breast lift surgery in their 40s and 50s and get desirable results. Whatever your age is, the best way to examine your choices for having a cosmetic procedure is to consult with a specialist surgeon and discuss your treatment.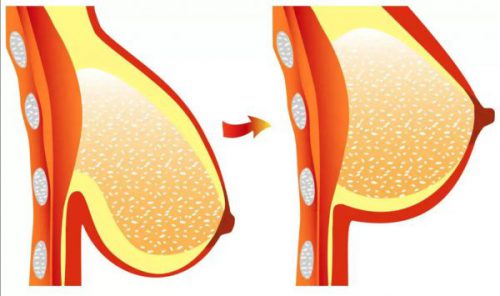 Is breast lift surgery suitable for saggy breasts?
Women with saggy breasts can undergo breast lift and depending on how saggy their breasts are, there might be need for additional surgeries. For breasts that their nipples hung below the breast, the mastoplasty is required. Mastolasty unlike other types of breast lift surgeries, needs some incisions to be made around the nipple. If in the breast lift surgery skip the removal of the excess skin and proceed with placing the implant, the prosthesis might not fit the breast accurately and the result might not turn out perfectly.
Does the breast lift affects the sensitivity of breast nipples?
Most women experience a decline in the sensitivity of their nipples after breast lift surgery. For most of them the sensation returns to the normal level after 6 to 12 months. Although 15% of women who have done breast lift reported permanent decrease in the nipple sensation.
How severe is the pain after surgery (acute pain)?
The pain and soreness after breast lift surgery is relatively mediocre and usually is managed by taking pain killer medication for one two weeks. It is worth mentioning that sever or untreatable pain after surgery might be a symptom of infection or other post-op complications.
How long after surgery can you go back to work?
It depends to the kind of physical activities that your job requires you to do. For one to two weeks after the breast lift surgery movements such as raising your arm needs to be avoided. Also you need to refrain from lifting anything heavier than 2.5 Kilograms up to six weeks after the surgery. These limitations may prevent some women from going back to work.
About TebMedTourism company
TebMedTourism Company is an International healthcare facilitator based in Tehran, Iran.
We start our professional activity in medical tourism industry regarding the profound capability of Iran in both healthcare & touristic fields.
We are ready with open arms to provide desirable services to our dear patients & guests from all over the world to enjoy world-class treatment quality and highly skilled doctors in Iran.
TebMedTourism company is cooperating with more than 40 internationally certified hospitals, 140 selected local hospitals, 300 specialized medical centers, 430 doctors, 112 hotels, domestic and international airlines in Tehran, Shiraz, Mashhad, Tabriz, Qom and other cities in Iran.
TebMedTourism team facilitates comprehensive medical & cosmetic packages in all medical & wellness & touristic fields aimed to achieve your desires.
TebMedTourism experienced team will make this procedure seamless and enjoyable from A to Z, so you will just focus on your recovery.
Communication ways:
call us: +98(21) 88 177 537 and +98(21) 88 51 44 76
Visit us: 1st. Floor / No. 270 /Between Bagh & Azadi  Alleyways / North Sohrevardi st. / Tehran / Iran
Mail us: [email protected]