Infections after Kidney Transplantation: Why it happens and How to prevent
For kidney patients, kidney transplant surgery will not be the end of the treatment, and many factors can affect the success or failure of this surgery.
These patients should be monitored regularly by their physician even after the surgery, take special prescription drugs, undergo related examinations and tests, and maintain a healthy diet and lifestyle.
However, this operation can still carry risks and dangers. The article "What are the benefits and risks of kidney transplant" fully discusses the possible risks of this operation.
However, one of the most serious problems that a kidney recipient can face after a kidney transplant is that the body may reject the new transplanted organ.
To prevent this, kidney recipients must be treated with immunosuppressive medicines for a long time.
But will there be risks accompanied by a treatment that weakens or suppresses the patient's immune system?
Can the side effects of taking immunosuppressive drugs after kidney transplantation be regulated?
Join us in this article to learn more about this subject and more.
Quick Information

cost

from 13000$ to 14000$

Hospital Stay

7 to 10 days

Minimum Stay in Iran

3 to 4 weeks
Immune suppression, a way to prevent transplanted organ rejection
After a kidney transplant, the recipient's immune system may recognize the transplanted kidney as an external agent, so it would refuse to accept it and ultimately attacks it. Kidney rejection can occur in two ways:
Acute Rejection, which usually occurs in the first year after transplantation and can be treated.
Chronic Rejection, which occurs slowly over a long time and can be difficult to treat if not detected at its first stages.
To prevent this incident, the kidney recipients will use immunosuppressive drugs as prescribed by their doctor. These drugs alter and suppress the immune system's normal response to external factors. Therefore, the body will not reject the newly transplanted organ.
The duration, method, and drug dosage will be prescribed by the treating physician, and it is very important to take them regularly and according to the plan.
However, these drugs will also have side effects.
For example, they can promote weight gain, high blood pressure, the risk of various cancers, and last but not the least, some infections in the body.
In this article, we will specifically address which types of infections are more likely to develop after a kidney transplant, and how they can be identified or prevented.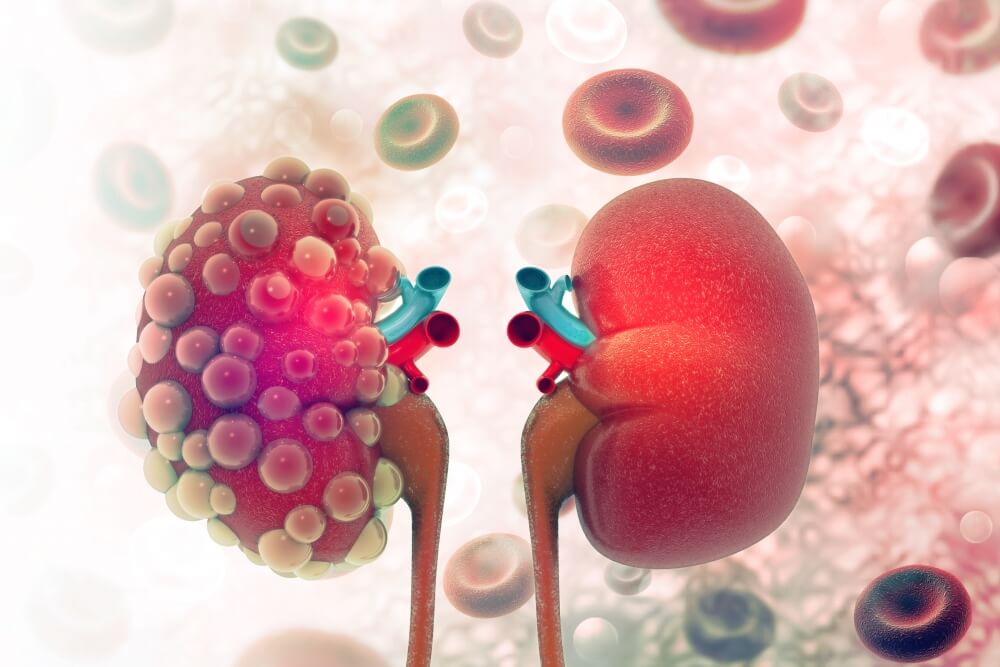 Common infections after kidney transplantation
Some infections are common, especially in the first six months after a kidney transplant. These infections are one of the major causes of morbidity and mortality in kidney donors. However, there will be ways to prevent it: for example, taking medications or injecting certain vaccines.
On the other hand, many of these infections will be treatable. However, if a person has other unfavorable underlying conditions – for example, diabetes, lung disease, or kidney disease such as polycystic kidneys- the treatment will be a bit more complicated.
But which of the following infections is most common after transplantation?
One of the most common infections in these patients, affecting one in three kidney recipients, is urinary tract infections, especially if the renal failure is primarily due to reflux nephropathy or diabetes. Treatment of this infection is usually simple and by prescribing antibiotics, but if recurrent or severe cases are seen, there is a need for longer treatment with higher doses of antibiotics.
Women are more likely to get the disease.
Common cold and flu (INFLUENZA)
For some time after a kidney transplant – even up to a year – it is necessary for kidney recipients to stay away from people with colds or flu. Although these types of viral infections are simple, they can be dangerous for someone who has recently had a kidney transplant.
One of the vaccines that will not be dangerous after receiving kidney surgery is the flu vaccine (or flu jab), which, of course, has special conditions for its use. We will deal with it later in this article.
Although this infection is not that common after kidney transplant surgery, many doctors prescribe medications to prevent acute forms of that for up to six months after the surgery. The prescription is usually one tablet of cotrimoxazole (Septrin) daily. There is also a vaccine called pneumococcus to prevent this infection, which is recommended for people with a history of kidney transplantation to receive it once.
CYTOMEGALOVIRUS (CMV) infection
This viral infection is usually a mild infection that is similar to the flu when a person is not under treatment with immunosuppressive drugs. But in people who have had a kidney transplant, the disease has the potential to become an acute infection. In 8% of kidney recipients, this disease is observed and is relatively common.
Risk factors include patients undergoing pancreas transplantation at the same time as kidney transplantation, older donors (>60 years), or use of induction immunosuppression (T cell–depleting antibodies).
Usually, blood tests are performed on the recipient and donor before the transplant. When the disease is present in the donor as "asleep" and the recipient does not have the necessary antibodies, there is a possibility of getting the infection.
Usually, the medical team will prescribe preventative medications for several weeks after the transplant, including valaciclovir tablets.
The risk of developing the disease and the onset of symptoms will usually increase within 4 to 6 weeks after the transplant (or whenever the patient stops taking preventative medication).
Symptoms will include pain and fever.
At this stage, a blood test should be taken from the patient to identify the virus. Mild cases of the disease can be treated by increasing the dose of preventive drugs, but in severe cases, a drug called ganciclovir will be needed.
All in all, treatment of established CMV disease requires a multifactorial approach, including reduction of immunosuppressive agents, antiviral agents, and in some cases adjuvant therapy.
This disease can increase the risk of organ rejection or death; therefore, it should be strictly considered and prevented.
EBV Infection and PTLD (Post-Transplant Lymphoproliferative Disorders)
Epstein-Barr virus (EBV), although less prevalent than CMV, is another important cause of increased post-transplant mortality because it is associated with the spread of post-transplant lymphoproliferative abnormalities (PTLDs).
The disease is defined as a condition in which lymphoid proliferation occurs in transplant recipients. This proliferation may occur in various organs, including the transplanted organ.
Lymphoproliferative abnormalities are much more common in children than in adults and usually occur several months to several years (in most cases three to seven months) after transplantation. However, kidney transplant patients are less likely to develop it than other organ recipients. The main manifestations of this disease would be seen in the head, neck, and mouth of organ recipients.
There is generally no specific treatment for PTLD, but prevention of CMV is one of the most significant ways to prevent it.
The general recommendation is that the EBV viral load should be monitored in the first week after transplantation, then monthly for the first 3 to 6 months, and then every three months until the end of the first year. In high-risk groups receiving acute treatment to prevent organ rejection, this monitoring should remain in place.
Vaccines
Vaccination is one of the most effective ways to prevent infections. However, when a person has a kidney transplant, it may not be appropriate to use certain vaccines: live vaccines, for example.
Therefore, it is necessary to consult with the medical team before taking any action to receive the vaccine.
In general, if you plan to have or have had a kidney transplant:
Get the hepatitis B vaccine before the transplant.
Avoid receiving live vaccines.
Avoid the flu vaccine as a nasal spray.
Wait at least 3 (in pandemic conditions) up to 6 months after a kidney transplant to get the flu shot, then get a yearly booster (only by injection).
Get a pneumococcal vaccine before a kidney transplant.
It is best to delay the application of other vaccines for up to 6 months, although reliable data are not yet available.
Reviewing the above, it seems that although the risk of some infections after kidney transplantation increases, in most cases, there is a possibility of prevention and treatment.
The important thing here is that the recipient of the donated kidney should be monitored and examined by a treating physician before and after the kidney transplant surgery. Therefore, he or she may be able to cope with the operation and its complications safely.
Because despite these initial problems, the life of a kidney patient after kidney transplantation will be of much higher quality.
If you are also planning to have a kidney transplant, do not forget to consult an experienced doctor.
Don't forget, at any stage you are, the medical consultants of TebMedTourism Co. are also ready to answer your questions, free of charge, 24/7. 
VIP Package
Treatment
Medical consultation
Post Treatment follow-up
Airport Pick up/Drop off
Visa
Hotel 5 * Top
VIP Transfer
Translator 7/24
Sightseeing Tours
Package A
Treatment
Medical consultation
Post Treatment follow-up
Airport Pick up/Drop off
Visa
Hotel 5 *
Transfer
Translator
Package B
Treatment
Medical consultation
Post Treatment follow-up
Airport Pick up/Drop off
Visa
Hotel 4 *
Package C
Treatment
Medical consultation
Post Treatment follow-up
Airport Pick up/Drop off


About TebMedTourism company
TebMedTourism Company is an International healthcare facilitator based in Tehran, Iran.
We start our professional activity in medical tourism industry regarding the profound capability of Iran in both healthcare & touristic fields.
We are ready with open arms to provide desirable services to our dear patients & guests from all over the world to enjoy world-class treatment quality and highly skilled doctors in Iran.
TebMedTourism company is cooperating with more than 40 internationally certified hospitals, 140 selected local hospitals, 300 specialized medical centers, 430 doctors, 112 hotels, domestic and international airlines in Tehran, Shiraz, Mashhad, Tabriz, Qom and other cities in Iran.
TebMedTourism team facilitates comprehensive medical & cosmetic packages in all medical & wellness & touristic fields aimed to achieve your desires.
TebMedTourism experienced team will make this procedure seamless and enjoyable from A to Z, so you will just focus on your recovery.
Communication ways:
call us: +98 912 098 5010
Visit us: No.2, First 8 meter alley, Nobovvat sq., Tehran, Iran
Mail us: [email protected]