Kidney transplant or renal transplant is a precious procedure that can improve the recipient's health life noticeably. However, some of the transplants are not successful. Sometimes the body does not accept the new organ and consequently rejects it.  Therefore, before undergoing kidney transplant surgery, you should consider the risks and the possibility of organ rejection in order to prevent future emotional conflicts.
Kidney rejection can happen due to several reasons. Yet, learning about the symptoms of kidney rejection can help treat it before serious damage happens to the organ. In this article, we are going to discuss the reasons for kidney transplant rejection, the symptoms of rejection, and how it can be prevented.
Kidney function
Kidneys are two bean-like organs that are placed below the rib cage and on each side of the spine. The kidneys' function is essential to our lives. The kidney performs at least three major functions to keep our body healthy:
Blood filtration in order to remove waste products and changing them into urine to be evacuated from the body
Releasing some hormones to regulate the blood pressure
Releasing the hormone erythropoietin to stimulate the red blood cells production
Quick Information

cost

from 13000$ to 14000$

Hospital Stay

7 to 10 days

Minimum Stay in Iran

3 to 4 weeks
When kidney transplant is needed?
Renal failure happens when the kidney stops working. End-stage renal disease happens when the kidney is not almost working and toxic waste products are accumulated in the body.
The end-stage renal disease mostly occurs because of reasons like diabetes, high blood pressure, polycystic kidney disease, glomerulonephritis, and severe urinary tract anatomical problems. In this stage, patients need to undergo dialysis or have a kidney transplant. Donor kidneys for transplantation come from either a living donor or a deceased donor.
VIP Package
Treatment
Medical consultation
Post Treatment follow-up
Airport Pick up/Drop off
Visa
Hotel 5 * Top
VIP Transfer
Translator 7/24
Sightseeing Tours
Package A
Treatment
Medical consultation
Post Treatment follow-up
Airport Pick up/Drop off
Visa
Hotel 5 *
Transfer
Translator
Package B
Treatment
Medical consultation
Post Treatment follow-up
Airport Pick up/Drop off
Visa
Hotel 4 *
Package C
Treatment
Medical consultation
Post Treatment follow-up
Airport Pick up/Drop off
Kidney rejection reasons
There can be different reasons for having a kidney transplant rejection. However, the most common cause of this problem is the immune system response in the body. The immune system recognizes the antigens of transplant kidneys as foreign and to defend the body attack them.
For suppressing the immune system response, anti-rejection medications are prescribed. Other reasons for rejection are discussed below:
Chronic Rejection: this is one of the most reasons of kidney transplant failure. Long-term damage can happen to the transplanted kidney by the immune system. Patients need to follow their prescribed medications carefully and have a healthy diet in order to reduce this danger. However, sometimes kidney rejection happens and it is out of the patients' control.
Blood Clots: when the blood in transplanted kidney vessels clots, the kidney does not have blood flow anymore. This problem often occurs in a short time after the surgery.
Fluid Collection: fluid collection around the kidney can cause pressure and ultimately damage the organ.
Infection: an untreated infection in the kidney can cause serious problems and harm.
Donor Kidney Problems: sometimes there are some problems with the donor kidney that are not expected by the doctors and show themselves after being transplanted.
Side Effects of Medicines: side effects of some medicines can be harmful to the transplanted kidney. You should always consult with your doctor about your medications.
Recurrent Disease: sometimes the disease that harmed your original kidney in the first place can return and damage the donor kidney once more. This is not a very common issue though.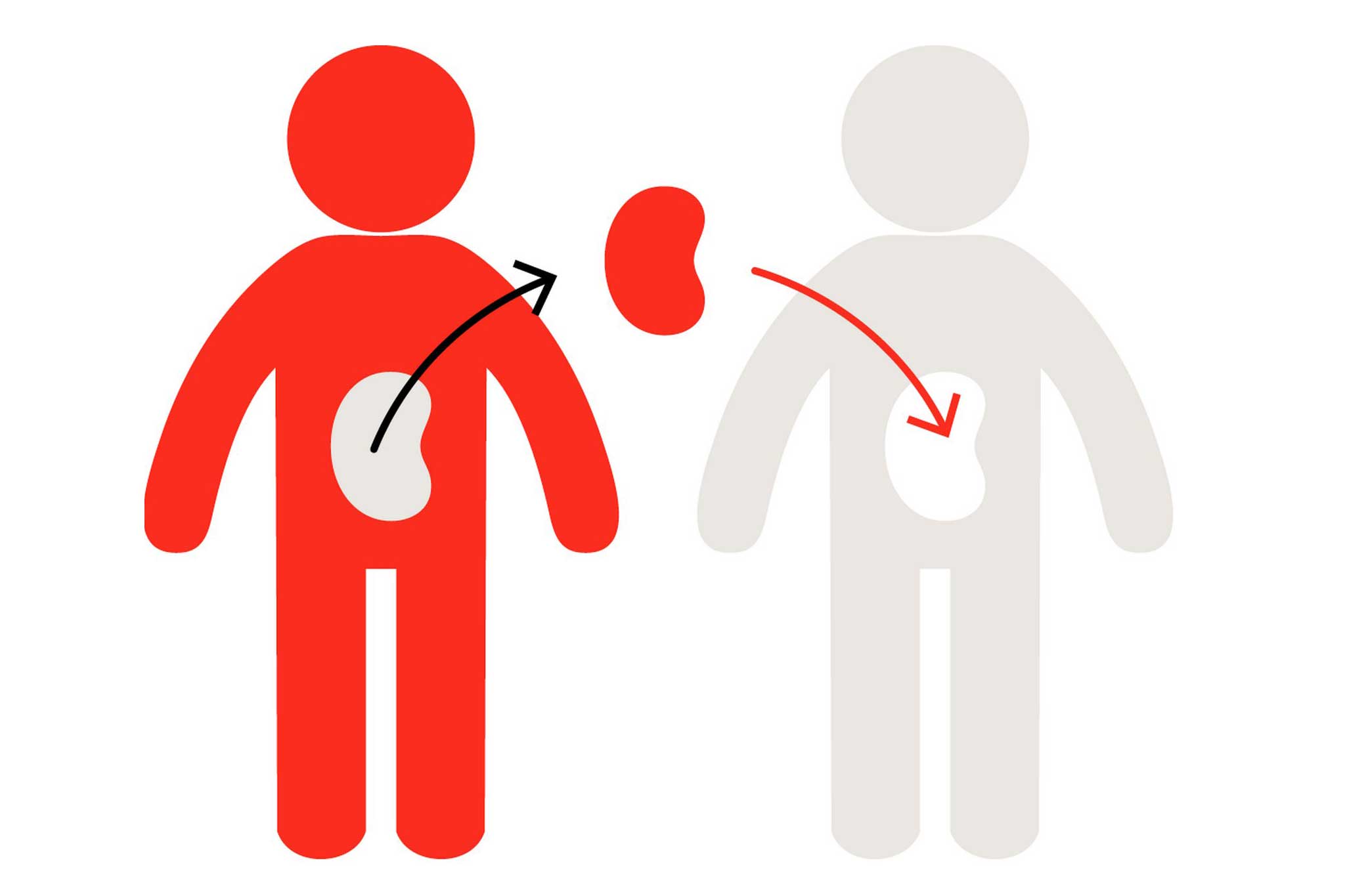 The most common signs of kidney rejection
After transplanting, your body may detect your transplanted organ as a foreign object and attack it to defend you, even though you use immunosuppressant medications. About 20 percent of patients experience at least a part of the rejection. However, remember that it does not mean losing your new kidney because most rejections are mild and can easily be treated by adjusting the dosage of immunosuppression medication.
Most rejections happen in the first six months of transplant. Rejection can happen any time after transplant but its risks usually decrease in time. A kidney transplant failure may do not have any symptoms and appear in blood test results.  But the most common symptoms of rejection are:
Fever higher than 100 degrees Fahrenheit (38 degrees Celsius)
Flu-like symptoms such as chills, body aches, headache, nausea, dizziness, etc.
Fatigue
Decreased urine output
Sudden weight gain
Fluid retention (swelling)
Increase in serum creatinine
Abdominal pain or tenderness around the transplant area
High blood pressure
Examining the blood test and a kidney biopsy is also necessary to make sure the kidney rejection is really happening.
How can kidney rejection be prevented?
For detecting kidney problems, repeated blood work and having a renal ultrasound in order to check the blood flow in the kidney seem to be very important. Also, doing a kidney biopsy is often necessary in order to find out the kidney rejection occurrence. This procedure involves retrieving a small sample of kidney tissue in order to be tested for the possibility of rejection. This process can be done in the hospital or an outpatient clinic.
For performing a kidney biopsy, the top of your kidney area gets numbed and a fine needle passes through your kidney in order to collect a tissue sample. The biopsy procedure takes about 20 to 30 minutes and to prevent bleeding, you need to lie down for 2 hours.
Then the sample is examined under the microscope and if the rejection is diagnosed, your doctor prescribes necessary medications in order to prevent rejection and treat it. You may need to be on your doctor's monitoring and stay in hospital for a couple of days. Your treatment should be determined by your physician based on the severity of kidney rejection and your general condition. In this situation, the usual medication is taking stronger doses of anti-rejection drugs.
If you need more information on this topic and want to consult, contact us NOW.
The consultant medical doctors of TebMedTourism Co. are at your service for free.


About TebMedTourism company
TebMedTourism Company is an International healthcare facilitator based in Tehran, Iran.
We start our professional activity in medical tourism industry regarding the profound capability of Iran in both healthcare & touristic fields.
We are ready with open arms to provide desirable services to our dear patients & guests from all over the world to enjoy world-class treatment quality and highly skilled doctors in Iran.
TebMedTourism company is cooperating with more than 40 internationally certified hospitals, 140 selected local hospitals, 300 specialized medical centers, 430 doctors, 112 hotels, domestic and international airlines in Tehran, Shiraz, Mashhad, Tabriz, Qom and other cities in Iran.
TebMedTourism team facilitates comprehensive medical & cosmetic packages in all medical & wellness & touristic fields aimed to achieve your desires.
TebMedTourism experienced team will make this procedure seamless and enjoyable from A to Z, so you will just focus on your recovery.
Communication ways:
call us: +98 912 098 5010
Visit us: No.2, First 8 meter alley, Nobovvat sq., Tehran, Iran
Mail us: [email protected]