Risks of Gestational Surrogacy Facing the Surrogate Mother
One of the latest and efficient methods of infertility treatment is Gestational Surrogacy or employing a Surrogate Mother.
This approach will have many advantages and disadvantages for couples who are tired of conventional infertility treatment methods, fully discussed in the article "Advantages and disadvantages of surrogacy for infertility treatment".
But another influential person who will play a central role in this process is the "surrogate mother" or the woman who agrees to raise someone else's fetus in her uterus to fulfill the wish of having a child of their own for an infertile couple.
But is this process going to endanger the health of surrogate?
What are the risks for a surrogate mother in developing this generous action?
In this article, we will examine this issue further. However, if you need more guidance in this area, do not hesitate to consult with our medical team in TebMedTourism Co.
A Momentous Decision:
One of the most significant decisions that a woman can make in her life is the one to become a surrogate mother by gestational surrogacy treatment. Although with this choice, this woman can transform the life of an infertile couple in the best way, her own life is also going to be greatly affected.
A surrogate mother is supposed to carry a baby that will eventually be separated from her and handed over to another couple. Surrogacy, in addition to the usual pregnancy complications, will also bring a lot of other complexities and psychological burdens to the surrogate mother. Therefore, she should be aware in advance of all the uncertainties that may occur along the way.
In general, the difficulties ahead can be divided into three categories:
– Medical risks of surrogacy
– Emotional risks of surrogacy
– Legal risks of surrogacy
Medical problems surrogate mothers may face
– Pregnancy Complications:
Gestational Surrogacy procedure will primarily involve pregnancy as its term. Therefore, the surrogate mother can experience all the possible and general complications of pregnancy including morning sickness, weight gain, swelling, back pain, heartburn, and other bothersome. In some cases, more severe complications may occur for example, gestational diabetes, hypertension, or even damage to the reproductive organs.
On the other hand, like any other pregnancy, there is a possibility of miscarriage or premature birth, which requires regular monitoring, examination, and prescription of appropriate medications by the treating physician for prevention. However, the risk of miscarriage rises with increasing maternal age and, for example, rarely occurs in the 20s.
In some cases, Ectopic Pregnancy has been observed. If you notice symptoms of this type of pregnancy, such as vaginal bleeding or severe back pain, you should see your doctor as soon as possible receiving appropriate treatment.
Multiple pregnancy (pregnancy with more than one baby):
In this method, since more than one embryo is transferred to the mother's body during the IVF stage to increase the pregnancy rate, the possibility of multiple pregnancies increases. This will require specific instructions from the treating doctor so as not to damage the mother's daily life and the pregnancy outcome.
In such a case, the possibility of giving birth to low weight or premature babies, placental abruption, and the need for a cesarean section will increase.
"Multifetal pregnancy reduction" or "selective reduction" is a method that can be used to reduce the number of fetuses in the uterus in the early stages (if multiple pregnancies are observed).
– Taking specific medications
There are also potential risks associated with IVF (in vitro fertilization). Because the surrogate mother must take or inject medications due to the IVF process to increase the chance of pregnancy, and regulate the menstrual cycle, needle bruising, allergic reactions, and increased premenstrual syndromes are possible.
In rare cases, there may be some infections.
– Embryo transfer
Unpleasant experiences may also occur during the transfer of the fetus to the surrogate mother. For example, cramping, bleeding, and in rare cases, infections that can be treated with antibiotics.
Despite these potential complications, the surrogacy agency that you consider must perform thorough examinations and tests before taking any action.
These tests will allow your doctor to be aware of your underlying medical conditions and preventing any abnormalities in your pregnancy.
TebMedTourism Co.; a surrogacy facilitator company with a license from the Health Ministry of Iran, can accompany you on this road.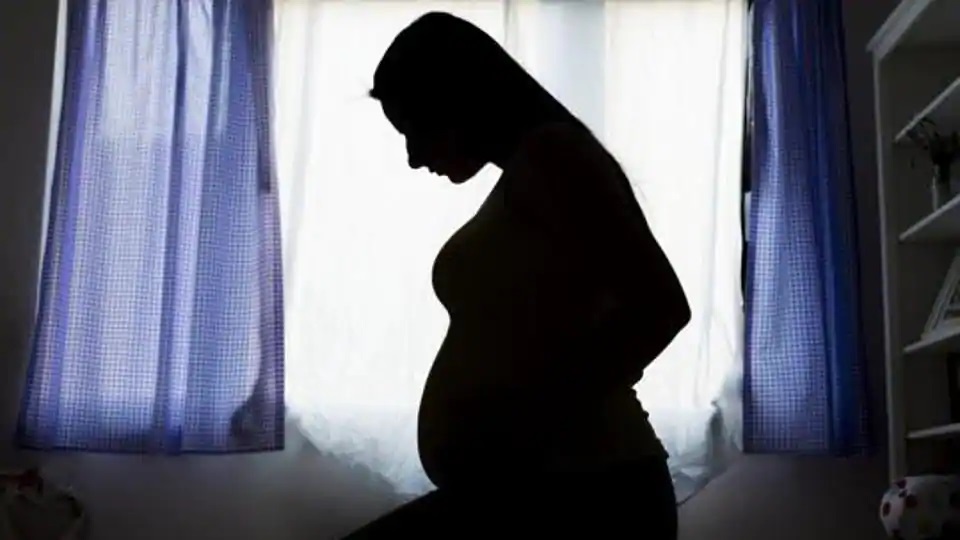 Emotional problems surrogate mothers may face 
In addition to the medical problems mentioned, the decision to become a surrogate mother will have possible psychological consequences for the mother.
While an experienced and professional infertility medical team and the clinic can manage the potential medical problems and risks of surrogacy, the emotional side effects directly target the surrogate mother and should not be underestimated.
In this approach, although the surrogate mother will be happy to help the infertile couple experience the taste of parenthood, she will be more likely to feel depressed during and after the procedure. This feeling of loss and depression will increase, especially after delivery and separation from the baby who has been in the mother's body for nine months.
In this case, it is very important that the surrogate mother has a supporting network of people on her own or, if necessary, consult a psychologist to share and reduce her unpleasant feelings.
– Impact on personal and family relationships
Being a surrogate mother can affect a person's family life, their relationships with their spouse and children, and create tensions.
Since in the early stages of the process, a person's sexual relationship with her spouse is affected, and on the other hand, in the last months of pregnancy, the spouse's duties in caring for household errands will increase, the process must start with the approval of the spouse in the first place.
On the other hand, in this period, the surrogate mother should form a good relationship with the infertile couple, which, like any newly formed human relationship, can bring some challenges.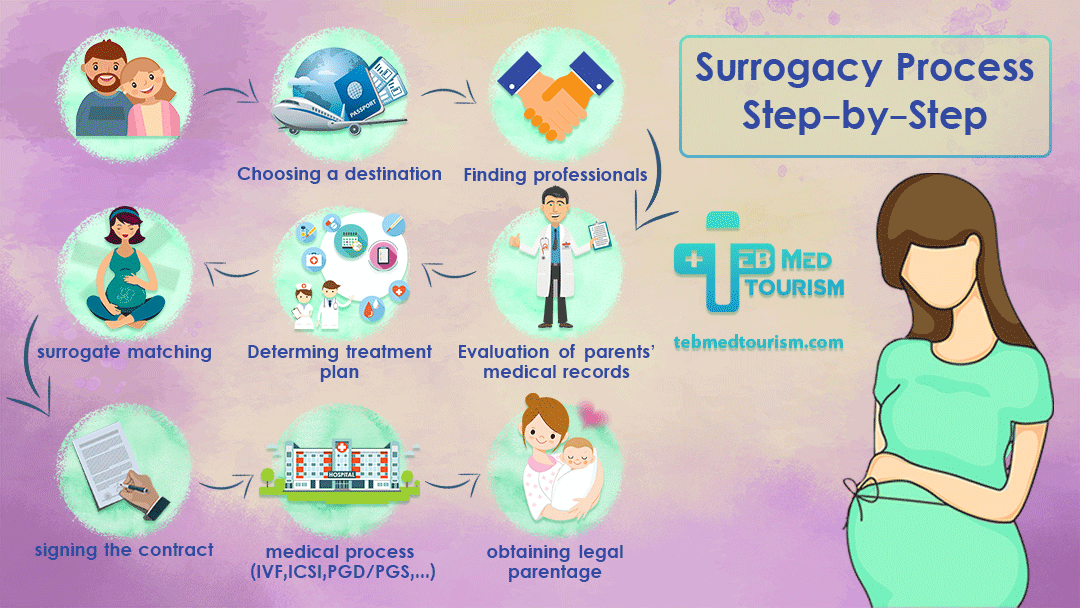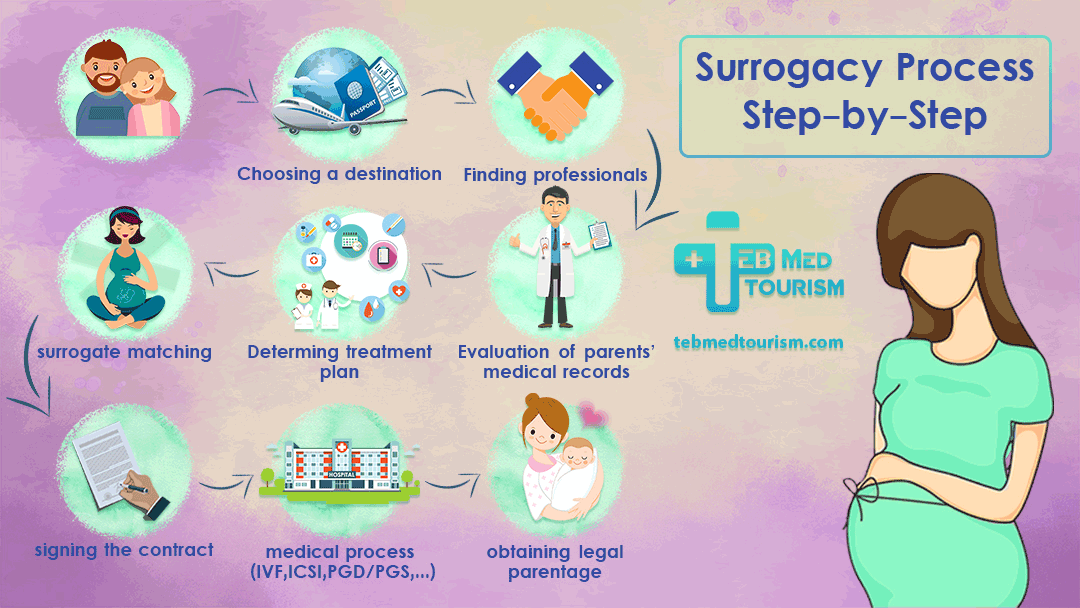 Legal problems surrogate mothers may face
– Lack of adherence to the contract and financial commitments
Both parties must live up to their commitments. Cases have been reported in which, after the end of the process, the infertile couple refused to fulfill their financial obligations to the surrogate mother, and vice versa. Therefore, it is important to have an experienced legal team, along with the surrogacy agency you are looking for, which can manage legal matters.
TebMedTourism Company can stand by both sides in the legal process of this method, and prevents such problems as much as possible by concluding formal and notarized contracts.
Do you have doubts about deciding to become a surrogate mother after reviewing this article?
It should be noted that many of these risks are items that would also exist in a normal pregnancy.
In addition to the dangers that may arise along the way, if you are matched with an expert medical team, you do not need to experience these in person. It is undeniable that each person will have different circumstances and, therefore, will take a different path.
Finally, helping an infertile couple achieve their dream of having a child is an experience that will bring you a lot of good feelings and value.
Also, if you need further consultation, the consultant medical doctors of TebMedTourism Co. are ready to answer your questions, free of charge, 24/7.
VIP Package
1st Trial
$14500
This package needs more consultation
Treatment
Medical consultation
Post Treatment follow-up
Airport Pick up/Drop off
Visa
VIP Transfer
Translator 7/24
TOP 5* Hotel
Sightseeing Tours
Package A
3rd Trial
$15000
This package needs more consultation
All medical and laboratory tests
Treatments
Medical consultation
Post Treatment follow-up
Airport Pick up/Drop off
Package B
2nd Trial
$13500
This package needs more consultation
All medical and laboratory tests
Treatments
Medical consultation
Post Treatment follow-up
Airport Pick up/Drop off
Package C
1st Trial
$12000
This package needs more consultation
All medical and laboratory tests
Treatments
Medical consultation
Post Treatment follow-up
Airport Pick up/Drop off

Communication ways:
call us: +98 912 098 5010
Visit us: 1st. Floor / No. 270 /Between Bagh & Azadi  Alleyways / North Sohrevardi st. / Tehran / Iran
Mail us: Tebmedtourism@gmail.com