What Is Scaling?
Dental scaling is routinely performed to help patients with gum disease and excessive plaque buildup. While a standard cleaning will address the surface of the tooth, scaling goes much deeper. If your dentist suggests dental scaling and root planning for your teeth, it's helpful to know what this means so you can prepare for what's ahead.
Scaling and Root Planing
Scaling and root planning is a deep cleaning below the gumline used to treat gum disease.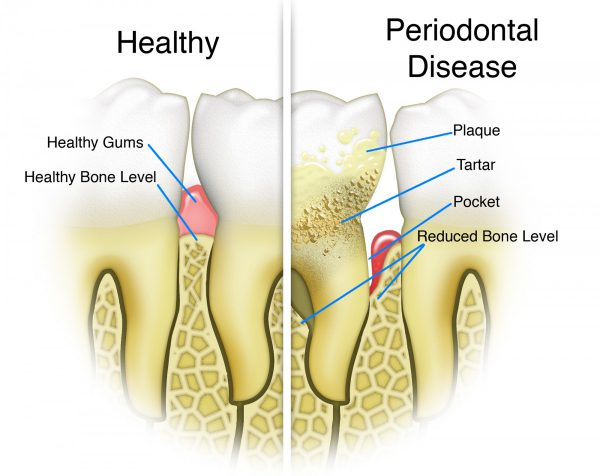 Why Do I Need It?
Gum disease is caused by a sticky film of bacteria called plaque. Plaque is always forming on your teeth, but if they aren't cleaned well, the bacteria in plaque can cause your gums to become inflamed. When this happens, your gums will pull away from your teeth and form spaces called pockets. Plaque then gets trapped in these pockets and cannot be removed with regular brushing. If untreated, gum disease could lead to bone and tooth loss.
If gum disease is caught early and hasn't damaged the structures below the gum line, a professional cleaning should do. If the pockets between your gums and teeth are too deep, however, scaling and root planning may be needed.
A July 2015 study in the Journal of the American Dental Association finds that scaling and root planning is beneficial to patients with chronic periodontitis (gum disease that has advanced past gingivitis). Chronic periodontitis affects 47.2% of adults over 30 in the United States.
What Happens During Scaling and Root Planing?
This deep cleaning has two parts. Scaling is when your dentist removes all the plaque and tartar (hardened plaque) above and below the gum line, making sure to clean all the way down to the bottom of the pocket. Your dentist will then begin root planning, smoothing out your teeth roots to help your gums reattach to your teeth. Scaling and root planning may take more than one visit to complete and may require a local anesthetic.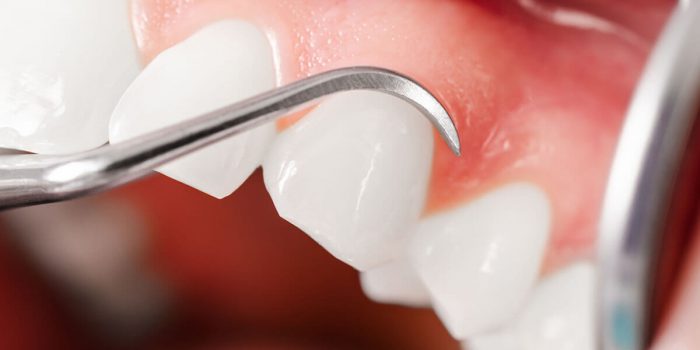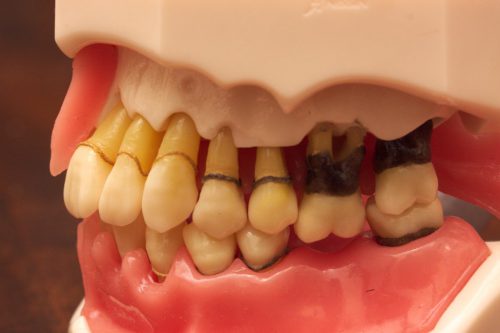 What Does Scaling Feel Like?
Dental scaling can be uncomfortable, particularly if you have sensitive gums. Your dentist may offer a local anesthetic to numb your gum tissue and make the procedure more comfortable. Speak with your dental care provider about your options for desensitizing the area if you're concerned about pain or discomfort during the process.
Dental scaling can take several visits, each one addressing a different portion of the mouth. Some dentists divide the mouth into four quadrants, while others will perform dental scaling in two halves. If you're nervous about the process, ask your dentist if you can schedule your scaling for a single visit. Though this isn't an option for all cases, it may be available if you have only moderate gum disease and are willing to sit for a lengthy procedure.
When Is Dental Scaling Necessary?
Everyone experiences some form of plaque buildup. The saliva, bacteria, and proteins in your mouth form a thin layer that covers your teeth at almost all times. When you eat, tiny particles, acids, and sugars from the food stick to this film, creating a buildup on the teeth known as plaque. The bacteria that live in this plaque can cause gum disease and tooth decay. Brushing, flossing, and regular dental cleanings will help remove the plaque and prevent more serious problems.
If you have healthy gums, the tissue will fit tightly around the tooth and keep plaque out. However, if gum disease begins to form, this tissue will loosen. Healthy gums attach to the tooth just 1 to 3 millimeters below the gumline. With gum disease, you'll begin to develop deeper pockets. These can fill with plaque, worsening your problems and causing symptoms like bad breath.
If you have pockets of 4 millimeters or more, your dentist will probably recommend dental scaling to remove the plaque beneath the gumline and help treat the gum disease.
After Care Tips
After a deep cleaning, you may have pain for a day or two and teeth sensitivity for up to a week. Your gums also may be swollen, feel tender and bleed.
To prevent infection, control pain or help you heal, your dentist may prescribe a pill or mouth rinse. Your dentist may also insert medication (sub-antimicrobial-dose doxycycline) directly into the pocket that was cleaned.
Your dentist will schedule another visit to see how your gums have healed and measured the depth of your pockets. If they have gotten deeper, more treatment may be needed.
Good dental care at home is essential to help keep gum disease from becoming more serious or recurring.  Brush your teeth twice a day with a soft brush, clean between your teeth daily, eat a balanced diet, avoid using tobacco and see your dentist regularly.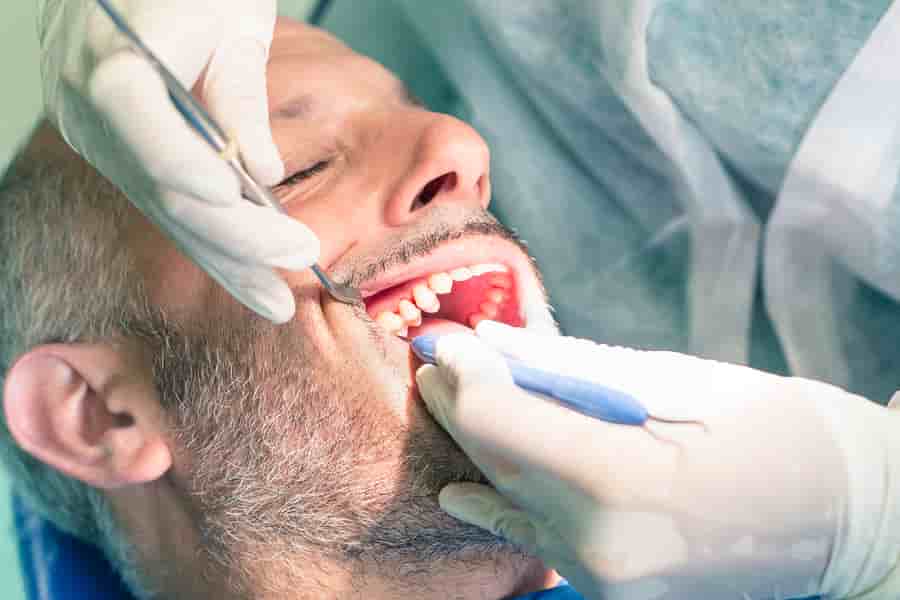 Scaling and Root Planning Cost in Iran
VIP Package
Per tooth
Treatment
Medical consultation
Post Treatment follow-up
Airport Pick up/Drop off
Visa
Hotel 5 * Top
VIP Transfer
Translator 7/24
Sightseeing Tours
Package A
Per tooth
Treatment
Medical consultation
Post Treatment follow-up
Airport Pick up/Drop off
Visa
Hotel 5 *
Transfer
Translator
Package B
Per tooth
Treatment
Medical consultation
Post Treatment follow-up
Airport Pick up/Drop off
Visa
Hotel 4 *
Package C
Per tooth
Treatment
Medical consultation
Post Treatment follow-up
Airport Pick up/Drop off
About TebMedTourism company
TebMedTourism Company is an International healthcare facilitator based in Tehran, Iran.
We start our professional activity in medical tourism industry regarding the profound capability of Iran in both healthcare & touristic fields.
We are ready with open arms to provide desirable services to our dear patients & guests from all over the world to enjoy world-class treatment quality and highly skilled doctors in Iran.
TebMedTourism company is cooperating with more than 40 internationally certified hospitals, 140 selected local hospitals, 300 specialized medical centers, 430 doctors, 112 hotels, domestic and international airlines in Tehran, Shiraz, Mashhad, Tabriz, Qom and other cities in Iran.
TebMedTourism team facilitates comprehensive medical & cosmetic packages in all medical & wellness & touristic fields aimed to achieve your desires.
TebMedTourism experienced team will make this procedure seamless and enjoyable from A to Z, so you will just focus on your recovery.
Communication ways:
call us: +98 88 17 75 37 and +98 88 51 44 76
Visit us: 1st. Floor / No. 270 /Between Bagh & Azadi  Alleyways / North Sohrevardi st. / Tehran / Iran
Mail us: [email protected]