Septoplasty is a surgical treatment for a deviated nasal septum. The nasal septum is usually straight but it may be deviated due to some factors causing one nasal passage to be smaller and the opposite one wider than normal. When this condition is moderate or severe it requires treatment by septoplasty.
What is septoplasty?
Septoplasty is a type of surgical procedure that aims to straighten the bone and cartilage of the nose. Septoplasty is done by dividing the space between two nostrils. The nasal septum is repositioned to the middle of the nose, so the surgeon may have to cut and remove some septum parts of the nose before to replace them in the proper position.
A deviated septum (crooked septum) can make breathing hard and increase the risk of sinus infections as it causes poor drainage. When the crooked septum is severe it can block one side of the nose. As a result, you feel difficulty breathing through one or both sides of the nose. Once a septoplasty is done, you will feel breathing is easier.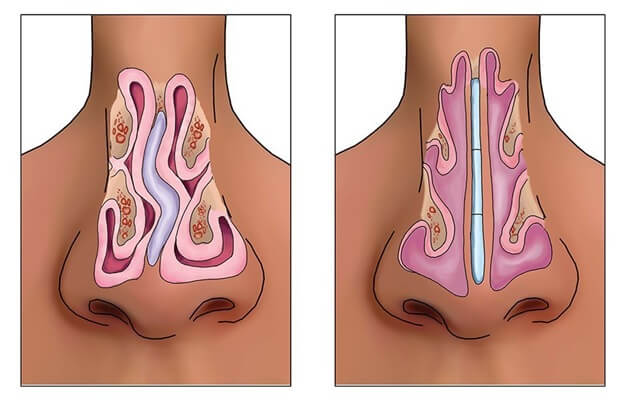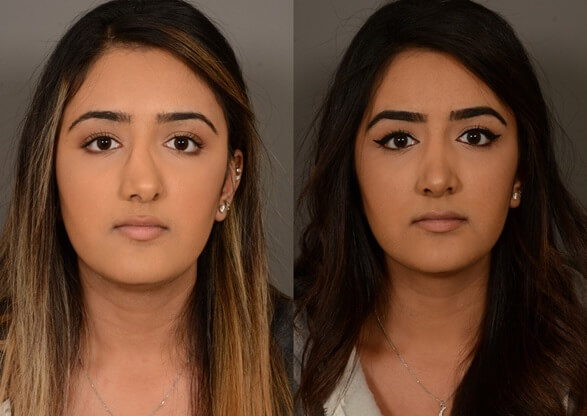 Septoplasty straightens the nasal septum by repositioning, trimming and replacing bone, cartilage or both of them.
Septoplasty may also be performed to remove nasal polyps and conditions that hinder nasal airway.
If you have a noticeable bend on your nose, septoplasty will be done along with rhinoplasty. This procedure is called a septorhinoplasty.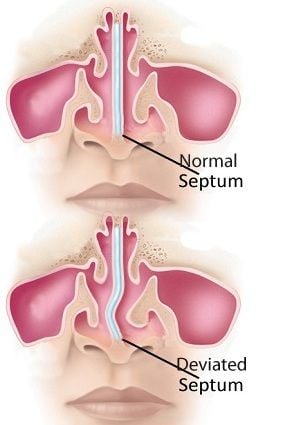 What can you expect from septoplasty?
For doing this procedure the surgeon makes incisions inside the nose. Though occasionally it may be necessary to make a small incision between the nostrils.
When the nasal bones are flexed and push the septum off to one side, it might be necessary to make cuts in the nose bones to reposition them.
Sometimes small grafts that reinforce strips of cartilage may be applied to correct a deviated septum. It is done when the problem is along the nose bridge or in revision septoplasty or revision rhinoplasty.
How is the operation procedure?
A septoplasty is usually done under general anesthesia. General anesthesia is particularly done if the surgeon also performs turbinate trimming.
During septoplasty operation, the surgeon makes an invisible incision inside the nose. The incision is done on one side of the septum so no scar will be left on the face.
The surgeon lifts the inner layer away from the cartilage bone. He/she straightens your septum and removes any obstructive parts. Then, the surgeon will replace the lining layer and close the wound by suture.
If the case is complex or when septoplasty is done along with rhinoplasty or in revision septorhinoplasty, the procedure may require a cut across the skin and between the nostrils.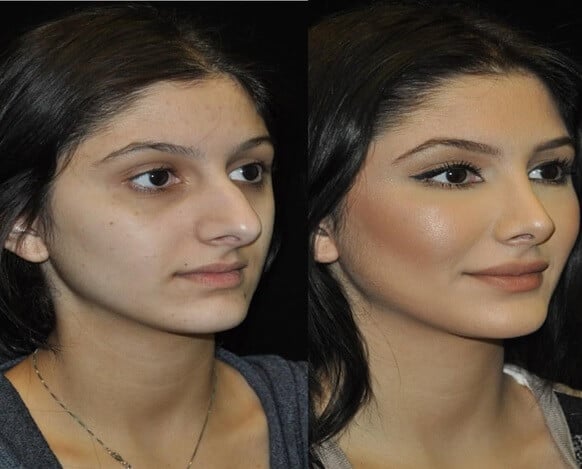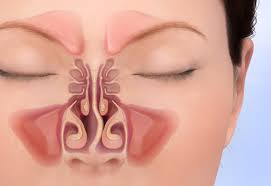 At the end of the procedure, the surgeon puts a dressing to each of your nasal passages for a few hours to reduce bleeding. It will block your nose temporarily. Thus, until the surgeon removes it, you will need to breathe through your mouth.
Also, the surgeon may put small pieces of plastic (splint) in your nose to prevent scar tissue formation. The splints are usually removed after about a week.
A septoplasty usually takes between half an hours to 45 minutes depending on the problem. It may take longer if done in conjunction with other surgeries such as rhinoplasty.
VIP Package
Treatment
Medical consultation
Post Treatment follow-up
Airport Pick up/Drop off
Visa
Hotel 5 * Top
VIP Transfer
Translator 7/24
Sightseeing Tours
Package A
Treatment
Medical consultation
Post Treatment follow-up
Airport Pick up/Drop off
Visa
Hotel 5 *
Transfer
Translator
Package B
Treatment
Medical consultation
Post Treatment follow-up
Airport Pick up/Drop off
Visa
Hotel 4 *
Package C
Treatment
Medical consultation
Post Treatment follow-up
Airport Pick up/Drop off
TebMedTourism Company is an International healthcare facilitator based in Tehran, Iran.
We start our professional activity in medical tourism industry regarding the profound capability of Iran in both healthcare & touristic fields.
We are ready with open arms to provide desirable services to our dear patients & guests from all over the world to enjoy world-class treatment quality and highly skilled doctors in Iran.
TebMedTourism company is cooperating with more than 40 internationally certified hospitals, 140 selected local hospitals, 300 specialized medical centers, 430 doctors, 112 hotels, domestic and international airlines in Tehran, Shiraz, Mashhad, Tabriz, Qom and other cities in Iran.
TebMedTourism team facilitate comprehensive medical & cosmetic packages in all medical & wellness & touristic fields aimed to achieve your desires.
TebMedTourism experienced team will make this procedure seamless and enjoyable from A to Z, so you will just focus on your recovery.
Communication ways:
call us: +98(912) 098 5010
Visit us: 1st. Floor / No. 270 /Between Bagh & Azadi  Alleyways / North Sohrevardi st. / Tehran / Iran
Mail us: [email protected]