What is canal stenosis?
Canal stenosis is a condition caused by narrowing of the spinal cord in the spine and pressure on the spinal cord. Wear and tear changes in the spine due to osteoarthritis can commonly cause narrowing the space within the spine and eventually causing canal stenosis. This disorder puts a tremendous amount of pressure on nerves in the spine area, particularly in the lower back, and shows itself through symptoms such as numbness, pain, muscle weakness, and tingling in the back. To make more space in the spinal cords, in severe cases, the doctor may recommend surgery.
The human spine plays an important role in maintaining our fitness and stability. The spine consists of a row of bones called the vertebrae that extend up to the neck. In fact, this part of the body acts as a pillar that allows the person to sit, rotate and twist smoothly.
The spine is a very sensitive part of the human body because the nerves pass through the vertebrae and allow signals to be sent to the brain and other parts of the body. The bones and surrounding tissues protect these nerves. If they are damaged, these conditions can affect functions such as walking, balance, and feeling.
Canal stenosis is usually caused by arthritis, which narrows the space between the spines and puts pressure on the spinal cord. This process is usually gradual and can occur anywhere in the spine. Canal stenosis can put pressure on the nerves and cause other symptoms.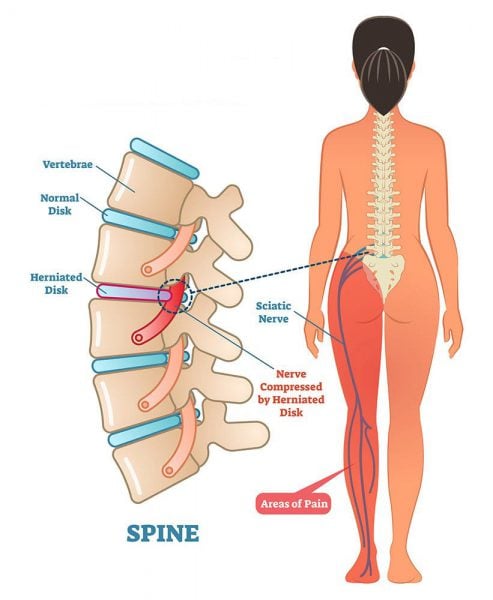 Types of Canal Stenosis
Generally, canal stenosis is part of a more general type of disorders, called spinal stenosis. Spinal stenosis is classified into different types according to where on the spine it occurs. However, in most of the cases, the neck and lower back are involved. Moreover, patients may experience more than one type of spinal stenosis. There are two different types of canal stenosis, including cervical spinal stenosis and lumbar spinal stenosis. These two types are categorized by the location of formation in the spine and it is possible for one person to have more than one type.
Cervical stenosis: In this case, narrowing occurs in the neck area.
Lumbar (canal) stenosis: In this case, narrowing occurs in the lower back (occurs at the waist). This is the most common form of spinal stenosis.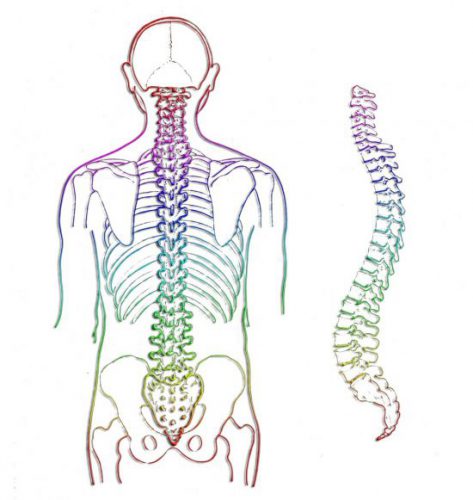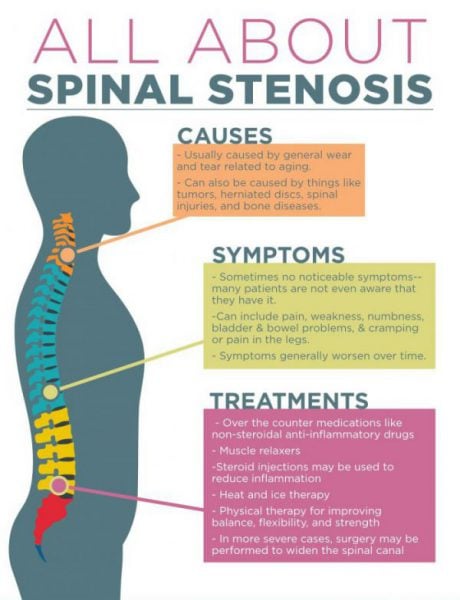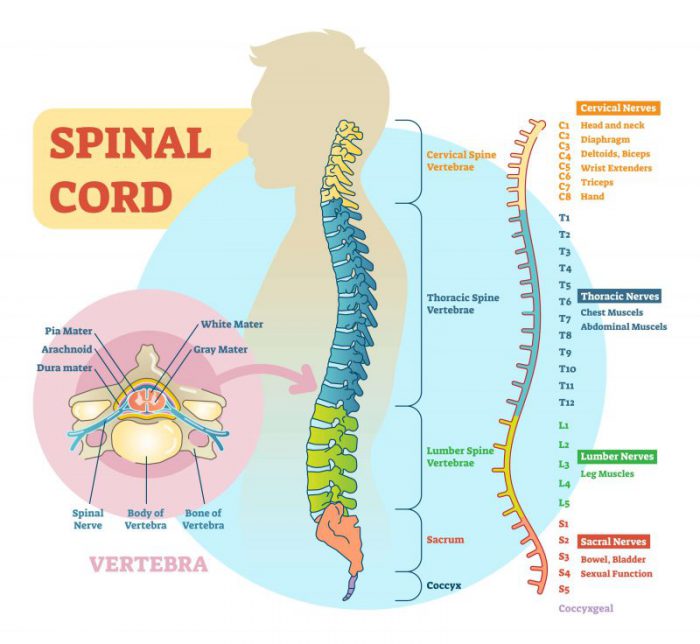 Causes of canal stenosis
canal stenosis can occur for a variety of reasons. Two common causes of aging are arthritis. Arthritis can be caused by cartilage damage, bone grafts, and bone growth. As we age, the human body experiences some degenerative processes, and the tissues in the spine may become thicker and bones larger, which puts pressure on the nerves.
Also, aging can lead to conditions such as osteoarthritis (rheumatoid arthritis) and rheumatoid arthritis, both of which cause inflammation and can cause canal stenosis. Osteoarthritis can lead to changes in the disc, thickening of the spine ligaments, and bone growth. These conditions can also put pressure on the spinal cord and nerves.
In addition to age and arthritis, other conditions such as birth defects, spinal curvature or scoliosis and bone tumors can also cause canal stenosis.
Other potential causes include any injuries that may cause fractures or inflammation of the spine or protruding discs.
Treatment of canal stenosis
There are several different ways to treat canal stenosis. The drug is the first option. Since back and neck pain are two common symptoms, the patient may consider taking aspirin, acetaminophen, and ibuprofen for short-term pain relief. Other medications that may be prescribed by your doctor may include muscle relaxants or anticonvulsants. Cited to relieve muscle spasms and damaged nerves.
The next treatment option for canal stenosis is corticosteroid injection. Your doctor will give you a steroid injection like prednisone in your back or neck. Steroids reduce inflammation. However, due to their side effects, they may be used less frequently.
Other treatment options include anesthesia, exercise, auxiliaries such as Atel or Walker. In severe cases, surgery may be considered. This option is only available for people who have difficulty walking. The risks are associated with surgery, so you should talk to your doctor about choosing the best treatment option.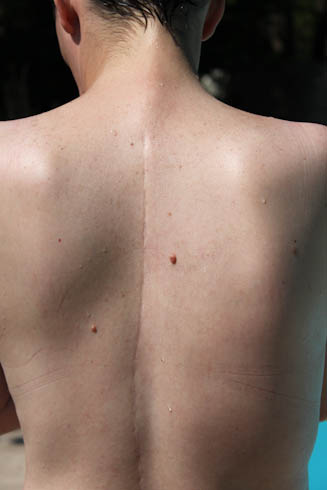 Spinal stenosis and spinal canal stenosis surgery
The spinal canal is a narrow gap within the spine that may put pressure on the nerves that cross the spine. Spinal stenosis often occurs in the lower back and neck; some people with spinal stenosis may have no symptoms, others may experience pain, itching, numbness, and muscle weakness. Symptoms may worsen over time. Spinal stenosis is usually caused by changes in erosion or rupture in the arthritis spine. In acute cases, doctors may recommend spinal canal stenosis surgery to create extra space for the spinal cord or nerves.
VIP Package
Treatment
Medical consultation
Post Treatment follow-up
Airport Pick up/Drop off
Visa
Hotel 5 * Top
VIP Transfer
Translator 7/24
Sightseeing Tours
Package A
Treatment
Medical consultation
Post Treatment follow-up
Airport Pick up/Drop off
Visa
Hotel 5 *
Transfer
Translator
Package B
Treatment
Medical consultation
Post Treatment follow-up
Airport Pick up/Drop off
Visa
Hotel 4 *
Package C
Treatment
Medical consultation
Post Treatment follow-up
Airport Pick up/Drop off
Risk factors for spinal stenosis
Most people with spinal stenosis are over 50 years of age. Although corrosive variations can cause spinal cord injury in humans, other factors must also be considered. These include congenital disorders and disorders such as scoliosis and genetic disease that affect bone and muscle growth in the body. Spine imaging can distinguish these causes.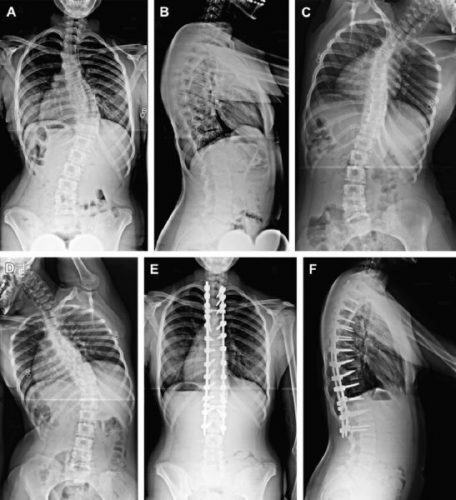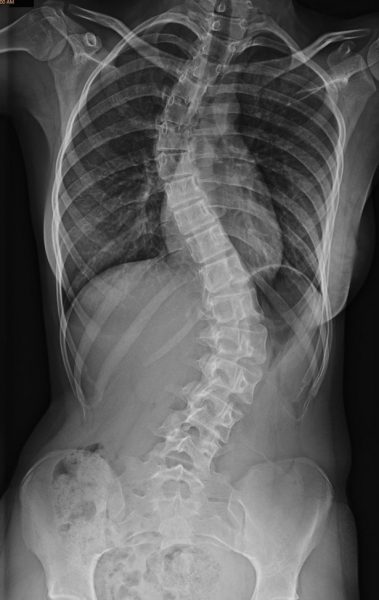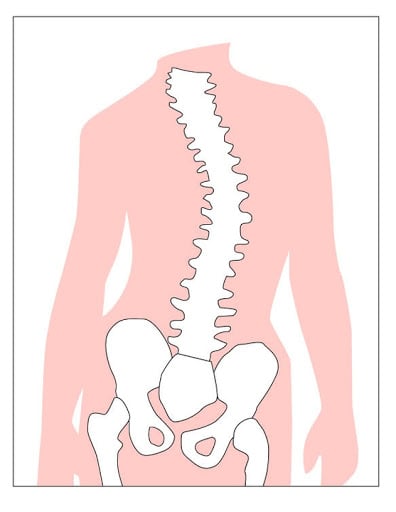 Spinal stenosis which require spinal canal stenosis surgery

Rarely, severe untreated spinal stenosis can progress and become permanent and require spinal canal stenosis surgery. Following are some of canal stenosis symptoms:

Numb
Weakness
Gait Problems
Urination and defecation Incontinence
Tremor and Paralysis
Spinal stenosis diagnosis before spinal canal stenosis surgery
To identify spinal stenosis, your physician may request you about signs and symptoms and then performs a physical examination. He may perform several imaging tests to determine the cause of your signs and symptoms. Imaging tests may include X-Ray or MRI. Your X-ray or MRI can show bone changes, such as spur bones, which may narrow the space in the spinal canal and the doctor prescribes you spinal canal stenosis surgery.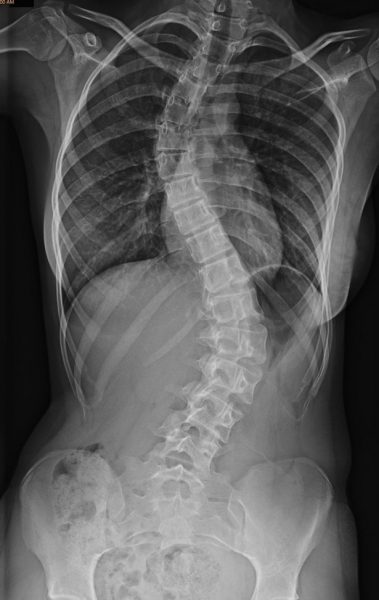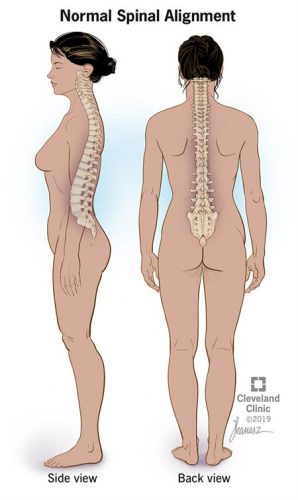 Spinal stenosis treatment through spinal canal stenosis surgery
Treatment of spinal stenosis depends on the location of the stenosis and the severity of the symptoms. Talk to your doctor about the right treatment for your problem. If your symptoms are mild or you are experiencing nothing, your doctor may monitor your condition with regular appointments. He may offer some self-care advice that you can do at home. If they do not help, they may prescribe medication or physiotherapy. If other treatments have not helped, spinal canal stenosis surgery may be an option. Surgery can be suggested if other sort of treatments do not help the patient. Surgical goals include relieving spinal cord pressure or nerve roots by making additional space in the spinal canal. Instances of surgical procedures to treat spinal stenosis include:
Laminectomy
This procedure removes the back (lamina) of the damaged column. So the pressure on spinal cord will be reduced.
Laminotomy
This type of spinal canal stenosis surgery removes only part of the lamina and typically enlarges a hole large enough to reduce pressure at a particular point.
Laminoplasty
This process is executed only on the neck vertebrae. Throughout this operation the space inside the spinal canal is opened by creating a hinge on the lamina. Metal hardware creates a gap in the open section of the spine and reduces spinal canal stenosis.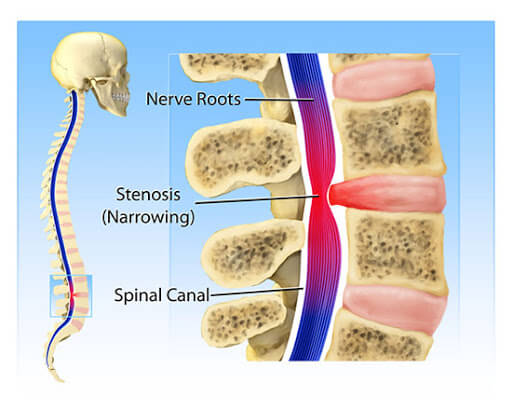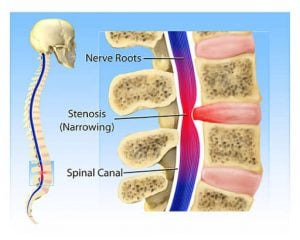 How to cure canal stenosis?
Depending on the type of stenosis, some types of canal stenosis cannot be cured. For instance, canal stenosis usually occurs due to aging, and unfortunately, there is no cure for it. However, compression on the nerve roots can be removed by surgery.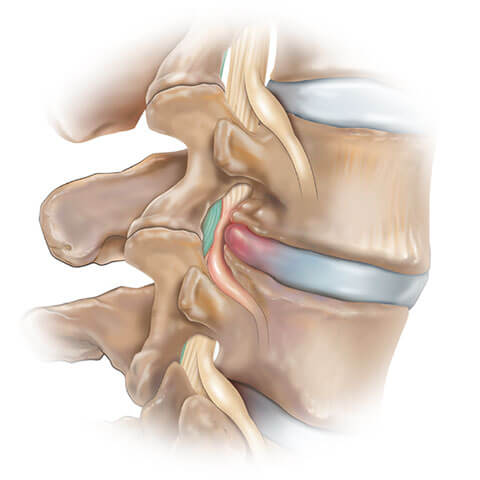 How do you treat the canal stenosis?
There are different treatment options for canal stenosis. For example, stenosis in the lower back can be treated by physical therapies and medications. In the case of no improvements, surgical treatment is recommended. During the surgery, the bony element will be removed so that the pressure over the nerve will decrease. Occasionally, surgery will be performed by the use of rods and screws.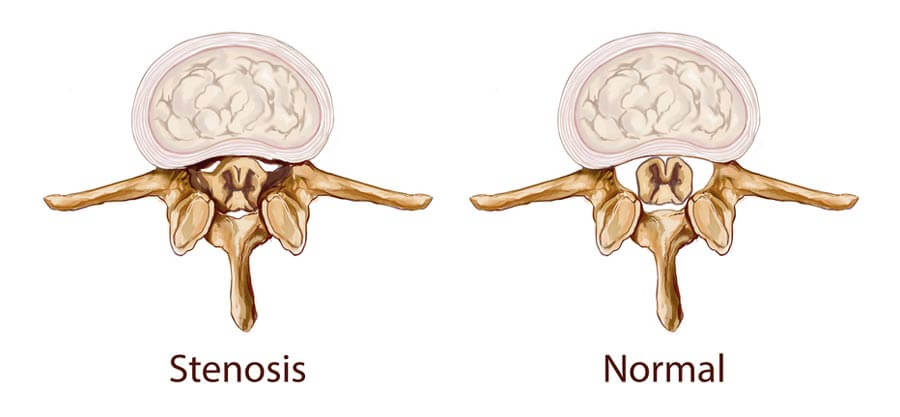 What is the best medication for canal stenosis?
Various medications can be prescribed for patients who are suffering from canal stenosis. Some of these medications include Pregabalin, which usually is prescribed for decreasing the sensitivity of nerve routs. This can further help to reduce the irritation of nerves due to canal stenosis.
How can physical therapy help canal stenosis?
Physical therapy can be useful for offloading the bones and decreasing the irritation of nerve roots by reducing the compression on them. Fortunately, many patients recover using treatments involving both medications and physical therapies.
How long is the recovery time for canal stenosis surgery?
For a well-performed canal surgery, without post operations complications, it may take one or two weeks of recovery. Patients are encouraged to be active after the surgery, almost immediately. In most of the cases, physical therapies are recommended a few weeks after the surgery. This can improve the strength of muscles. Usually, by two to three months after the surgery, patients will be fully recovered. However, following recommended instructions by doctors is of great importance during pots operation cares for this particular surgery.
What is the success rate of canal stenosis surgeries?
Canal stenosis surgeries are among those procedures with a high rate of success. Their success rate is usually above 90 – 95% in relieving the pain. This percent, however, varies based on the type of stenosis and location of the spine at which surgery is performed.
About TebMedTourism company
TebMedTourism Company is an International healthcare facilitator based in Tehran, Iran.
We start our professional activity in medical tourism industry regarding the profound capability of Iran in both healthcare & touristic fields.
We are ready with open arms to provide desirable services to our dear patients & guests from all over the world to enjoy world-class treatment quality and highly skilled doctors in Iran.
TebMedTourism company is cooperating with more than 40 internationally certified hospitals, 140 selected local hospitals, 300 specialized medical centers, 430 doctors, 112 hotels, domestic and international airlines in Tehran, Shiraz, Mashhad, Tabriz, Qom and other cities in Iran.
TebMedTourism team facilitates comprehensive medical & cosmetic packages in all medical & wellness & touristic fields aimed to achieve your desires.
TebMedTourism experienced team will make this procedure seamless and enjoyable from A to Z, so you will just focus on your recovery.
Communication ways:
call us: +98(21) 88 177 537 and +98(21) 88 51 44 76
Visit us: 1st. Floor / No. 270 /Between Bagh & Azadi  Alleyways / North Sohrevardi st. / Tehran / Iran
Mail us: [email protected]