Beard hair transplant
Beard transplant in Iran
One sign of puberty in men is growing beard and moustache on their face that it occurs nearly 15 till late 30. Everybody believe that the beard and the moustache make men most attractive and give them the most manly appearance. Some people don't have dense facial hair and they suffer from the bald spots on their faces. Mostly this happens genetically and it is as a result of surgical scars, burns, skin diseases or stressful situations. But the development of technology has solved most problems by correcting genetics' diseases or eliminating the responsible factors.
Beard transplant is also known as beard restoration is one of the hair transplant trends.
The beard transplant helps men to have the most attractive appearance and increases their self – confidence and self- esteem. So the beard and mustache are the most essential accessories for men. But if you don't have facial hair and especially in upper lip, cheek and jaw, the beard transplant is recommended.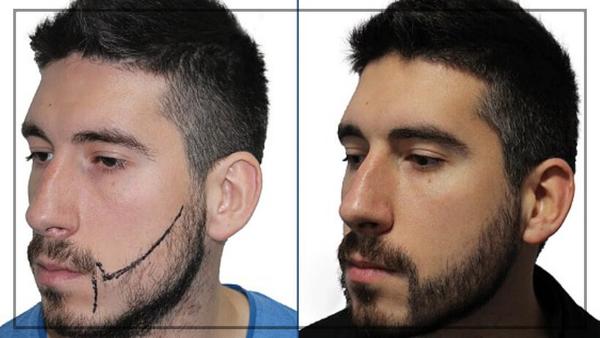 The beard transplant is exactly similar to scalp hair transplant. Beard transplant performs with FUE technique. It means the specialists take hair follicles from the neck and transplant in the face where you want a denser beard. But keep in mind the density of hair in beard is different from your scalp hair or head hair. Its maximum density is in the central part of the chin. Actually it depends on the ethnicity of the person. In the beard hair transplant, it is essential to match the hairs from back of the head to natural facial hair or transplanted area.
Sometimes the implants doctors have to use the chest hair or scalp hairs to find the sufficient number of hairs to transplant under-chin area.
In some cases, the hair of patients head is different from the hair of beard. For example, you may have straight hair and curly beard. These differences must be consider prior any taking action.
Who is the best candidate for beard hair transplant?
These days, young men refer to the hair transplant clinics for performing beard hair transplant. But everyone is not suitable for this surgery. The beard hair transplant candidate must have some properties:
The patients who have not dense beard hair or have no hair on their face.
The patients with no facial hair and have lost it because of Surgical scars, Radiation, etc.
The patients must have sufficient hair donor on the back and the sides of the scalp.
The patients must have realistic expectation and have good medical health.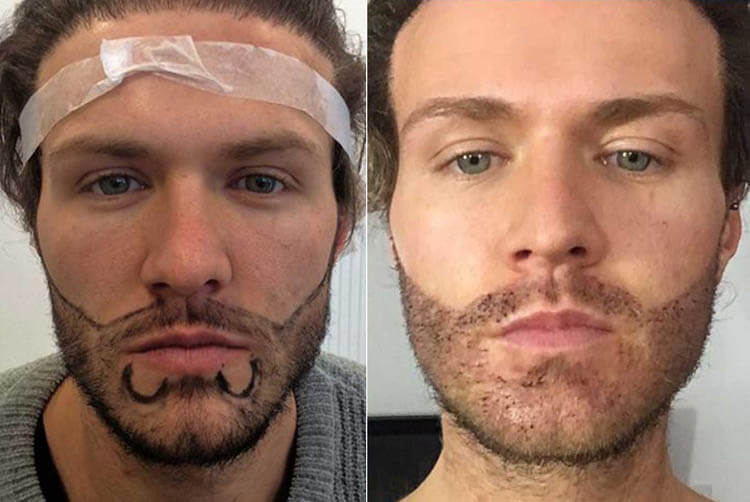 The recovery time of Beard transplant:
Beard transplant does not need too long recovery time.
The recovery time is 7- 10 days, and you don't feel any important side effect except redness or swelling.
Bleeding has a very small chance to occur and if you choose your doctor and your clinic correctly you can obtain a natural appearance.
The beard transplant may fall 3 weeks after surgery. It is normal. Don't worry. Because the new beard transplant will start to grow up again. Before taking any action, your doctor should explain about the time frame of re-growth until you have realistic expectation about time and dense of beard hair transplant.
You may like to read : Eyebrow transplant
Hair transplant cost in Iran
VIP Package
Treatment
Medical consultation
Post Treatment follow-up
Airport Pick up/Drop off
Visa
Hotel 5 * Top
VIP Transfer
Translator 7/24
Sightseeing Tours
Package A
Treatment
Medical consultation
Post Treatment follow-up
Airport Pick up/Drop off
Visa
Hotel 5 *
Transfer
Translator
Package B
Treatment
Medical consultation
Post Treatment follow-up
Airport Pick up/Drop off
Visa
Hotel 4 *
Package C
Treatment
Medical consultation
Post Treatment follow-up
Airport Pick up/Drop off

TebMedTourism Company is an International healthcare facilitator based in Tehran, Iran.
We start our professional activity in medical tourism industry regarding the profound capability of Iran in both healthcare & touristic fields.
We are ready with open arms to provide desirable services to our dear patients & guests from all over the world to enjoy world-class treatment quality and highly skilled doctors in Iran.
TebMedTourism company is cooperating with more than 40 internationally certified hospitals, 140 selected local hospitals, 300 specialized medical centers, 430 doctors, 112 hotels, domestic and international airlines in Tehran, Shiraz, Mashhad, Tabriz, Qom and other cities in Iran.
You may also like to do Hair Transplant in Iran:
TebMedTourism team facilitate comprehensive medical & cosmetic packages in all medical & wellness & touristic fields aimed to achieve your desires.
TebMedTourism experienced team will make this procedure seamless and enjoyable from A to Z, so you will just focus on your recovery.
Communication ways:
Call us: +98 912 098 5010
Visit us: 1st. Floor / No. 270 /Between Bagh & Azadi  Alleyways / North Sohrevardi st. / Tehran / Iran