Are you unhappy with your breast size and shape? If you feel your self-confidence is affected by the appearance of your breasts, then it is time to take action and do something about it. Breast implant (breast augmentation) and breast lift are two cosmetic surgeries that will make your breasts look better and more feminine. While the costs of these procedures are high in many countries, it is worth searching for other options. By traveling to a country like Iran, you can get breast implants and breast lift at a very affordable cost.
What is a Breast Implant?
A breast implant or breast augmentation is a cosmetic surgery in which the surgeon places silicone or saline implants under the breast tissue or chest muscles. This surgery aims to enhance breast size to make women look better and feel more confident. It is also a way to rebuild the breasts that had been removed or faced problems due to different conditions. If you are considering having a breast implant, you need to talk to a plastic surgeon and get information about the possible complications of this surgery and the follow-up care.
Healthy patients who are at least 18 years old may be suitable candidates for saline implants; however, they need to turn 22 in order to be eligible for silicone implants. A breast implant is a good option for women who are interested to increase the size of their breasts. Women who have experienced pregnancy or a noticeable weight loss may want to have breast implantation to restore the previous volume.
You may be a good candidate for breast implantation if you have:
Insufficient breasts volume
Asymmetrical breast tissue
Poor breast projection
Insignificant breasts cleavage
The common subjects related to breast implants are discussed in the following.
Incision: three common incisions can typically be used for breast implant surgeries: "inframammary incision" (under the breast fold), "trans-axillary incision" (in the armpit), or "periareolar incision" (around the nipple). Each incision technique has its own pros and cons. Both surgeons and patients often prefer inframammary incision because it provides the optimal access to the breast tissue and the breast scar will be completely hidden.
Implant types: silicone and saline are two implant types that are chosen according to your desired results and your preference. A silicone implant is often more expensive, needs a larger incision, and is a more involving process. Nevertheless, they have a more natural feel and work well with those who have small breast tissue. A saline implant is a good choice for those who have ample breast tissue but they want to add extra volume without changing the feel of the breasts. Both types of implants last 10-15 years and are safe to use.
Size and Shape: in choosing the size and shape of implants, many factors like the shape of your chest wall, your body form, and your goals are considered. A plastic surgeon specialist in breast augmentation can identify what size and shape will look the best for you. In general, you may better not go for implants more than two sizes larger than your breast size because it can look unreal and your breasts can overwhelm your appearance.
What is a Breast Lift?
A breast lift or mastopexy is a cosmetic surgery to change the breast shape and lift the drooping breasts. Breast drooping mostly happens when women age, change weight or bear children. This treatment gives your breasts a more beautiful look by improving any drooping or mild asymmetry that has happened due to aging, pregnancy, and diseases.
A breast lift is a useful method for those who want to restore the youthfulness of their breasts and make them look natural and firm. It is a good option for those who have breasts with a satisfying volume but they want to make it pointier. The result of a breast lift is much more natural compared to a breast implant. However, if you have small breasts, it may not be a good option because it will not significantly change the size of your breasts.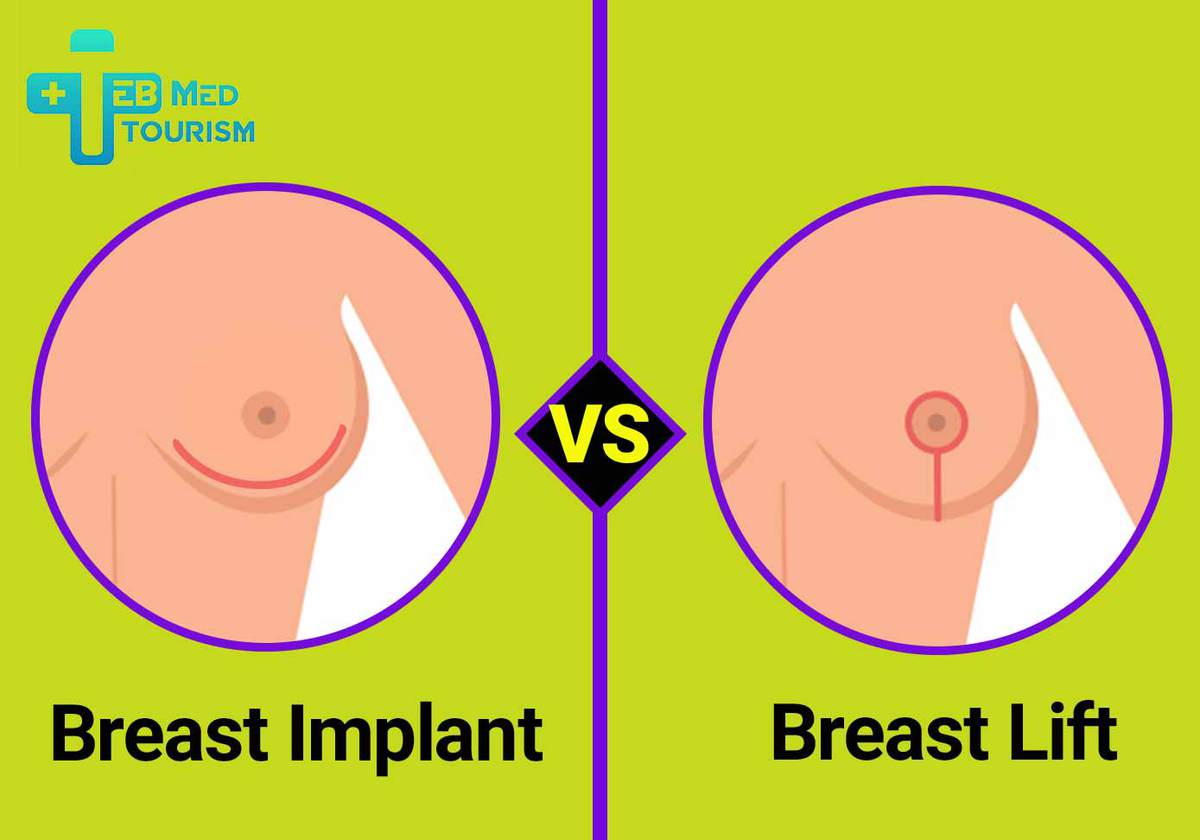 Breast Implant or Breast Lift? Which one is better?
Each of these procedures has its own pros and cons and is beneficial for some purposes. A breast implant focuses on creating volume and giving a more womanly upper body. Breast lift focuses on modifying drooping breasts, firming the breast tissue, improving their location, and giving a youthful look to the breasts. While the two procedures are different, they can be used complementary and combined to get optimal results.
Consulting with a professional plastic surgeon will help you choose the proper procedure or the combination of them to achieve your aesthetic desires. An experienced surgeon gives you a realistic idea about the outcome of each treatment and guides you to follow a path that fulfills your specific cosmetic goals.
Combining Breast Implants and Breast Lift
Combining breast implants and breast lifts is now becoming a more popular procedure among women. Breast lift surgery may cause a slight reduction in the size of breasts. Although it is not an important issue for many women, it may concern those who have small breasts. Therefore, it is a good idea to use both procedures at the same time in order to get your desired result.
Weight fluctuations, pregnancy, nursing, aging, and diseases can all cause volume loss and drooping appearance of breasts. For mothers, it is common to lose breast volume after giving birth and breastfeeding.  In these conditions, they will have the best results when a breast implant is added to the lift procedure.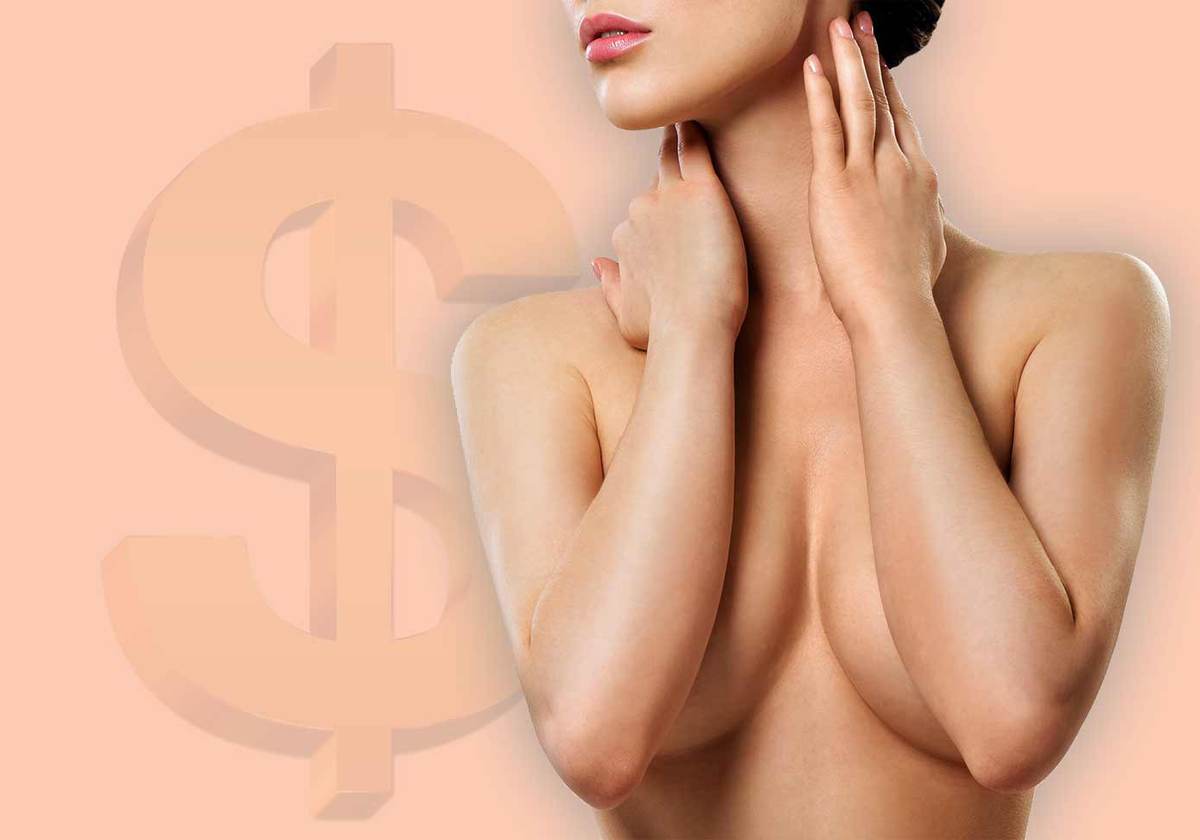 Costs: Breast Implant VS. Breast Lift
The breast implant procedure is highly customized based on individual needs and choices; therefore, the costs can vary for each client. In addition, the surgeons' fees can vary based on their experience, the type of procedure, and the geographical location of their office. Iran has the most economical costs for breast cosmetic surgeries while keeping the highest standards along with the other popular countries in this field.
The cost of a breast implant in Iran via prosthesis will be around 3800$. If you want to have bigger breasts through fat transfer, the cost would be cheaper at about 2800 to 3000$. Breast lift cost in Iran is about 2400$ which can be afforded by almost every client. These costs often include:
Medical tests
Hospital costs
Surgeon fees
Anesthesia fees
Prescribed medications
And follow-up visits
TebMedTourism will be your guide from the very first step of consultation until you have finished your follow-up appointments and returned to your country. We provide you with the best plastic surgeons with the techniques of the day and treat you in the equipped hospitals of Tehran at the most affordable costs. Once you contact us for consultation, you are a member of the TebMedTourism family and will be supported as one. For getting the answers to your question, do not hesitate to contact us through WhatsApp 24/7.

Cosmetic Plastic Surgery at Tebmedtourism Company (International healthcare facilitator):
TebMedTourism Company is an International healthcare facilitator based in Tehran, Iran.
We start our professional activity in medical tourism industry regarding the profound capability of Iran in both healthcare & touristic fields.
We are ready with open arms to provide desirable services to our dear patients & guests from all over the world to enjoy world-class treatment quality and highly skilled doctors in Iran.
TebMedTourism company is cooperating with more than 40 internationally certified hospitals, 140 selected local hospitals, 300 specialized medical centers, 430 doctors, 112 hotels, domestic and international airlines in Tehran, Shiraz, Mashhad, Tabriz, Qom and other cities in Iran.
TebMedTourism team facilitates comprehensive medical & cosmetic packages in all medical & wellness & touristic fields aimed to achieve your desires.
TebMedTourism experienced team will make this procedure seamless and enjoyable from A to Z, so you will just focus on your recovery.
Hemorrhoids in iran , Hemorrhoids clinics in iran , Hemorrhoids surgery cost in iran