The world is getting obsessed with thick eyebrows but not everybody is born with perfect bushy eyebrows. Many people have fine and light brows naturally or might be losing them due to over-plucking, accidents, thyroid problems, chemo, poor diet, or other health issues. Eyebrow transplant and microblading are two useful options that make you get rid of drawing your brows every day and have results that are more permanent. But what are the differences between them? Stay with us until the end of this article to know more about the methods in order to choose the best method based on your needs.
What is Microblading?
Microblading is a semi-permanent technique that fills in the eyebrows by using fine tattooed lines to convey the illusion of having hair. It will be drawn by a hand-held tool instead of a machine. The first step in microblading is choosing the desired brow shape and size. Then the microblading artist draws the pattern of your eyebrows to finalize your decision about it. A topical anesthetic will often be used on the target area; therefore, it will numb most of the pain.
The procedure is very precise due to a tool that looks like a pen. The tip of this tool is a sloped blade with 10-12 little needles at the end, which does not penetrate the skin. Instead, it delicately scratches the surface. The color pigment of microblading procedure is a medical-grade, which is applied only to the epidermis of the skin that creates fine and realistic lines giving the illusion of hair.
This treatment is done on the superficial layer of skin; therefore, the results often last between one to 3 years before the dead skin cells turn over and the color fade away. This technique is perfect for people who have a nice shaped eyebrows but they would like some semi-permanent fill-ins.
The microblading procedure usually lasts about 2 hours. After the procedure, you should not wash your eyebrows for a week. You can rub vitamin A ointment on your eyebrows to help your skin recover. You may experience redness, itching, and mild swelling during the first week but it is completely normal. Your eyebrows look darker after the procedure, but the color and the lines will gradually fade away.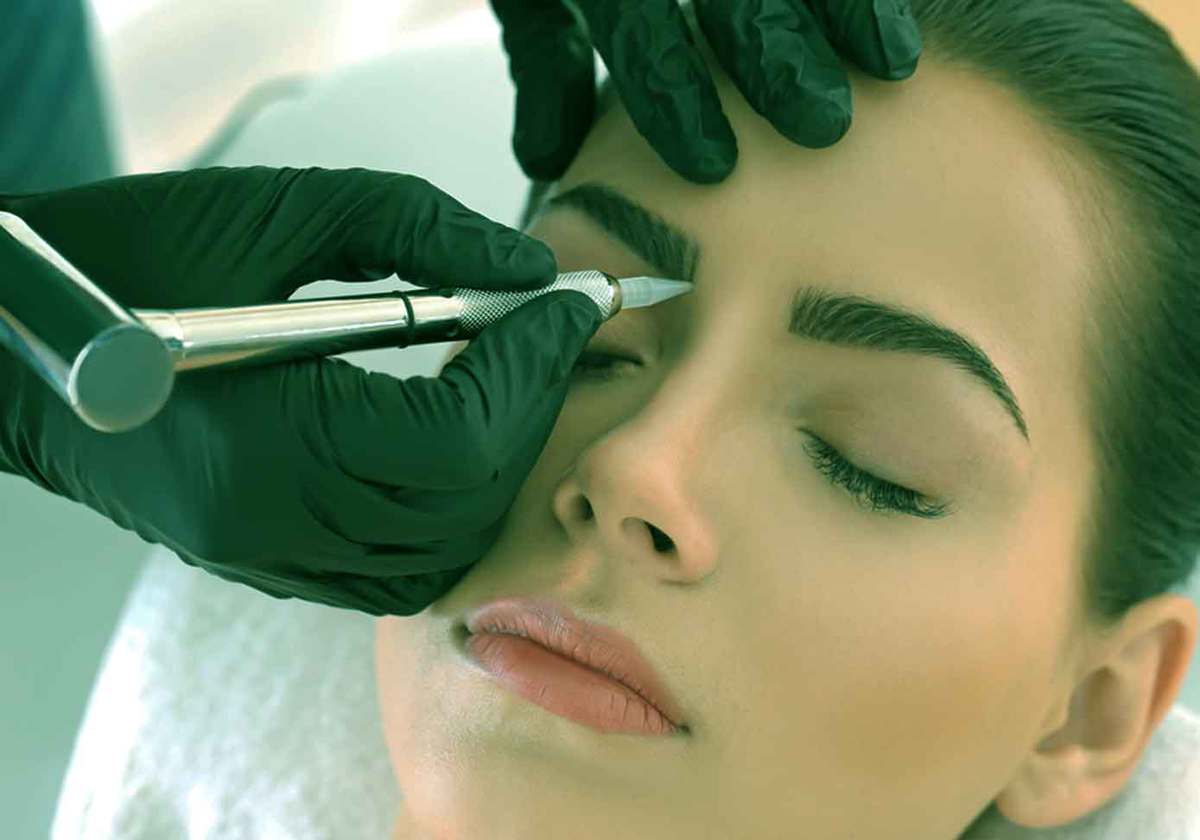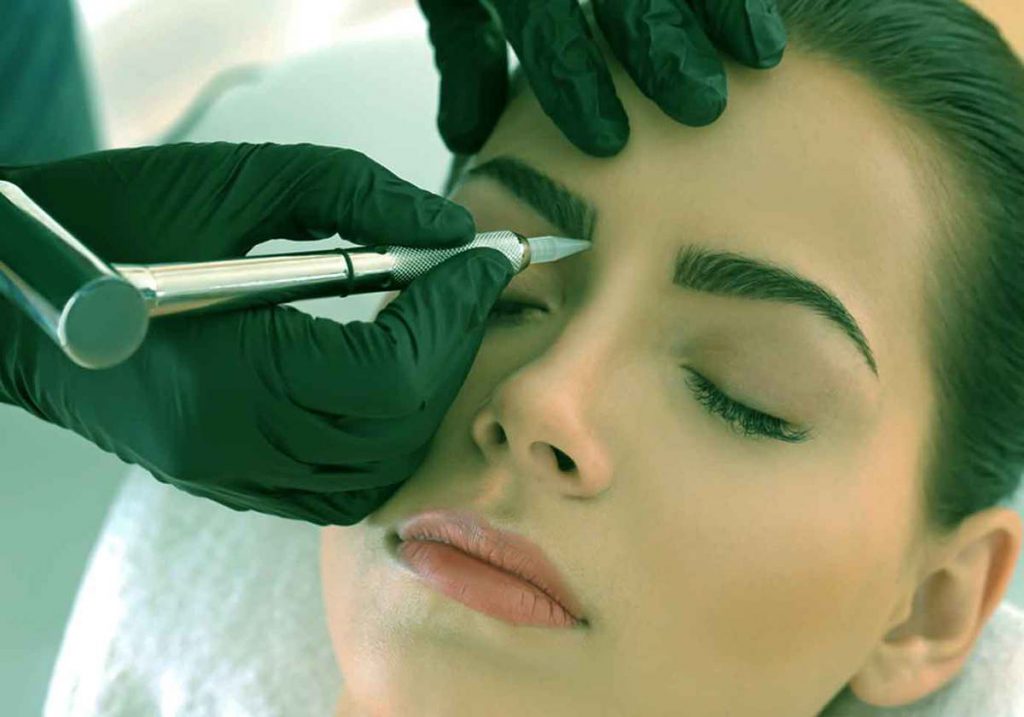 Pros and Cons of Microblading
Pros:
People can select the shape and size of their eyebrows.
The lines are drawn in irregular shapes to make eyebrow hairs look natural.
The cost is cheap.
It has a short recovery period which is between 1 to 2 weeks
The result can be instantly seen after the treatment.
Cons:
It needs a revision session every 8- 30 months, which is depending on the quality of color pigments and skin type.
The procedure may not be completely painless although a local anesthetic will be used.
Small cuts on the brows are exposed to infection and must be taken care of carefully.
In rare cases, one can be sensitive and allergic to some pigments.
What is Eyebrow Transplant?
Eyebrow transplant implants donor hair from your scalp to your eyebrows area. This method is a permanent solution that creates a natural authentic look by using real hair. Just like microblading, the first step is to determine the size and shape of your desired brows. When the shape of the eyebrow is finalized, the physician transplants up to 300 grafts per eyebrow.
Grafts are transplanted one by one and each graft often contains one or two hairs. Eyebrow transplant may take up to 6 hours to be completed. This procedure should be done under local anesthesia by a cosmetic surgeon. After the transplant, you may experience swelling, redness, and skin crusting. The recovery process may take 7 to 14 days.
Not long after the surgery, the transplanted hair will fall out and new hair will grow. The outcome of this procedure will be seen within a year. If your eyebrows were bald, new hair will start to grow a few weeks after the transplant. The donor hair, which is used in eyebrow transplant is often taken from behind the ears or the nape of the neck, which is resistant to hormones causing hair loss, and as the result, they never fall out.
In the process of eyebrow transplant, the skill of surgeons plays an important role in the final result since they should pay attention to the patterns of eyebrow growth and plant the follicles in harmony with the direction of other hair. TebMedTourism works with the top cosmetic surgeons that are highly crafty and delicate in eyebrow transplantation that can offer our clients the best possible results.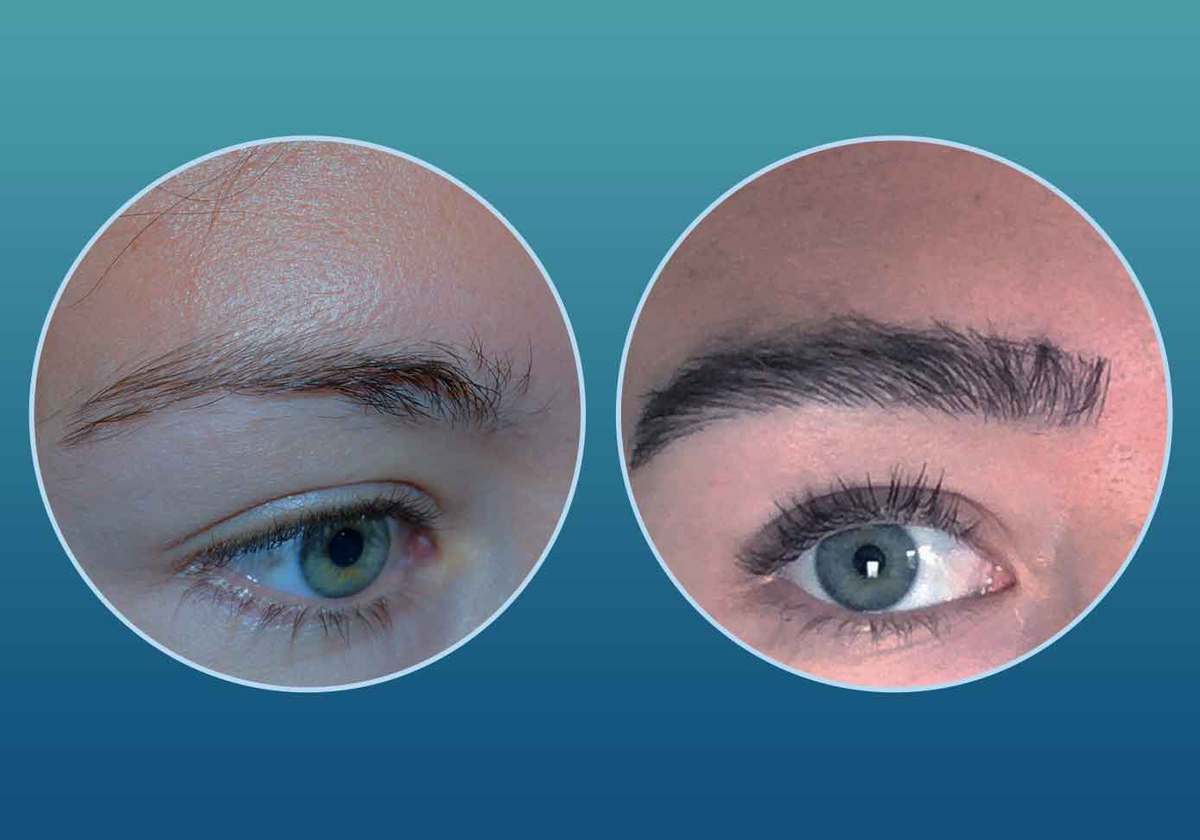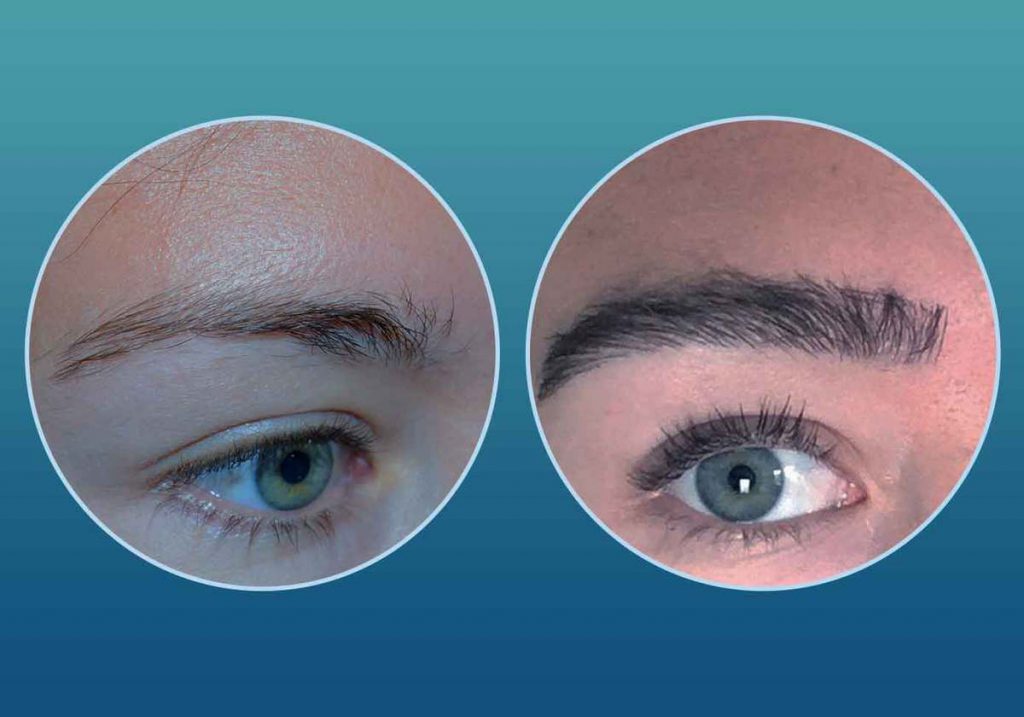 Pros and Cons of Eyebrow Transplant
Pros:
You are able to choose the size and shape of your eyebrows
The results are permanent and your eyebrow will grow for the rest of your life.
Your eyebrows look completely natural because your own hair is used.
You will have a short recovery time, which is about 3 to 6 weeks.
It does not need a revision session and will be finished in one operation
Cons:
Not all follicles may produce new hair and they may grow in misaligned patterns.
It is more expensive than microblading.
After the transplant, your eyebrows may not be that thick.
It takes a longer time to see the results, between several months up to 1 year.
The transplanted hair will grow for the rest of your life and you need to shorten and trim them if they are needed.
How much do eyebrow transplants cost?
The cost of treatments varies based on your need, your location, doctors' fees, etc. however, eyebrow transplant is definitely more expensive than microblading due to its time-consuming nature, which obligates surgeons to remove hair follicles one by one and transplant them on the target places. In TebMedTourism, the cost of a hair transplant is 750-790$ which is very affordable compared to other countries and will be done with the highest quality by our experienced cosmetic surgeons. A Microblading process costs only about 100-150$.
The bottom line
Eyebrows communicate human emotions, accentuate eyes, and shape the face. Shedding of eyebrows can happen due to many reasons but the problem can be solved through eyebrow transplant or microblading. Whatever your eyebrows are, perfectly ordered or unruly, they define your emotions and make your personality. Therefore, it is important that your brows always look their best. The method that you choose depends on your goals and whether you want a short-term solution or a long-term result. TebMedTourism is here to help you undergo either of the methods at the highest qualities and the most affordable costs so that you be able to receive your service and enjoy having a memorable vacation to Iran.

Cosmetic Plastic Surgery at Tebmedtourism Company (International healthcare facilitator):
TebMedTourism Company is an International healthcare facilitator based in Tehran, Iran.
We start our professional activity in medical tourism industry regarding the profound capability of Iran in both healthcare & touristic fields.
We are ready with open arms to provide desirable services to our dear patients & guests from all over the world to enjoy world-class treatment quality and highly skilled doctors in Iran.
TebMedTourism company is cooperating with more than 40 internationally certified hospitals, 140 selected local hospitals, 300 specialized medical centers, 430 doctors, 112 hotels, domestic and international airlines in Tehran, Shiraz, Mashhad, Tabriz, Qom and other cities in Iran.
TebMedTourism team facilitates comprehensive medical & cosmetic packages in all medical & wellness & touristic fields aimed to achieve your desires.
TebMedTourism experienced team will make this procedure seamless and enjoyable from A to Z, so you will just focus on your recovery.