Who needs surrogacy?
Patients who cannot conceive naturally may choose surrogacy treatment. There is a variety of reasons that cause couples do the surrogacy process to have offspring. Below, we are going to talk about the reasons behind choosing surrogacy as an option for expanding families.
Infertility: the main reason for using the surrogacy process is infertility. There are many reasons that a couple or an individual decides to have a surrogate. The reasons include uterus disorders, low endometriosis, pelvic inflammatory disease, etc.
Same-sex couples: male couples are not able to have a child unless they use the help of a surrogate.
Single individuals: single men who want to have a child need the help of a surrogate. In addition, single women who cannot conceive or carry the pregnancy to the full-term will require a surrogate.
Age: by the age of 40, the chance of getting pregnant decreases. Although pregnancy is still possible, some women prefer to use the surrogacy process.
Physical problems: hysterectomy or congenital uterine abnormalities can make pregnancy impossible. Therefore, they may reach out for a surrogate mother.
Medication: pregnancy limits or stops women from using some drugs. However, for those with chronic medical conditions not taking medications is not always an option.
Not being able to adopt a child: surrogacy process is usually less time-consuming than adopting a child. Some people prefer to choose surrogacy instead of going through the adaptation process. Some others want to have a blood-related child belonging to them.
Past trauma: both physical and emotional trauma regarding the past pregnancy experiences can affect a woman's choice in pursuing pregnancy. Some women go through many physical and psychological conflicts after pregnancy that make it difficult to go through pregnancy again.
Personal decisions: some women may choose not to carry their child because they want to continue doing their career or they want to have their physique in shape. No matter what their reason is, people can have their own personal choice.
Which countries are the cheapest destinations for surrogacy?
Surrogacy is a new method of infertility treatment in which a surrogate mother carries the embryo of a couple in need of treatment inside her womb.
Although the success rate of this method is relatively high, its costs are also very high, especially in Western countries, such as the United States, where the total cost of the procedure is about $ 110,000 to $ 150,000.
Therefore, many couples prefer to follow this treatment in other countries; countries that are generally considered the third world and would have relatively lower costs.
But what are the costs of surrogacy and employing a surrogate mother? And in which countries will its costs be relatively cheaper?
In this article, we will address these questions.
Incoming costs of surrogacy 
In this way, costs can be considered from two general perspectives:
The country where the entire treatment process is performed and the country where some of the medical services are going to be provided.
In the first case, the surrogate mother's compensation, medical expenses, accommodation costs in that country, and other issues are discussed.
For example, in countries such as Ukraine and Georgia, the surrogate mother may receive a much lower salary than her American counterpart, but the final cost will not be reduced as much during the treatment period, taking into account the cost of temporary residence in these countries.
But in general, what services will the surrogacy costs include?
The Surrogate Mother's Compensation
Deciding to become a surrogate mother is a sensitive decision that can lead to unique physical and emotional challenges.
You can read more about this issue in the article "Risks of Gestational Surrogacy Facing the Surrogate Mother".
Therefore, one of the main factors increasing the cost of surrogacy is the surrogate mother's salary. The minimum wage in a country like the United States is $ 35,000- $ 40,000, which, of course, will change depending on the context and geography.
This cost is generally influenced by the state and quality of life of the surrogate mother, the cost of health care, insurance status, type of surrogacy, the experience of the surrogate mother (usually first-time mothers are less expensive), as well as pregnancy with twins.
Obviously, these costs will be greatly reduced in third-world countries such as Iran.
Services provided include finding the surrogate mother, advertising, connecting the surrogate mother to the couple in need of treatment, monitoring the overall treatment process, providing and observing the legal process, and more.
Although it has been rarely seen that a couple in need of infertility treatment go through the treatment process without cooperating with a facilitating agency, it is recommended that a facilitating agency accompany them on this road, to reduce possible problems such as medical or legal issues as much as possible. Especially if it is the first time that this treatment method is undertaken by the intended couple.
Another task of the facilitator agency is to ensure that the condition of the surrogate mother is appropriate. This process will include medical and even social evaluations.
The cost of medical services comprises a large amount of the overall costs of this treatment. Examples include IVF, ICSI or IUI processes.
During the treatment, especially at the beginning and the end of the surrogacy process, certain legal considerations must be taken into account. At this stage, the use of a qualified attorney is recommended.
Of course, in some surrogacy agencies, these services are included in the provided package, which can speed up and secure legal processes.
TebMedTourism Company has the ability to stand by both sides in the legal aspects of this process and to prevent problems as much as possible by concluding formal and notarized contracts.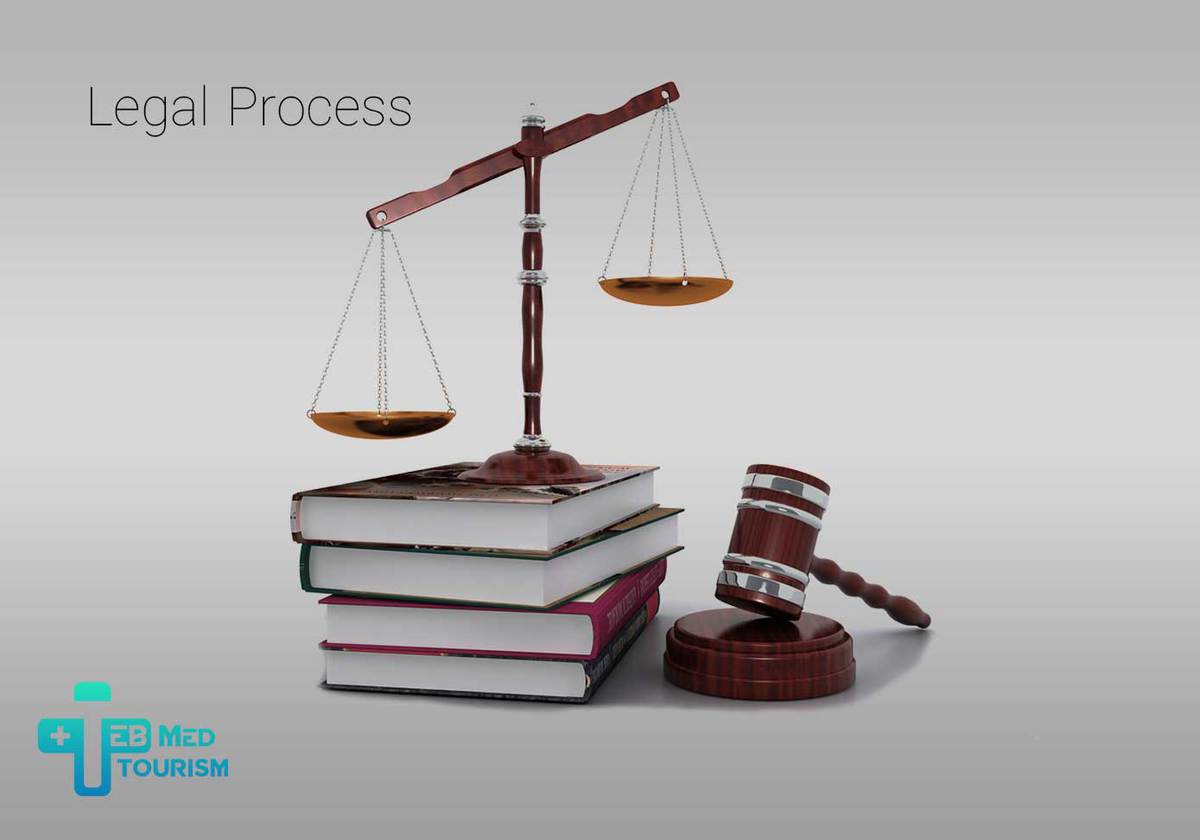 Affordable destinations for surrogacy

In addition to the costs, Surrogacy requires specific legal arrangements and other complex considerations. It may be much cheaper in some countries, but there might be other issues. For example, the quality of medical services may be lower, there may not even be the required legal support and permits, or accommodation costs in those countries may be relatively higher.
On the other hand, the success rate of surrogacy in the first attempt is not 100%, and it may be necessary to repeat the procedure.
Therefore, in choosing a suitable country for this specific infertility treatment, all these details must be considered.
For example, a country that has grown popular in recent years as a low-cost country in the field of infertility treatment by surrogacy is Georgia. The usual cost of this pregnancy method in this country is about 32,000-42,000 dollars. Of course, taking into account the other costs mentioned in the previous part of this article, the total cost will be between $ 55,000-60,000, which is almost 70% less than the usual costs in the United States.
On the other hand, India, Turkey, and Thailand were other popular countries in this field. Nevertheless, in recent years, this method has been banned in them due to several reasons.
Laos is a country where the cost of surrogacy is extremely low, but on the other hand, there is no necessary legalized support.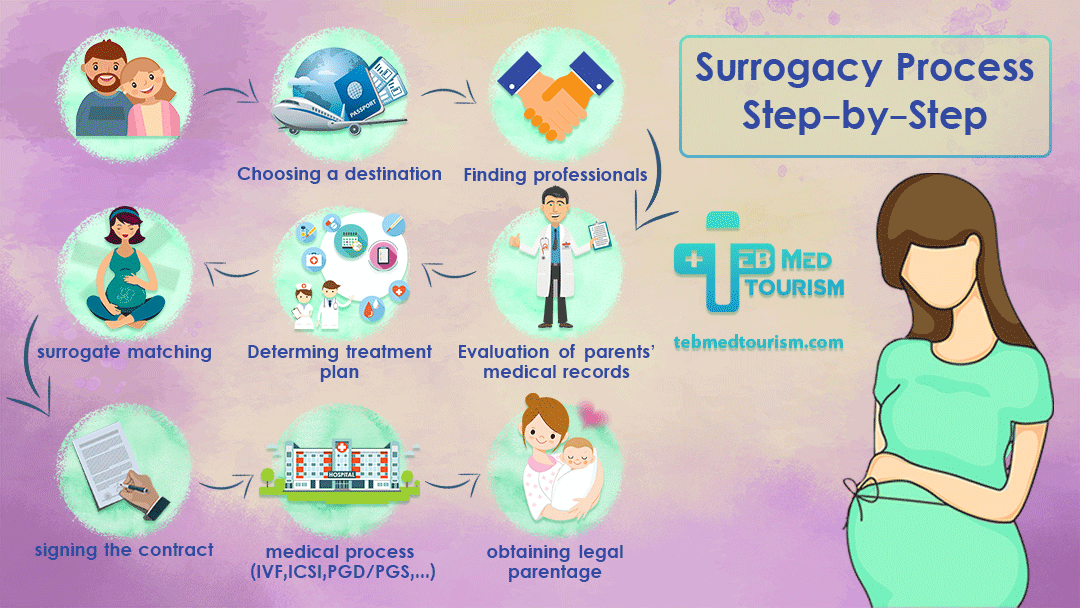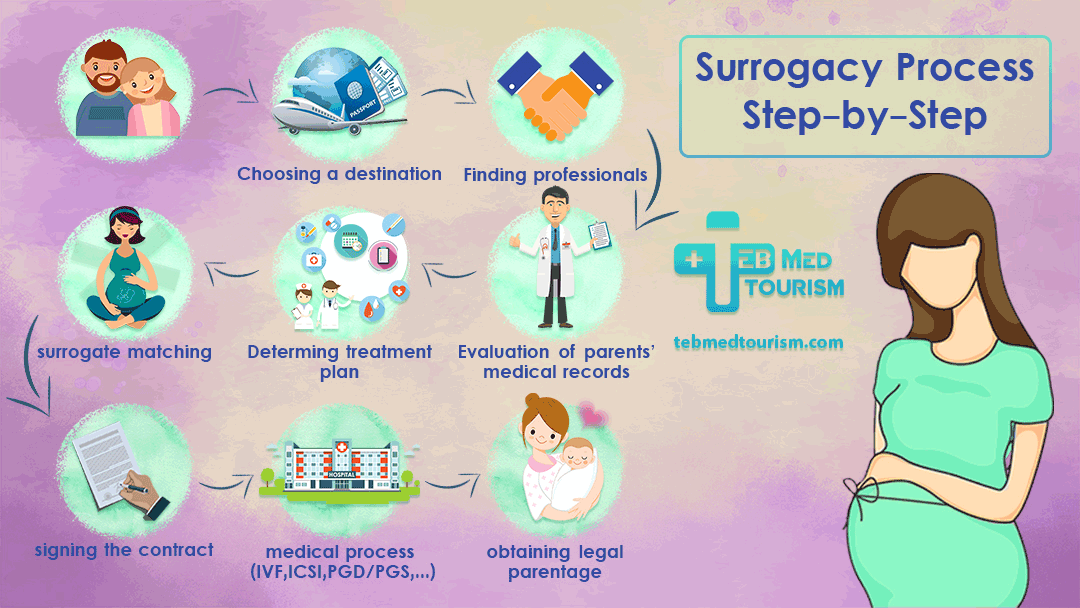 Iran, a country with advanced medical services and low costs
Another low-cost and suitable destination for this purpose is Iran. In Iran, the cost of surrogacy in treating infertility for foreign patients will be around $ 14,000, which has a significant difference from other countries.
On the other hand, certain legal and religious mechanisms support this process for both sides (The surrogate mother and the intended couple).
The undeniable point is the quality of medical services provided in Iran, which can be said to be almost similar to the medical services provided in developed western countries.
Staying in this country also provides the opportunity for patients to see the natural landscapes and various historical and tourist monuments, and therefore, they can experience a pleasant medical-touristic trip.
The cost of a surrogacy treatment package in Iran, taking into account special cases, will include these services in general:
– Legal reviews and arrangements
– Fertility tests including hormonal screening and ultrasound exams
– Psychological assessments
– IVF or IUI or any similar procedure
– Surrogate mother
In almost all of these factors, Iran will provide higher quality at more affordable costs than its counterparts.
Reviewing the above, it seems clear that Iran is one of the best, highest quality, and cheapest destinations for surrogacy.
If you are interested in learning more or would like to know what the next step will be, contact us today.
The consultant physicians of TebMedTourism Co. are ready to answer your questions, free of charge, 24/7.
VIP Package
1st Trial
$14500
This package needs more consultation
Treatment
Medical consultation
Post Treatment follow-up
Airport Pick up/Drop off
Visa
VIP Transfer
Translator 7/24
TOP 5* Hotel
Sightseeing Tours
Package A
3rd Trial
$15000
This package needs more consultation
All medical and laboratory tests
Treatments
Medical consultation
Post Treatment follow-up
Airport Pick up/Drop off
Package B
2nd Trial
$13500
This package needs more consultation
All medical and laboratory tests
Treatments
Medical consultation
Post Treatment follow-up
Airport Pick up/Drop off
Package C
1st Trial
$12000
This package needs more consultation
All medical and laboratory tests
Treatments
Medical consultation
Post Treatment follow-up
Airport Pick up/Drop off


TebMedTourism Company is an International healthcare facilitator based in Tehran, Iran.
We start our professional activity in medical tourism industry regarding the profound capability of Iran in both healthcare & touristic fields.
We are ready with open arms to provide desirable services to our dear patients & guests from all over the world to enjoy world-class treatment quality and highly skilled doctors in Iran.
TebMedTourism company is cooperating with more than 40 internationally certified hospitals, 140 selected local hospitals, 300 specialized medical centers, 430 doctors, 112 hotels, domestic and international airlines in Tehran, Shiraz, Mashhad, Tabriz, Qom and other cities in Iran.
TebMedTourism team facilitate comprehensive medical & cosmetic packages in all medical & wellness & touristic fields aimed to achieve your desires.
TebMedTourism experienced team will make this procedure seamless and enjoyable from A to Z, so you will just focus on your recovery.
Communication ways:
call us: +98 912 098 5010
Visit us: 1st. Floor / No. 270 /Between Bagh & Azadi  Alleyways / North Sohrevardi st. / Tehran / Iran
Mail us: Tebmedtourism@gmail.com