Plastic surgery is done to improve your appearance and modify your physical flaws. For some people, this may mean creating body contours and shape, removing wrinkles, adding volume to some parts, or treating baldness. There are many plastic surgeries that people can choose to make them feel confident and comfortable with their appearance. Today, the number of people who decide to have cosmetic surgery is rising. Therefore, if there is something you do not like about your body, there may be plastic surgeries you can use to get the results you want.
You should know that the technology of medicine and plastic surgery is developing rapidly in all fields. The most popular plastic surgeries are breast augmentation, liposuction, rhinoplasty, eyelid surgery, abdominoplasty, and facelift. However, if you want to learn more about plastic surgeries, cosmetic surgeries, and reconstruction surgeries, stay with us until the end of this article.
Types of Cosmetic, Plastic, and Reconstructive Surgery
For those considering plastic surgery but unsure of the options available, the list below provides a brief description of the most common types of cosmetic surgery. If you want to change something about yourself, you can find a way to do so using one of the following methods.
Face Lift
Skin lift is one of the most effective surgical procedures today to eliminate all signs of aging. It is said that a good facelift can make you look 10 years younger, so there is no wonder that this surgery is one of the most popular plastic surgeries. Facelift surgery, as its name suggests, aims to lift the skin. In this way, you can minimize sagging or losing of skin. This surgery can improve facial issues, such as sagging cheek, double chin, and the area around the jawline, so you can have a younger, more youthful face.
Contrary to what most people think, facelifts are not very effective at removing existing wrinkles, but they can slow the growth and formation of new wrinkles. There are different types of facelifts that you can undergo. For example, a small stretch of skin only takes part of the face and tightens where it needs to be tightened. The result of that is a shorter recovery time and less cost compared to other types of facelifts.
Different types of surgery have different types of treatment. A full facelift involves lifting all of the face skin further. This method is recommended for older women whose skin is loose and sagging.
A well-done facelift can make a person look years younger, but it is important to remember that these procedures do not produce permanent results. As the skin ages, it needs to be renewed every 10 to 15 years to keep it young.

Blepharoplasty
Blepharoplasty or eyelid surgery aims to improve the appearance of your face by removing excess skin around your eyes. For example, upper eyelid surgery can remove skin below the eyebrow. Droopy eyelids make people tired and when severe, can affect vision.
Eye surgery is a treatment for eyes that look tired. These are like bags under the eyes, also known as "puffiness under the eyes". Depending on the type of procedure, excess skin is removed as well as underneath muscle and sometimes fat.
The scarring after the surgery is rarely visible and is usually hidden under the skin. People who undergo eye surgery often benefit from that a lot because their eyes get wider and brighter, making them more alert and healthy.
Brow lift (Forehead Lift)
Some people complain about a wrinkled forehead. Therefore, instead of lifting your entire face, you might need a brow lift (sometimes called a "forehead lift"). This method can help eliminate or reduce deep wrinkles, drooping eyebrows, and lower lash lines, and wrinkles on the eyebrows. The result of this surgery is to improve the face of the patient and make him look younger and alert. Botox injections can provide similar results, but since the results are temporary, most people choose a brow lift because it is more permanent. A brow lift provides more natural results than Botox, but it has the downside of leaving scars. The good news, however, is that scars are often hidden under the hair.
Facial Cosmetic Prostheses
If you do not like your face shape, you can consider a cosmetic Prosthesis. There are special prostheses for almost every part of the face, including the chin, jaw, and cheeks. These prostheses can be used to highlight certain areas of the face or remove irregularities.
The result can be a more beautiful face by placing different prostheses under the skin to create a unique look for someone. When facial prostheses are used for cosmetic purposes, they are often classified as body contouring and cosmetic surgery rather than being considered as a plastic surgery.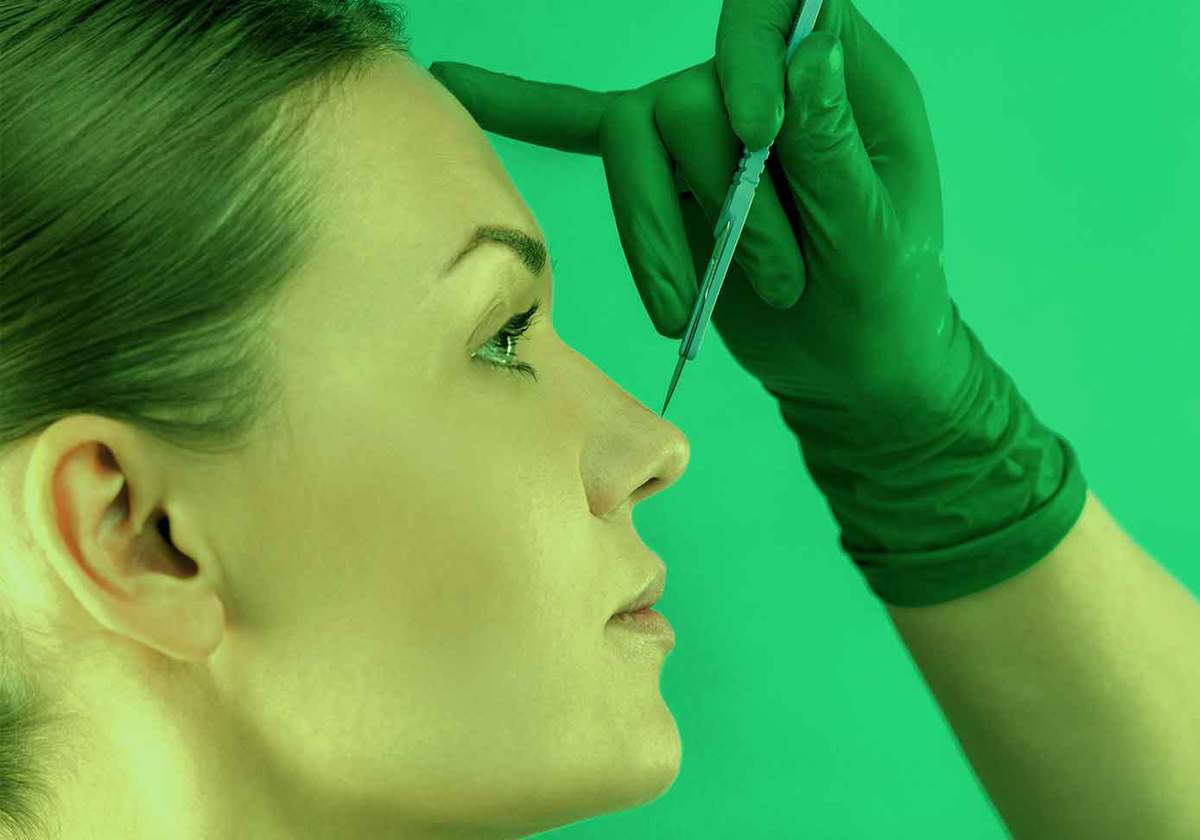 Rhinoplasty (nose job)
The nose is at the center of a person's face and therefore is something that tends to attract a lot of attention. If you have a very big nose, then rhinoplasty, also known as a nose job, can be a great way to dramatically improve your appearance and boost your confidence when meeting and dealing with other people.
There are many ways that the nose can be changed cosmetically and functionally, and in these methods, a long nose can be shortened and a wide nose can be narrowed; Also, a crooked nose can be straightened and even big noses can be made smaller.
But when the nose is shaped, it should look natural and all plastic surgeons try to do this in the best possible way. For this reason, you cannot simply ask a surgeon to shape your nose like someone that you have seen on TV, because their noses may not match the shape of someone else's face. This is perhaps one of the biggest misconceptions that people have when it comes to rhinoplasty, and when many patients are told that they cannot have their dream nose, they feel disappointed.
Breast Augmentation Surgery
Just like most cosmetic surgeries, there are many different types of breast surgery that a person can undergo. Breast surgery is a procedure that can be performed on both men and women. The most common type of breast surgery is breast augmentation surgery. This involves making an incision around the breast and then placing an implant inside to give the breast a larger and fuller appearance.
If a person is concerned about seeing their scar, implants may be inserted through incisions in the underarms or lower abdomen. Although using the standard method, the scars caused by surgery are well hidden under the breast, and as a result, this scar will no longer be seen when the breast hangs naturally. Other forms of breast surgery include:
In addition, men who have large breasts (gynecomastia or male breast enlargement) may also undergo this type of surgery.
With breast lift surgery, sagging and loose breasts are removed to give the person a more youthful appearance. With the use of implants in breast augmentation surgery, a surgeon can fill out breasts that have also decreased in volume. However, once breast implants are placed, they need to be changed approximately every 10 to 15 years.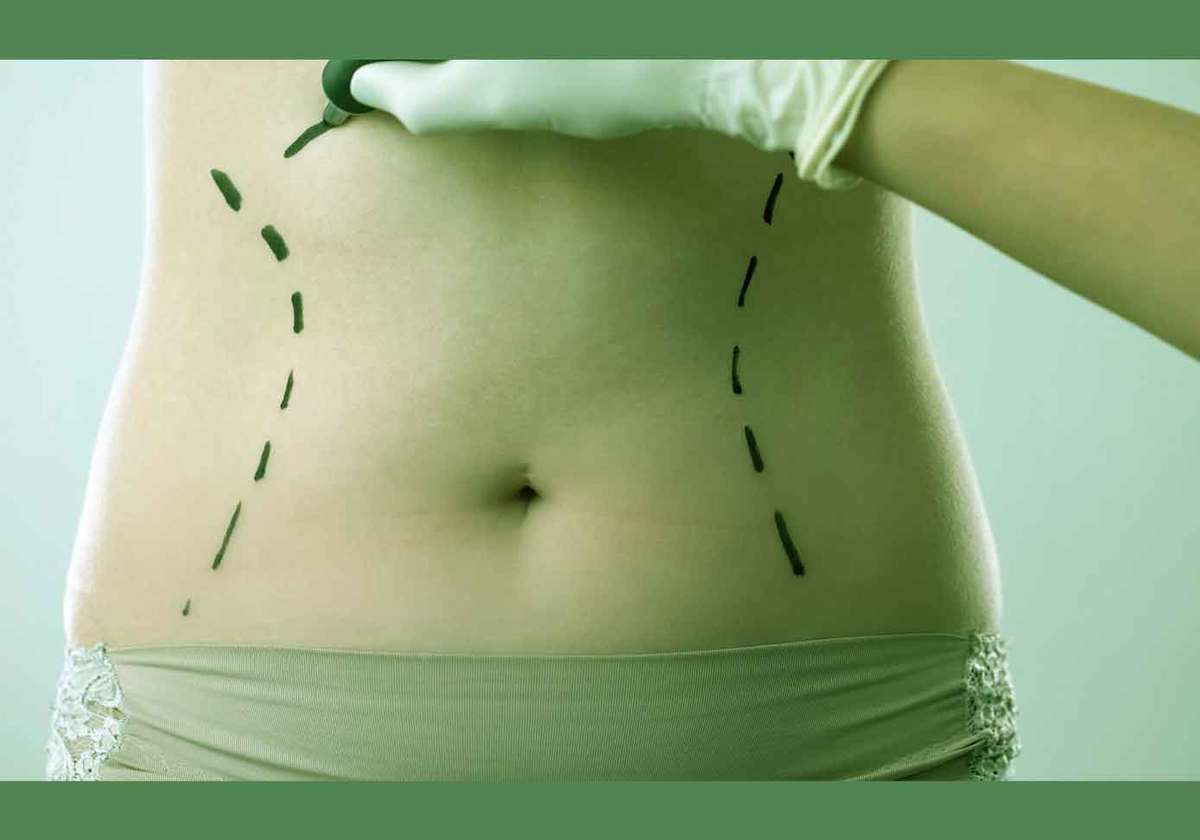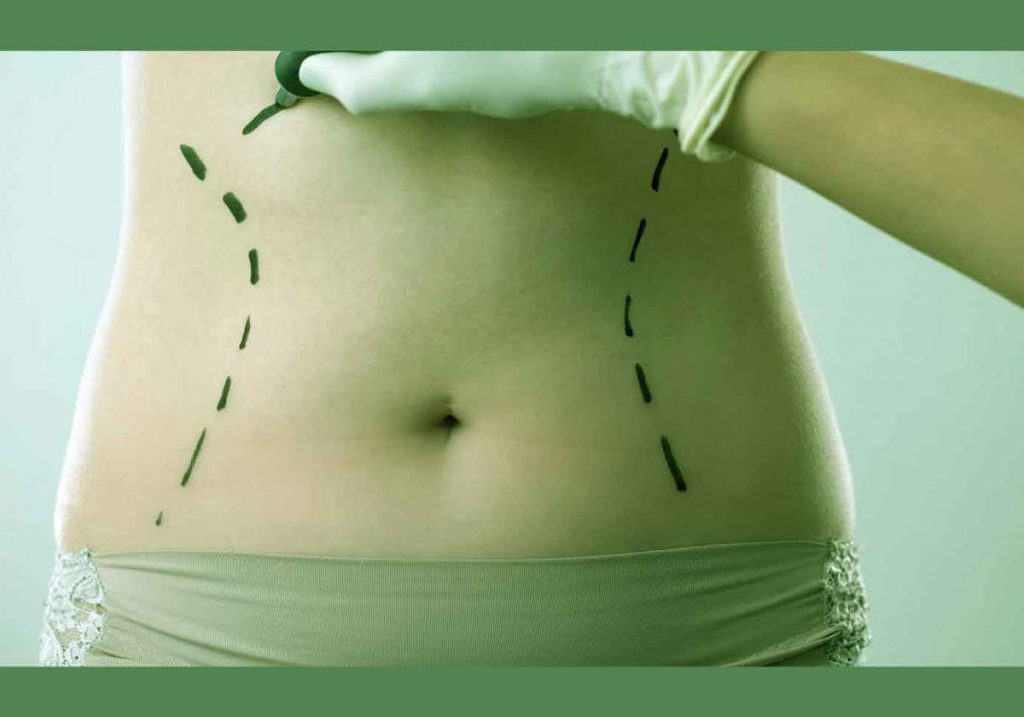 Body contouring
Body contouring methods are used to shape the body and give a more attractive appearance to it. Such methods are especially suitable for women who have recently given birth, people who are unable to lose weight through diet and exercise, and also for people who have lost a lot of weight quickly.
Body contouring methods initially include three areas of the body:
Generally, this procedure involves removing excess skin and fat from the body through a surgical incision. However, this surgery can result in a significant scar, which is one of the major disadvantages of this type of surgery.
In many cases, these scars may be more desirable than having large amounts of excess, sagging skin. For example, people who have lost a lot of weight need to have their excess skin removed in order to live a normal life.
For minor body contouring, such as removing small amounts of fat around the abdomen, liposuction can be a highly effective procedure that leaves no significant scar.
Non-surgical methods
Cosmetic procedures, without surgery, include the least amount of invasion and pain compared to different types of plastic surgeries. They are also much less expensive, but will not have the permanent results that surgical procedures will. Some examples of cosmetic procedures without surgery include the following:
Botox

Dermal fillers

Chemical peeling

Skin rejuvenation

Microdermabrasion
Most non-surgical procedures are designed to provide short-term improvements. For example, Botox injections can be helpful in reducing the appearance of wrinkles, while fillers can also be used to add volume to areas such as the lips.
Microdermabrasion, or laser resurfacing, can be useful for reducing skin discoloration or increasing blood circulation, so it can also be very useful for treating damaged and sunburned skin. If you do not like the idea of ​​surgery to improve your appearance or cannot afford it, non-surgical methods can be effective in delaying the signs of aging and keeping you young.
The Bottom Line
We described the most common types of cosmetic, plastic, and reconstructive surgery above. You can do any of these methods according to your needs. Not every plastic surgery is easy; you will need special care and lifestyle changes afterward. Each of these surgeries can make you as beautiful as possible. You just need to ask your doctor about the surgery and the recovery process. TebMedTourism offers the best quality of plastic surgeries to its international clients with the most affordable costs in Iran. For getting more information and consult with our doctors free of charge, contact us through the provided WhatsApp number.

Plastic Surgery at Tebmedtourism Company (International healthcare facilitator):
TebMedTourism Company is an International healthcare facilitator based in Tehran, Iran.
We start our professional activity in medical tourism industry regarding the profound capability of Iran in both healthcare & touristic fields.
We are ready with open arms to provide desirable services to our dear patients & guests from all over the world to enjoy world-class treatment quality and highly skilled doctors in Iran.
TebMedTourism company is cooperating with more than 40 internationally certified hospitals, 140 selected local hospitals, 300 specialized medical centers, 430 doctors, 112 hotels, domestic and international airlines in Tehran, Shiraz, Mashhad, Tabriz, Qom and other cities in Iran.
TebMedTourism team facilitates comprehensive medical & cosmetic packages in all medical & wellness & touristic fields aimed to achieve your desires.
TebMedTourism experienced team will make this procedure seamless and enjoyable from A to Z, so you will just focus on your recovery.