By technology advancements, infertility treatments have been easier and more available. Surrogacy is one of the best options for those couples who don't have any hope left to have a child on their own because of their medical or physical conditions.
It happens when a woman carries the baby in her womb and after spending the pregnancy period delivers the baby to the intended parents. The intended parent(s) are person or persons who become the legal parent(s) of a child born through surrogacy. In this article, we are going to talk about this procedure and how much it costs all around the world.
Surrogacy is a complicated procedure and it is legally allowed only in a few countries. Among them few ones can be considered as the best countries for surrogacy due to affordability in surrogacy cost and legal support of the baby and medical care qualities. In this article, we are going to look through surrogacy costs in some well-known countries. But first let us review two important types of surrogacy.
Traditional surrogacy is a process in which the egg donor and the surrogate are the same woman. Thus, the baby has genetic links to the surrogate. In this procedure, the surrogate mother's eggs are artificially inseminated with the sperms of the intended father (or sperm donor). Gestational Surrogacy is a process in which a woman carries an embryo but she has no genetic ties to that. In this procedure, eggs are extracted from the intended mother (or egg donor) and combined with the sperms of the intended father (or sperm donor) in laboratory environment.
The embryos are then transferred to the surrogate's uterus. Concepts of altruistic and independent surrogacy arrangements can be included in either type and have their own pros and cons to be considered.
Why does surrogacy cost so much?
In surrogacy method, there are numerous financial considerations which need to be considered in advance before you start the process. You have to know that this medical journey is costly because of the influence of several variables.
If you are going through this process with the help of an agency, they will charge you for advertising, matching, screening and recruiting donors or surrogate mothers. Of course these services need money but for those couples who do not use the services provided by an experienced agency, the surrogacy process can be too frustrating and unpleasant or even much more expensive.
Agency fees cover various elements. One of them is advertising for a surrogate. They establish connections with potential donors and surrogates and match them with intended parents. These services include checking up both parties for compatibility and evaluating them medically and psychologically. They have to give practical consultation about insurance policy and legal works to both parties and undertake all the matters properly. For this aim, they need lawyers to negotiate about contracts and ensure that all parties know their rights and responsibilities.
One of the most noticeable elements of surrogacy prices is related to medical expenses. Intended parents need to pay for treatments and IVF or ICSI cycles for multiple times before they come to a result and pregnancy happens (Read about it in IVF in Iran). Besides, if donors are needed to make embryos the final cost would be higher.
Intended parents also need to pay compensation to the surrogate as well as monthly allowance to cover some of the elements such as the surrogate's inability to work. They need to pay even more if the surrogate is pregnant by multiple babies. These expenses can be dependent on many factors like the country that treatment happens, policy of the surrogacy agency and the personal condition of the surrogate.
Therefore, calculating the exact cost for surrogacy is not simple and it depends on many factors. For this purpose, you can talk to some of the experienced surrogacy agencies and understand the approximate costs and the elements that could cause additional costs.
Costs of surrogacy in USA
USA is one of the best countries for surrogacy and has high standard of surrogacy around the world. It must be said that the surrogacy laws are different among states but because of its explicit surrogacy laws, high surrogacy success rate as well as legal protections, USA is considered as one of the most preferred destination for under-treatment couples. However, because of high expenses, everyone cannot afford surrogacy in the USA, because the approximate cost of gestational surrogacy in the USA ranges from $150,000 to $220,000.
Cost of surrogacy in Canada
Canada's range of expenses are between $100,000 to $120,000. This amount includes medical and legal fees, surrogate compensation, agency fees and insurance.
Costs of surrogacy in UK
Surrogacy in UK is considered as a legal process. The procedure of matching the surrogate with the intended parents are done by non-profit agencies and a private fertility provider charges the final costs which only include necessary expenses of the surrogate and medications. Despite of USA, you do not compensate the surrogate; you can offer to pay "reasonable" expenses which is based on individual conditions by the perspective of British courts.
Surrogacy in UK costs between $70,000 to $100,000 which includes the whole medical, legal and administrative expenses.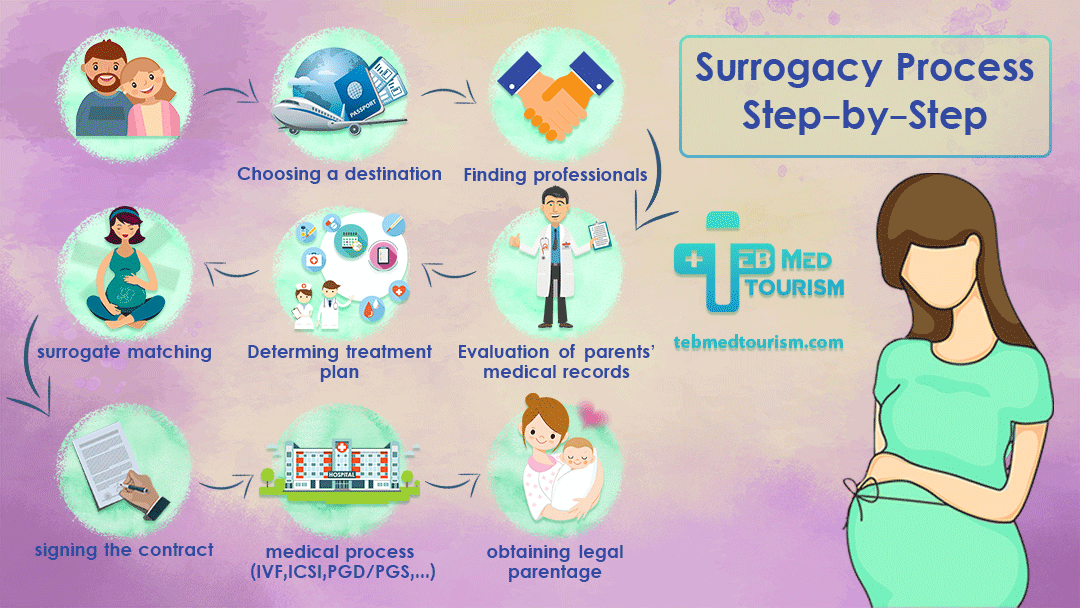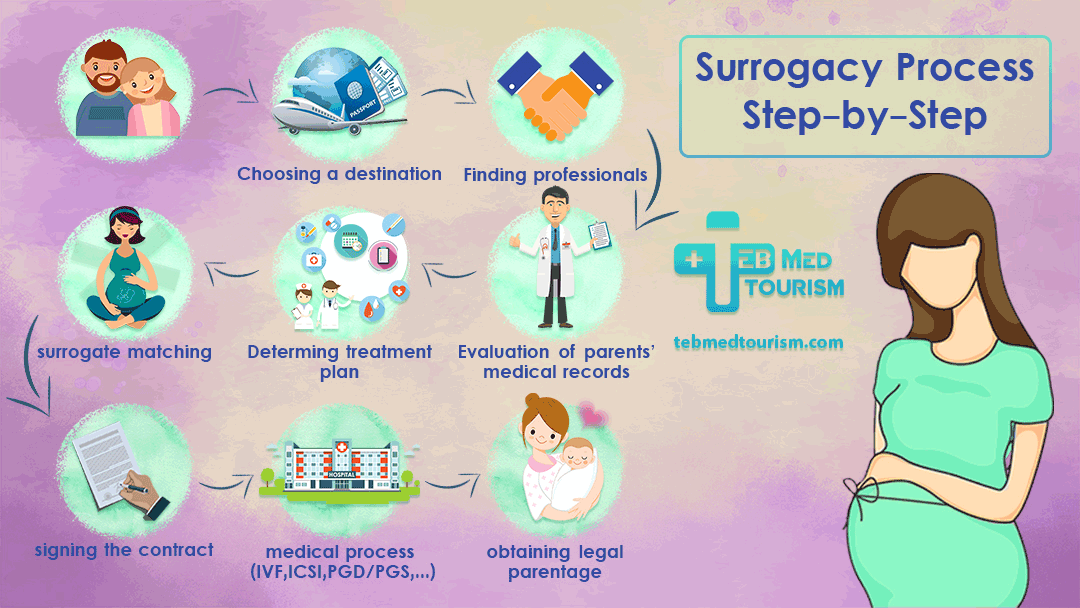 Cost of surrogacy in Spain
Surrogacy in Spain is legally prohibited. So the couples should travel to another country for that. However, they can start fertility treatments in a private clinic in Spain and transfer their eggs and sperms to another country for being fertilized. The ultimate cost of surrogacy will depend on the destination country.
Cost of surrogacy in Ukraine
The average cost of surrogacy in Ukraine is approximately between $44,000 to $60,000. It includes all the legal and medical expenses and the surrogate's compensation.
Differences in expenses will be dependent on the surrogacy program you choose, like the number of IVF attempts or using donors.
Cost of surrogacy in India
In previous years, India was one of the most famous and common destinations in Asia for surrogacy between 2000 and 2018. Since December 2018, surrogacy laws in India banned this procedure for foreign parents and now it is only available for local residents.
Cost of surrogacy in Georgia
Georgia is one of the cheapest countries for surrogacy in the world. Of course different variables can have an influence on the ultimate cost but a complete surrogacy plan in Georgia is nearly between $55,000 to $60,000 which can be named as one of the most affordable costs around the world. This price includes legal and medical expenses as well as the surrogate mother's compensation.
Surrogacy in Iran is legal according the laws and it is one of the most affordable and suitable countries in terms of prices and provided services. It can be performed only at a cost between $12,000 and $20,000. With its specialized physicians, well-equipped fertility centers, best quality services and low medical costs, Iran is one of the best medical tourism destinations for international surrogacy.
Cost of surrogacy in Turkey
According to Turkey laws, surrogacy procedure is illegal since last few years. Egg donation, sperm donation and embryo donation follow the same law. The previous costs before prohibition were between $ 15000 to $ 20000 which were higher than the same procedure in Iran.
How much does surrogacy cost without an agency?
Depending on the services provided by different agencies, the costs can vary. But some couples think about doing surrogacy without the help of agencies. Help of agencies can have multiple pros and cons. (If you want to read about them in details and make up your mind about it, please click here).
In some cases, by doing independent surrogacy, cost can be reduced in return for not having their valuable services such as counseling services, emotional 24-hour supports, insurance, available medical and legal experts, etc.
To sum up, we can say that the cost of surrogacy in some countries like USA and Canada is higher than Asian and east European countries. But if you want to get it done you had better consider not just money but also the quality of services and the legal support provided by the destination country. Iran is one of the most affordable and well equipped countries to follow surrogacy process.
If you need more information on this topic and want to consult, contact us NOW.
The consultant medical doctors of TebMedTourism Co. are at your service for free.


About TebMedTourism company
TebMedTourism Company is an International healthcare facilitator based in Tehran, Iran.
We start our professional activity in medical tourism industry regarding the profound capability of Iran in both healthcare & touristic fields.
We are ready with open arms to provide desirable services to our dear patients & guests from all over the world to enjoy world-class treatment quality and highly skilled doctors in Iran.
TebMedTourism company is cooperating with more than 40 internationally certified hospitals, 140 selected local hospitals, 300 specialized medical centers, 430 doctors, 112 hotels, domestic and international airlines in Tehran, Shiraz, Mashhad, Tabriz, Qom and other cities in Iran.
TebMedTourism team facilitates comprehensive medical & cosmetic packages in all medical & wellness & touristic fields aimed to achieve your desires.
TebMedTourism experienced team will make this procedure seamless and enjoyable from A to Z, so you will just focus on your recovery.
Communication ways:
call us: +98 912 098 5010
Visit us: 1st. Floor / No. 270 /Between Bagh & Azadi  Alleyways / North Sohrevardi st. / Tehran / Iran
Mail us: TebMedTourism@gmail.com