Cancer after kidney transplantation: Ways to prevent and diagnose
One of the main treatment methods for kidney failure is kidney transplantation.
This procedure will bring many benefits and convenience for kidney patients compared to other treatments, i.e. dialysis. This topic has been discussed in more detail in the article "What are the benefits and risks of kidney transplant?".
However, kidney transplants may also carry risks that demand certain medical examinations and considerations: for example, an increased risk of certain infections, diabetes, and some cancers.
We have already addressed in detail the likelihood of some infections and ways to prevent them in the article "Infection after Kidney Transplantation: Why it happens and How to prevent".
But exactly, what is the connection between the risk of cancer and kidney transplantation?
Why does the risk of cancer increase after a kidney transplant? Are different types of cancers equally common for kidney recipients or are some of them more likely? And how can these difficulties be prevented?
In this article, we will address these issues.
Quick Information

cost

from 13000$ to 14000$

Hospital Stay

7 to 10 days

Minimum Stay in Iran

3 to 4 weeks
Why does the risk of cancer increase after a kidney transplant?
There are two main reasons for this:
– Use of immunosuppressive drugs
As we have reviewed in the article "What to expect: Kidney transplantation procedure step by step in Iran", one of the most essential steps after kidney transplantation is to receive immunosuppressive drugs regularly and for an indefinite time. These drugs are prescribed to prevent the immune system from rejecting the new organ. However, they can also have consequences.
Some of these drugs can make some cancers more likely than others. For example, antilymphocyte serum, or OKT3, are some of these drugs that can increase the risk of post-transplant lymphoproliferative disorder, or PTLDs, which is one of the most critical possible consequences of organ transplants.
But in general, it is the combination of these drugs that can cause some risks. The fact is that the human body occasionally and commonly develops some cellular abnormalities, but often the body's immune system is able to control and destroy them. When the immune system does not function properly due to medication, it is possible to lose control of such abnormalities and this would eventually lead to some cancers.
– Infections
Some viral infections may also increase the risk of some cancers. As mentioned, since the recipients of the organ have to take immunosuppressive drugs regularly, the incidence of some of these infections is likely to increase.
For example, the Epstein-Barr virus increases the risk of lymphoma, Human Herpes Virus-8 increases the risk of Kaposi sarcoma, and Human Papilloma Virus (HPV) can lead to skin cancer or cervical cancer.
Prevention and diagnosis
Some cancers are more likely to develop after a kidney transplant than others:
– Skin cancers i.e. melanoma
– Cancers related to the hematologic system or lymphoma
– Gastrointestinal cancers (i.e. colon, rectum, pancreas, etc.)
– Cervical cancer (in women)
– Breast Cancer
– Lung cancer
– Kidney cancer (either in the natal kidney or in the newly transplanted kidney)
However, the reality is that although kidney transplantation may have some consequences, it is almost the best treatment for kidney patients. Therefore, the solution is not to avoid this practice but to respect its later considerations, one of the most vital steps of which is cancer screening.
Many medical sources, including The American Society of Transplantation, have published guidelines for post-transplant cancer screening, some of which are reviewed below: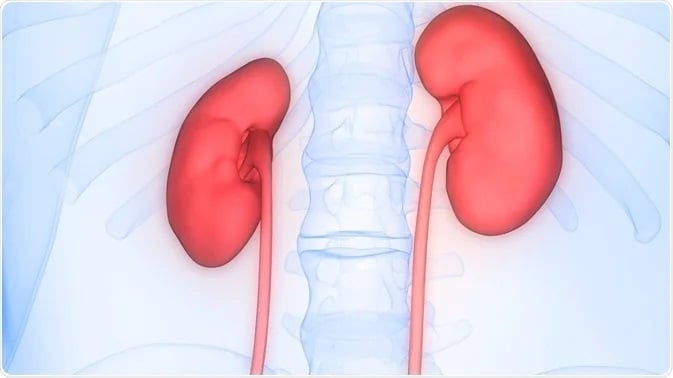 Skin Cancer:
People who have an organ transplant are three times more likely to develop skin cancer.
Therefore, it is necessary to use suitable and strong sunscreens (or sunblocks).
Skin cancers are usually diagnosed and treated early. The appearance of any unusual moles or spots after transplantation should be examined immediately. Also, the ability of this cancer to spread to other parts of the body is relatively low.
Among the prescription drugs, there is a possibility that an anti-rejection drug called sirolimus can also be used to prevent cancer. But in general, with the onset of skin cancer, many physicians reduce the dose of immunosuppressive drugs.
Lymphoma:
Lymphoma cancer or PTLD is a relatively more serious cancer that may be seen in a small number of organ recipients.
This disease leads to the growth of white blood cells in the immune system (mainly in the spleen and lymph nodes).
There are several treatments that would be different for each person. For some, it may be prescribed to stop taking immunosuppressive drugs, which may lead to rejection of the transplanted organ, for others chemotherapy or radiotherapy may be prescribed, and immunosuppressive drugs can be continued at lower doses.
Cervical (Neck of the Womb) Cancer:
Women after kidney transplantation may be more likely to develop this cancer than usual. Pap smears and cervical smears are recommended in these women.
This cancer can be diagnosed and treated in the very early stages with relevant tests.
Breast Cancer:
Kidney recipients should pay special attention to breast self-examination and regular clinical examinations after transplantation.
Research has shown that transplant patients usually develop non-cancerous breast masses, but even if these are not risky, it is vital that the treating physician examines any abnormalities.
Finally, it is necessary to reiterate that despite the potential risks mentioned, transplantation is still the preferred treatment for kidney patients, which will save them from endless dialysis and dying from kidney failure in the short term.
Therefore, it should not be left out because of these uncertain problems.
However, your worries are natural and if you need more advice, there is a simple solution:
The consulting physicians of TebMedTourism Co. are ready to answer your questions, free of charge, 24/7. 
VIP Package
Treatment
Medical consultation
Post Treatment follow-up
Airport Pick up/Drop off
Visa
Hotel 5 * Top
VIP Transfer
Translator 7/24
Sightseeing Tours
Package A
Treatment
Medical consultation
Post Treatment follow-up
Airport Pick up/Drop off
Visa
Hotel 5 *
Transfer
Translator
Package B
Treatment
Medical consultation
Post Treatment follow-up
Airport Pick up/Drop off
Visa
Hotel 4 *
Package C
Treatment
Medical consultation
Post Treatment follow-up
Airport Pick up/Drop off


About TebMedTourism company
TebMedTourism Company is an International healthcare facilitator based in Tehran, Iran.
We start our professional activity in medical tourism industry regarding the profound capability of Iran in both healthcare & touristic fields.
We are ready with open arms to provide desirable services to our dear patients & guests from all over the world to enjoy world-class treatment quality and highly skilled doctors in Iran.
TebMedTourism company is cooperating with more than 40 internationally certified hospitals, 140 selected local hospitals, 300 specialized medical centers, 430 doctors, 112 hotels, domestic and international airlines in Tehran, Shiraz, Mashhad, Tabriz, Qom and other cities in Iran.
TebMedTourism team facilitates comprehensive medical & cosmetic packages in all medical & wellness & touristic fields aimed to achieve your desires.
TebMedTourism experienced team will make this procedure seamless and enjoyable from A to Z, so you will just focus on your recovery.
Communication ways:
call us: +98 912 098 5010
Visit us: No.2, First 8 meter alley, Nobovvat sq., Tehran, Iran
Mail us: [email protected]