Report of TebMedTourism in HESTOUREX 2022:
The 4th Hestourex 2022 (Health Tourism Exhibition) was set from 23 to 25 June at Baku Expo Center in Baku, the capital of Azerbaijan. Expo Center, which has more than 30.000 m² of exhibition area, is located in the city center close to the airport and hosted the largest health tourism organization of 2022. The Federation of Turkish Health Tourism Associations (TURSAF) and the Association of Private Hospitals and Health Institutions (OHSAD) held this exhibition.
After a two-year break due to the coronavirus pandemic, Hestourex 2022 was the first major event organized by Turkish organizers. Many activists in the health and health tourism industry from different countries participated in the 4th Hestourex World Health Tourism Exhibition from 65 countries, including 22 European countries.
This event provided large-volume B2B opportunities to all health facilities, travel agencies, health hotels, and doctors active in health tourism. The first Hestourex exhibition held in 2017, had more than 5000 hosted buyers from 165 countries, which was a record that is hard to achieve.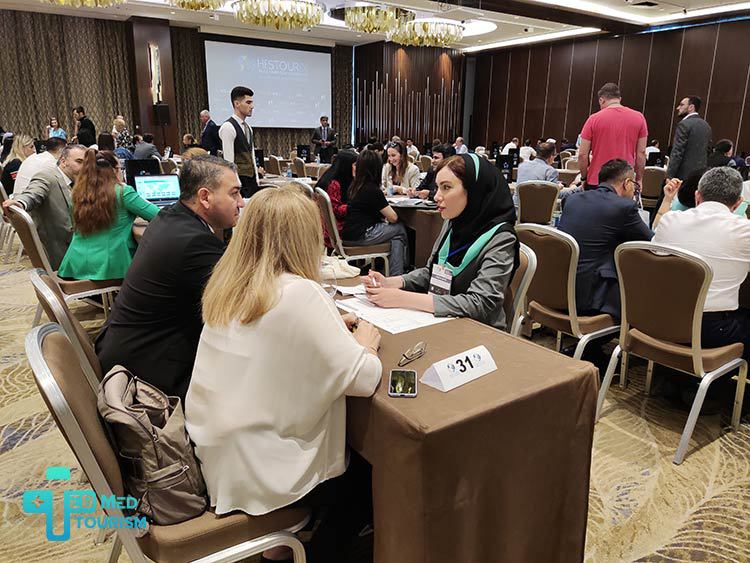 TebMedTourism as one of the main supporters of this event shared its international experiences and participated in the exhibition, B2B meetings, and sideline events to develop relations and arrange mutual cooperation with healthcare activists throughout the world. In this event, we met some of our old partners besides making the new ones for expanding our network and offering our services in more countries.
This time, TebMedTourism appeared in the Hestourex event introducing "FlytoTreat" which is an international healthcare facilitator company, aiming to facilitate treatment for international patients not only in Iran but all over the world. Therefore, we tried to look for a broader range of countries for future partnership and collaboration and had positive negotiations with healthcare providers and healthcare facilitators from Turkey, Azerbaijan, Russia, Georgia, Oman, Syria, and Italy.
TebMedTourism has always tried to globally develop new cooperation and expand its international relations with medical providers and facilitators in different countries and now FlytoTreat is going to focus on international medical tourism with more diligence.
Previously, Hestourex was held three times under the auspices of the Presidency of the Republic of Turkey, and with the support of six ministries of the Turkey Republic including the Ministry of Foreign Affairs, Ministry of Youth and Sports, Ministry of Culture and Tourism, Ministry of Health, Ministry of Industry and Technology, Ministry of Commerce.