What could be more relaxing than sinking into a nice bubbling hot spring at the end of a long hard day? It could be after a difficult day at work, or it could be after a wonderful yet exhausting day of travel if you've decided to travel to Iran. Mineral or hot springs are naturally occurring springs that contain fresh water but have a large number of minerals. Often, they will smell of sulfur and are heated by the earth's core. Many times, they may be found near a dormant volcano.
For centuries, drinking mineral water and bathing in mineral springs has been thought to have positive medical effects. It is especially meant to be beneficial for those suffering from joint and muscle pain as well as poor circulation. In the past, westerners would travel to these types of locations in order to "take the waters" and to ease whatever suffering they thought could be alleviated by it.
Not only are mineral springs soothing to those aches and pains, but they are also a lot of fun and usually situated in a beautiful location. They are the perfect holiday spot for those tourists looking to do a bit of spa-type of relaxation. Iran is a great choice for the mineral springs/mineral springs resort seekers. In Iran, there are two locations which are great for dipping into those hot mineral springs. One is called Tap Tapan Springs in Azar Shahr, Iran. Not only are there hot springs, but there is also a historical city nearby that tourists could check out on their way!
Another spot to "take the waters" is located in Sareyn or Sarein. This is in the northwestern part of Iran and is well known for its many mineral springs. The population there is about 8000 generally, but it increases by more than twice during tourist season, when everyone wants to go and take part in the beautiful hot springs. This hot spring is heated by Mount Sabalan, which is an inactive volcano. It also is close to an interesting and tourist-friendly city. So, you can get more than you bargained for when heading to Sarein: a bit of tourism, history, good traditional food, and a soothing mineral spring. Now, what can beat that?
The power of mineral water and mineral springs has been known and made use of for centuries. In the past, people would use the strength of this water to heal those with various ailments or to at least ease their suffering. It is still so today. Even though we have more advanced scientific and medical capabilities, many still turn to water, in its purest form, to help guide them towards health or just to simply relax and have a great time. And, Iran is a wonderful place to do just that. Sit back, relax, and enjoy the mineral hot springs and the beauty of this desert country
The Hot Water Springs of Sarein
Since time immemorial, almost every group of people from every corner of the world has believed in the healing and spiritual powers of water. Many religions include special rituals involving water and consider certain bodies of water to be sacred. Civilizations spanning from the ancient Romans to modern Japanese have placed a special emphasis on public bathing in hot springs, for cleanliness, social functions, and of course, relaxation.
Even today, many people believe in balneotherapy, the treatment of diseases through bathing in natural mineral hot springs. Some studies have shown balneotherapy may be effective in improving arthritis, joint pain, or skin conditions, although more research is needed.
Whether for relaxation, healing, or just fun, hot spring tourism has been on the rise in recent years. While springs in Japan, China, Turkey, and Europe are well known, Iran's many mineral springs still largely remain under the radar for international travelers (while being extremely popular domestically). The town of Sarein, located in the Northern province of Ardebil, is particularly known inside Iran for its many mineral hot and cold springs and is a must-see stop for any travelers in the area.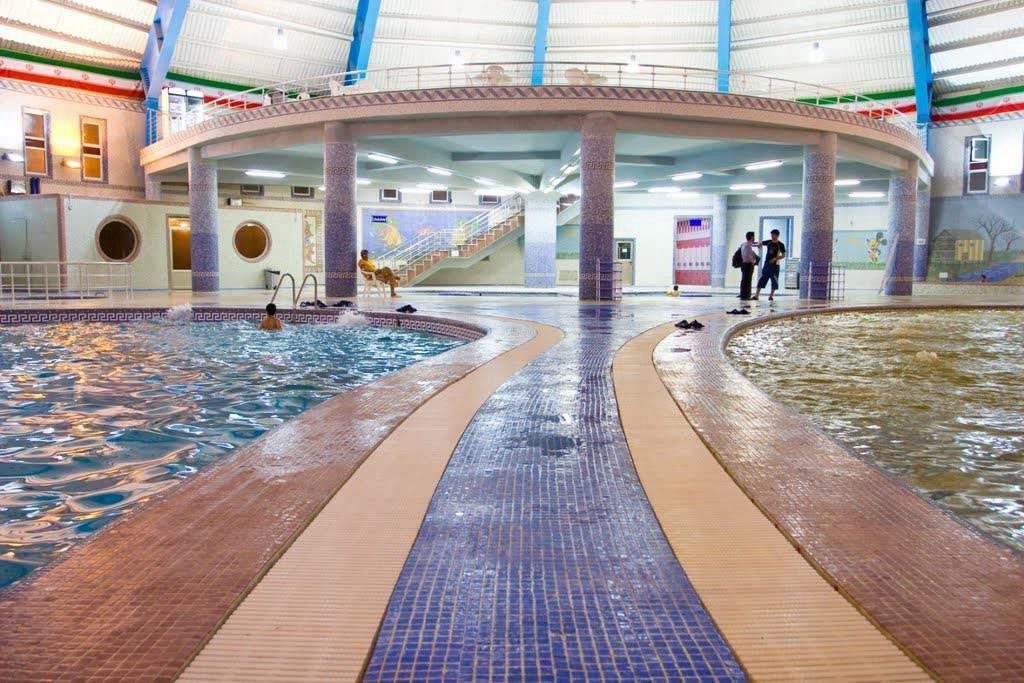 Sarein (also spelled Saryen or Sar 'Eyn) is located about 30 kilometers west of Ardebil. The city is also very close to Mount Sabalan, an inactive volcano, and the popular Alvares Ski Resort. Sarein is famous for its locally made honey, and 'Ash-e-Doogh' traditional food. While it is open all seasons, the city gets particularly crowded with domestic tourists during the summer. In fact, in peak years the city's population is more than doubles in the period of May to August compared to the rest of the year. Much of the city itself is geared towards outsider travelers, giving it a much more 'touristy' vibe than many other Iranian cities.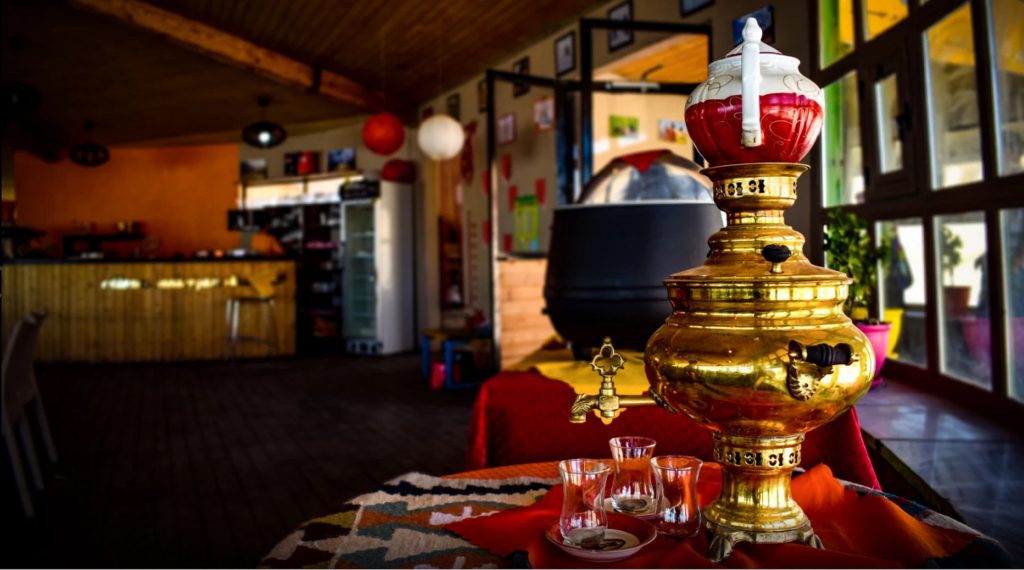 The most famous feature of Sarein though is its mineral springs. Each spring is slightly different and recognized for curing particular ailments. The mineral composition, size, and temperature of each one differs. Some of them remain largely the same as they have been for centuries, while others have been developed into large modern spa complexes combined with medical facilities.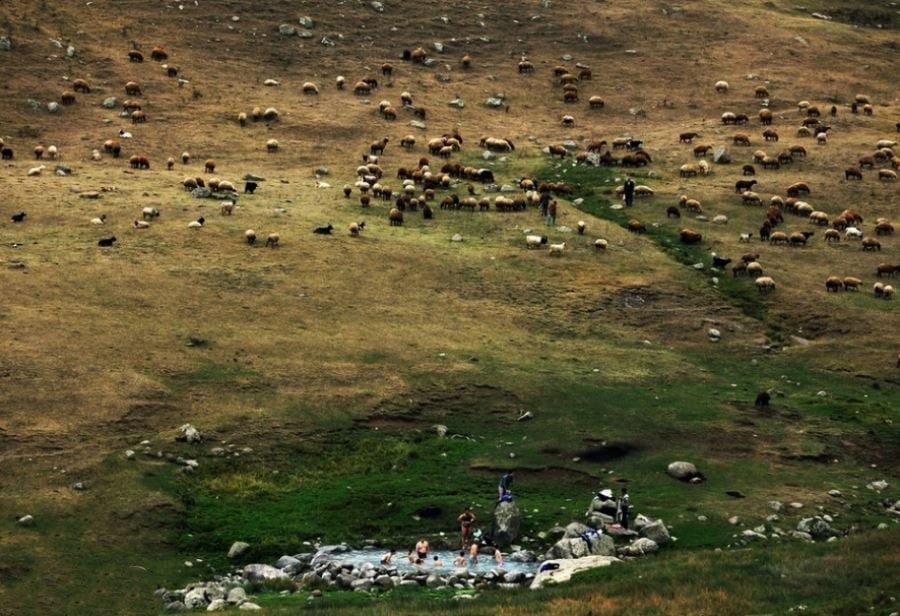 Hot Springs
There are over a dozen hot springs in and near Sarein. Below are a few of some of the more well-known ones:
Sabalan Hydropath Complex
Sabalan is the large hydropath complex in the Middle East. There are several pools, Jacuzzis, dry and wet saunas, and medical staff on sight. This is the most 'modern' facility, all indoors, and similar to natural spa complexes in other countries.
Besh Bajilar
Besh Bajilar, which means 5 sisters in Azeri, has similar facilities to Sabalan. The water for this spa comes from 5 almost identical springs. The temperature of the water is always around 35 degrees Celsius. It contains traces of chlorine, bicarbonate, sulfur, sodium, and potassium. The Besh Bajilar waters are known to be particularly good for easing joint pains.
Shabil
Shabil Water Therapy Complex has located 50 km from Meshgin Shahr and 25 km from Lahrud city. The Shabil Fountain, located at the foot of the Sabalan Peak and on its ascent to it, has a temperature of 49 degrees Celsius and a flow rate of 5 liters per second. The water of this spring is in the row of mineral water of bicarbonate acid or sodium bicarbonate. Due to a large amount of carbonizing acid, its water is used to treat neurological diseases.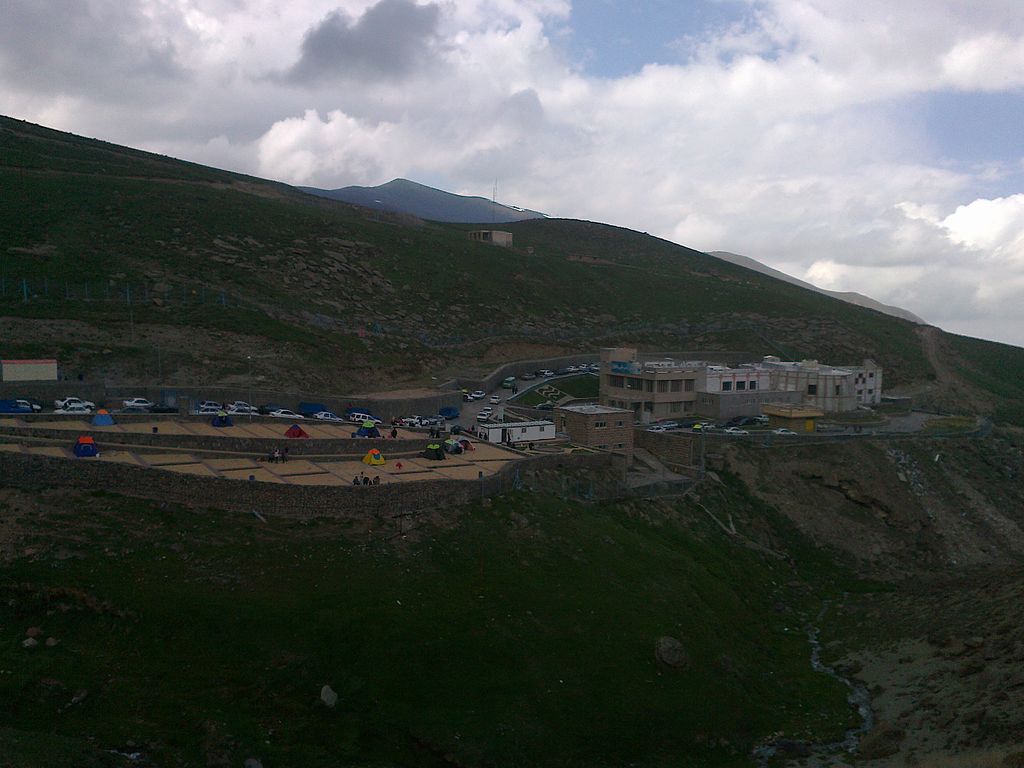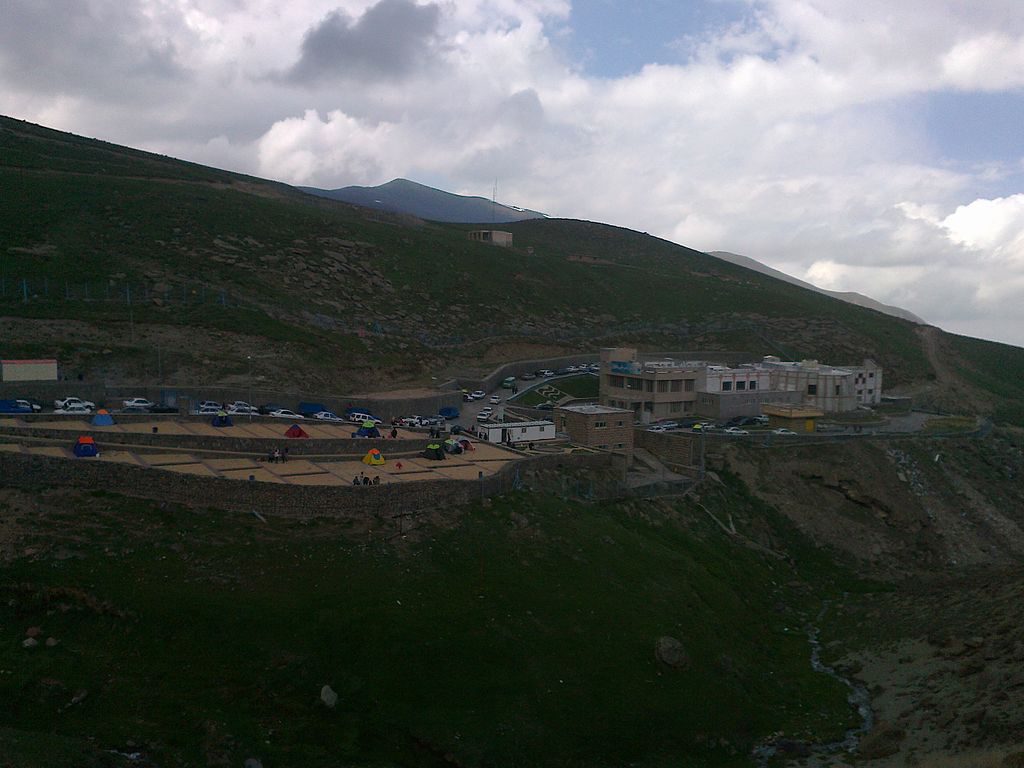 Kani Geravan Fountain
"Gravavan" mineral water spring is located next to a village called "Kani Gouz", near "Rebate", 12 km northeast of "Sardasht" city. A spring that is not just a source of water, but a creator of artwork in the heart of nature.
The amount of soluble salts in this spring is at least 1 gram per liter, and after flowing on the surface of the earth, it leaves its material on the earth, and after the days have passed and added It creates an interesting cone-shaped mass and transforms into a colorful hill that creates an eye-catching contrast between the lush nature of the area and fatigue from the passenger's eyes.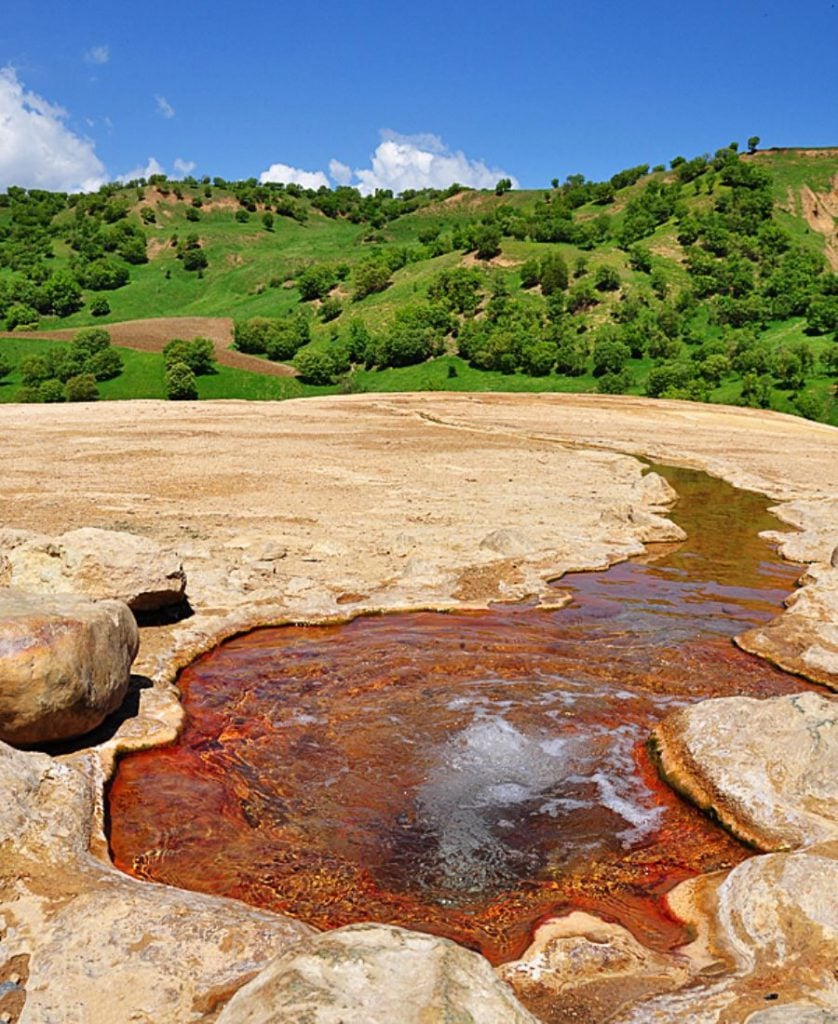 Gavmish Goli Hot Spring
The biggest hot spring in Sarein is the Gavmish Goli, which is almost always around 46 degrees Celsius. The water does give off a faint scent of hydrogen sulfide. This spring, which is also open air (no roof) is thought to be good for a variety of ills including joint pain, female pains, and heart problems.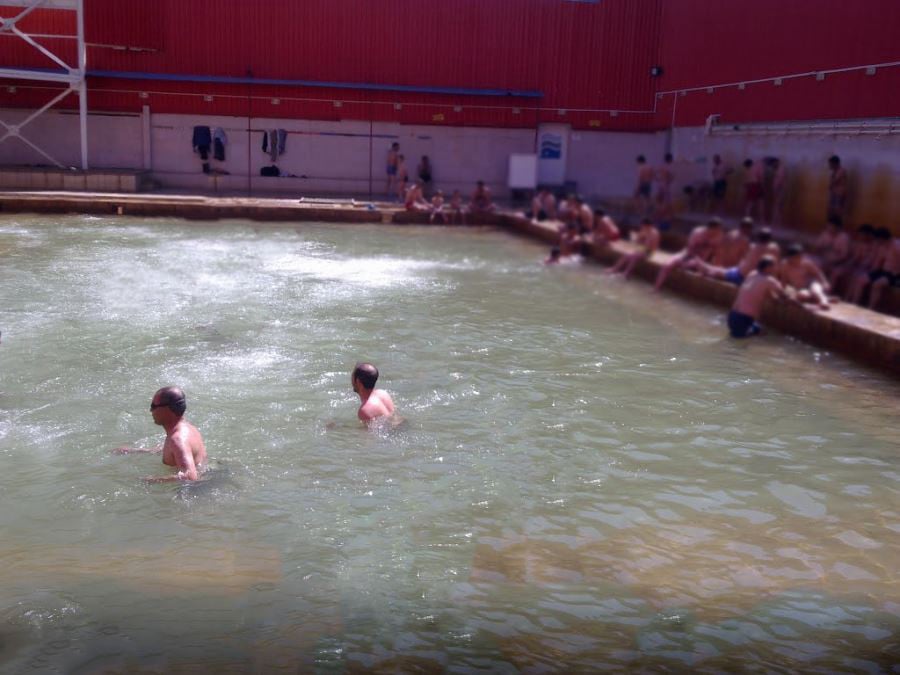 General Hot Spring
This hot spring, which is located to the north of Sarein, is located 2000 meters above sea level. The temperature of the water reaches 43 degrees Celsius and the water is slightly sour and acidic. The water contains traces of bicarbonate, sodium, sulfur, calcium, potassium, and magnesium. This spring is under the open sun (no roof) and known to be good for muscular pains and relieving rheumatism.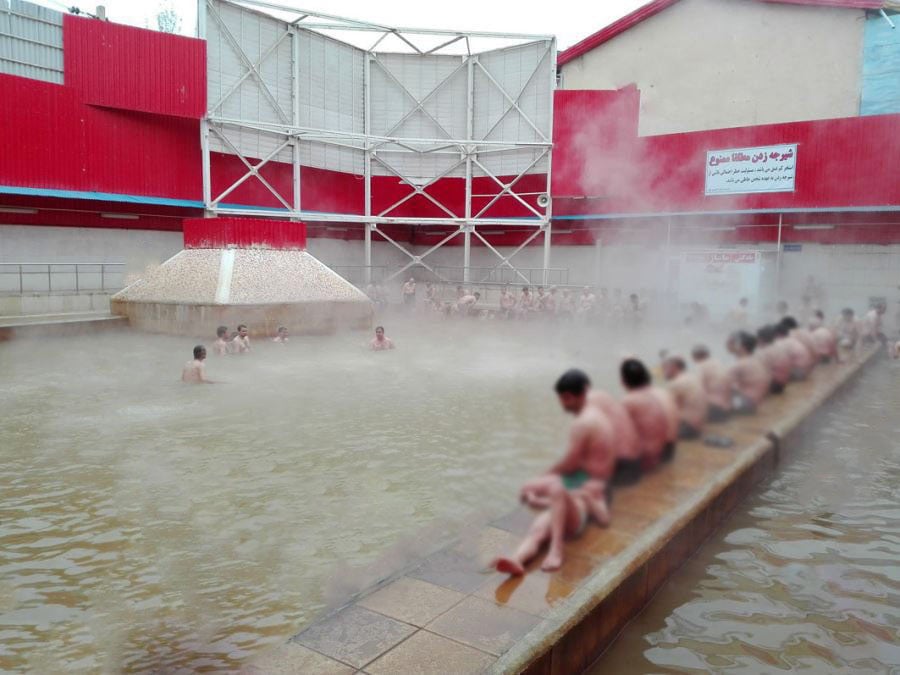 Cold Springs
In the immediate area around Sarein are several villages with famous cold mineral springs. The most famous of these, Kanzagh, is two kilometers to the east. This village's beautiful scenery makes it a popular stop. It also contains several very old caves that were inhabited back in the Parthian era (over 2000 years ago) which are still being explored by archaeologists.
Torsh Sooyi
The water from this cold spring is naturally carbonated. Many locals drink its water for stomach ailments, as well as skin disorders.
Mardaan Boolaghi
A very cold, calm spring. The water in this spring is believed to very effectively get rid of hives.
Whether for healing or relaxation, Sarein is well worth a visit for any Iran traveler. Located within a few hours' drives of most major areas in Northern Iran, and only about 7 hours from Tehran, it will be a memory you won't forget.