Being fit and having a good-looking body style is not a dream anymore. Liposuction is a useful procedure that targets unwanted fats that are resistant to diet and exercise. Although some people do exercise and follow a diet, they may still not be satisfied with their appearance and the way their belly or upper arms look. In these conditions, liposuction surgery can remove stubborn fat deposits by suctioning out the fatty tissues.
What is Liposuction?
Liposuction or "lipo" is a cosmetic procedure aiming to remove unwanted body fat to slim and reshape specific parts of the body such as the:
Abdomen
Hips
waistline
Thighs
Buttocks
Upper arms
Chin and neck
Ankles
Liposuction can make the limbs slimmer and contour these areas. Liposuction is considered a weight-loss method; however, if you are highly overweight and want to lose a noticeable weight, you should try bariatric procedures like gastric bypass or gastric sleeve surgery. If you have a stable weight but you have too many fat deposits in specific spots, then you will be a good candidate for liposuction.
Liposuction reduces the number of fat deposits and the result would be permanent as long as the weight remains stable. After the liposuction procedure, the skin adjusts itself to the new contours. If the person has a good skin elasticity, it will look well after some time. People with thin skin and poor elasticity may have a loose skin appearance, though. You must know that liposuction does not improve cellulite, stretch marks, or other irregularities in the skin.
Who is a Good Candidate for Liposuction?
A good liposuction candidate should have the following conditions:
Adults who are within 30% of their ideal weight and have firm, elastic skin.
They must be healthy and without serious health conditions that could complicate the surgery and impair healing.
Those individuals who do not smoke.
Candidates with a proper outlook and reasonable goals in mind for body contouring.
Those who have fat deposits in certain body areas that are resistible to diet or exercise.
If you have a weak immune system or a history of diabetes, cardiovascular disease, deep vein thrombosis (DVT), or seizures, then you are not an eligible candidate for liposuction. In addition, taking some medication like blood thinners can increase the risk of bleeding.
You should know that liposuction is not a treatment for obesity or a replacement for exercising and a following proper diet. It is also not effective for treating cellulite.
What to Expect about Liposuction
Liposuction is not used for highly overweight people, rather than that, it will is used to make the target area slimmer and achieve aesthetic outcomes. Your surgeon will use anesthesia before starting the procedure. The recovery process for patients can be affected by the patient's health condition and the amount of fat, which has been removed. It often takes 7 to 10 days before you be able to go back to work. During the recovery, you need to wear a compression garment for 4-6 weeks to prevent seroma (fluid leaking under the skin) accumulation. Edema is expected to disappear 1 to 3 months after the surgery so that you could see the outcome.
During the liposuction procedure, up to 10 pounds of fat can be removed. Nevertheless, after the procedure, you will experience edema and fluid retention which can make you look bloated temporarily. Liposuction may lead to loose skin on the treated area. You should also expect bruising following the procedure. When the swelling is disappeared, the treated area should look more sculptured and firmer.
Preparing for Liposuction
In order to get prepared for liposuction surgery, you often need to
Have a blood test
Your overall health condition must be evaluated by your surgeon
Take certain medications or adjust your current medications
Stop smoking
Avoid taking aspirin, anti-inflammatory drugs, and herbal supplements since they can increase bleeding
Liposuction should be performed in a well-equipped surgical facility, licensed surgical center, or a hospital. You need to have someone to drive you to and from the hospital and to stay with you for at least the first night after the procedure.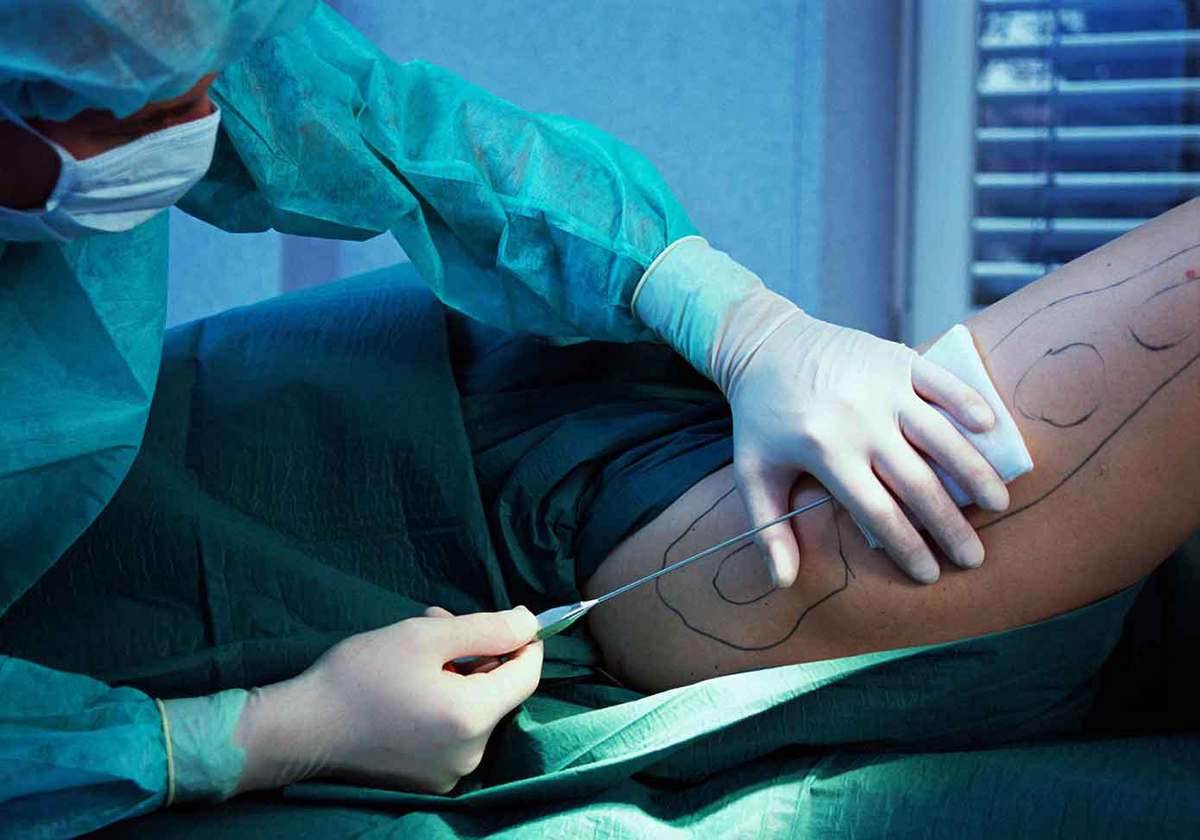 What are the Side Effects?
Liposuction is a surgery with possible side effects. After liposuction, it is common to have some side effects like
Bruising
Swelling (edema)
Numbness
Scars on treated areas
Inflammation
Fluid accumulation
Seroma
Swollen ankles
Other risks that are related to all types of operations such as infection, excessive bleeding, blood clots, and body reaction to anesthesia.
Liposuction can occasionally lead to:
Uneven skin surface
Bleeding under the skin
A long-term numbness that lasts for months
Change in the skin tone in the treated areas
A fluid build-up in the lungs because of fluid injection into the body
A blood clot in the lungs (pulmonary embolism)
Damaging the internal organs during the procedure
Lidocaine toxicity
Shock
Heart or kidney problems
Death
Long-term side effects of liposuction:
The long-term complications of liposuction can vary among different people. Liposuction removes fat cells in the treated areas permanently. Therefore, if the person gains weight, the fat can appear deeper under the skin and if it grows around the heart or liver, it will be dangerous.
After the procedure, one may think that the desired effect is not achieved and feel the need for another surgery. Some individuals may experience nerve damage or changes in their skin sensation. Some may experience bumpy skin or indentations in the targeted areas.
To prevent further problems, the surgeon should explain all the risks and complications of this procedure to the patient before doing this process and talk about the possible results by examining the skin type.
In conclusion…
Liposuction is a cosmetic surgery aiming to reshape the body and make it slimmer. This method is not a substitute for exercising and diet and not everybody is a perfect candidate for it. You should know that every surgery comes with some risks; therefore, you should consult with a board-certified surgeon and discuss the potential complications before starting the procedure.
TebMedTourism is a healthcare facilitator located in Iran that provides the best quality liposuction treatment through skilled cosmetic surgeons in the well-equipped medical centers of Tehran. TebMedTourism team stands by you from the first step of the online consultation until getting the desired results and going back to your country. During your medical-tourist trip, we provide all your needs including visa, accommodation, transportation, SIM card and internet, credit card, and all that you need to make your trip a fulfilling and memorable experience.

Cosmetic Plastic Surgery at Tebmedtourism Company (International healthcare facilitator):
TebMedTourism Company is an International healthcare facilitator based in Tehran, Iran.
We start our professional activity in medical tourism industry regarding the profound capability of Iran in both healthcare & touristic fields.
We are ready with open arms to provide desirable services to our dear patients & guests from all over the world to enjoy world-class treatment quality and highly skilled doctors in Iran.
TebMedTourism company is cooperating with more than 40 internationally certified hospitals, 140 selected local hospitals, 300 specialized medical centers, 430 doctors, 112 hotels, domestic and international airlines in Tehran, Shiraz, Mashhad, Tabriz, Qom and other cities in Iran.
TebMedTourism team facilitates comprehensive medical & cosmetic packages in all medical & wellness & touristic fields aimed to achieve your desires.
TebMedTourism experienced team will make this procedure seamless and enjoyable from A to Z, so you will just focus on your recovery.