Today by the advancements of assisted reproductive technology (ART), many couples may think about gender selection rules in different countries. Now it is possible to choose gender of the child with a noticeable reliability. There are different ways that one can do to get the desired-sex baby.
One way is terminating the pregnancy if the embryo does not have the desired sex of the parents. The other method is the use of preconceptual technique of separating X and Y sperms. This technique raises the chance of having a girl from 50% to 85% and increases the chance of having a boy from 50% to 65%.
The third way in selecting the baby's gender is using the postconceptual method of IVF (in vitro fertilization) and PGD (preimplantation genetic diagnosis). This method offers a high chance of pregnancy with the desired-sex embryo which is nearly 100 percent. This method is recently used and it is a reliable method of selecting the gender without terminating the pregnancy.
IVF Gender selection rules vary in different countries. Gender selection is not legal all around the world; therefore, many couples may think about going through this process internationally. For foreign couples, Iran is one of the best countries for undergoing gender selection, where other assisted fertility technologies such as egg donation, microarray genetic screening, etc. are legally practiced with the same quality as the western countries. But first, let's learn more about this subject and see the gender selection rules in different countries.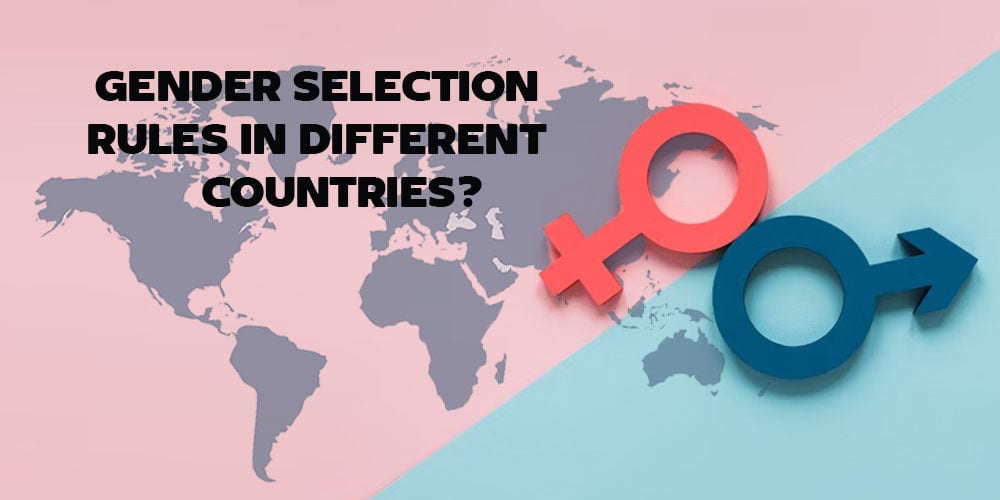 How does Sex Selection Work?
So many couples have tried to have an impact on the gender of their future baby by using different ways. They may have heard a lot of recommendations from the others about their diet, intercourse timing, intercourse positions or using chemical douches. However, these methods are all unreliable and cannot have a high success rate.
A reliable and practical sex selection works only when you have embryos through the IVF procedure. PGD or PGS are techniques for detecting genetic disorders in order to discard the embryos having genetic abnormalities and picking the desired gender to grow into the uterus.
The sex of each fetus is determined by two pairs of X and Y chromosomes. One pair is inherited from the mother and the other pair is inherited from the father. By testing a sample group of cells belonging to the embryo, its chromosomal makeup would be detected. Then just the desired-sex embryo will be implanted into the uterus.
Gender Selection Reasons
gender selection is a controversial subject all around the world. There can be two main reasons for doing this process: Medical based and Non-medical based reasons.
Some couples go through a gender selection process because they want to avoid genetic diseases related to a certain gender. For instance, the intended parents may carry genes for hemophilia or muscular dystrophy which can only affect male babies. In this condition, they can often legally pursue a gender selection process in order to have a baby girl because they have a medical reason.
Some other couples may use gender selection techniques for non-medical reasons like fulfilling their personal preference or as a way of balancing their family. For example, they may have two girls and prefer to have a boy as their third kid, or they might be more comfortable with raising a kid with a specific gender.
The World Health Organization (WHO) declared an objection toward gender selection for non-medical reasons because this action can cause moral, legal, and social conflicts. They discuss that manipulating the natural sex ratio can lead to gender imbalance and possible gender discrimination by devaluing females in some nations.
Nevertheless, this method also has its own advocators. They say that mankind should have liberty in choosing their own reproductive path. Gender selection helps people wisely choose the desired sex for their baby so that they could be more comfortable raising them.
IVF Gender Selection Legal Countries 2023
IVF Gender selection rules are different worldwide. The prohibition of sex selection in some countries has caused a significant number of couples who are looking for sex selection services abroad. The circumstance in which a number of people are travelling abroad in order to undergo gender selection, egg donation process and other infertility treatments is called the "Reproductive Tourism".
Where sex selection is banned, people usually travel to countries such as the United States, Mexico, Italy, Cyprus and many Asian countries like Iran and Thailand. When you want to choose a suitable destination for sex selection, you can consult with your local fertility specialist for getting some advice about reliable clinics before taking any actions.
 It is recommended to choose a safe country in which the costs are more affordable at the same time "cheapest country for gender selection". Iran can be named as a great option regarding the high-quality facilities and affordable prices. Our experts in TebMedTourism Co. can guide you to get a precise result on the sex selection process.
IVF Gender Selection Illegal Countries 2023
Sex selection is illegal in many countries. Among 36 countries that have policies about sex selection, none of them permits it clearly. Five countries ban the process completely and 31 other countries ban it for non-medical reasons.
Using PGD for the aim of gender selection or PGS (Preimplantation Genetic Selection) is prohibited in the United Kingdom, Australia and Canada with the exception of using it for the medical reasons. Their position regarding this technique is that it is justified as long as it is for the child's best interest to be born with a specific sex. China and India are two other countries where sex selection is illegal.
But why should the process of selecting the gender of the child be widely illegal around the world? The answer is probably related to the existence of the risks of undergoing sex selection which may lead to an undesirable genetic engineering and ultimately disadvantage the human race in the future.
Is IVF Gender Selection Legal in Iran?
Iran is among the IVF gender selection legal countries where fertility centers provide medical services to many couples every year. In this country, gender selection is completely legal. Other assisted reproductive technologies such as ICSI, egg donation, embryo donation, PGS or chromosomal microarray screening, surrogacy, etc. are all offered in Iran's fertility centers legally at their highest quality which is comparable with western countries.
Iranian fertility specialists have extensive experience in diagnosing fertility issues and offering the easiest way to treat them. They are among the top physicians in the world who precisely evaluate your medical and psychological condition to find you the best treatment plan during the minimum amount of time so that get you the best result which is expanding your family. Pre-implantation genetic diagnosis (PGD) through IVF is provided in Iran at the cheapest cost which is only $4500.
Quick Information

Cost

Anesthesia

Duration of procedure

Hospital Stay

Minimum Stay in Iran

$4500 (IVF+PGD)

Local

3-4 weeks

Zero day

3-4 weeks
IVF + Embryo Transfer
21-28 days
Treatment
Medical consultation
Post Treatment follow-up
Airport Pick up/Drop off
And more
IVF + PGD
21-28 days
Treatment
Medical consultation
Post Treatment follow-up
Airport Pick up/Drop off
And more
IVF + Egg Donation
21-28 days
Treatment
Medical consultation
Post Treatment follow-up
Airport Pick up/Drop off
And more
IVF + PGD + Egg Donation
21-28 days
Treatment
Medical consultation
Post Treatment follow-up
Airport Pick up/Drop off
And more
The Bottom Line
As mentioned before, there are two main reasons for the use of gender selection. If there is a medical reason, it is best to take advantage of the PGD technology with the help of the IVF process to make sure your baby will not face certain genetic disorders just because of their gender.
However, in using sex selection for non-medical reasons, besides the various rules available in different countries, there can be moral issues that are better to be considered before taking any serious decision about that.
TebMedTourism has experience of hundreds of successful gender selection cases. We are the only healthcare facilitator in Iran that paves the way for our clients from the starting point which is a simple consultation to the time of delivering children and undergoing the legal procedure (especially for surrogacy cases). We offer you services like embryo thawing for the time you have extra embryos and want to keep them for future use.
Anyway, gender selection is one of the new fertility technologies that can help mankind have more control over their own reproduction plan and we must respect people's reasons for choosing this technology. If you have more questions on this subject, consult with our doctors free of charge through WhatsApp now.




Communication ways:
call us: +98 912 098 5010
Visit us: No.2, First 8 meter alley, Nobovvat sq., Tehran, Iran
Mail us: [email protected]